Could you feed a family of four for only £40 a week if you were supplied with a shopping list and the recipes? Brian Stormont took on the Lidl "Great Taste, No Waste" challenge to find out..
When Lidl asked me if I would like to take part in their "Great Taste, No Waste" initiative I had no hesitation.
The main reason first of all was fun, quickly followed by elation at the idea of someone giving me recipes to make every meal for a week – thus making my meal times less predictable as I am occasionally guilty of cooking the same dishes.
Statistics show that more than 1.8 million Scots are shopping without a list which is contributing to the equivalent of 60 million meals being wasted every month.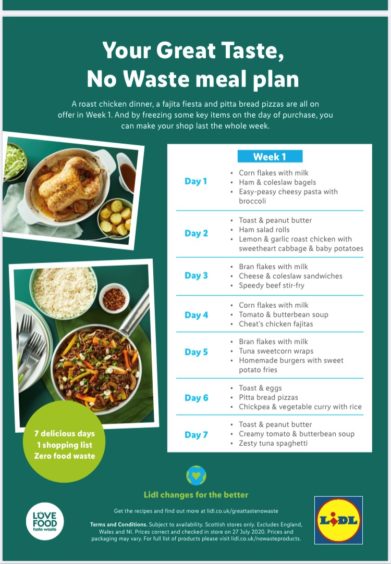 Meal plans
In an effort to help Scots eat better and cut food waste, Lidl teamed up with Love Food Hate Waste Scotland to launch four weeks of meal plans, shopping lists and recipes to help Scots plan better, save money and fight climate change.
In addition to weekly shopping lists for a family of four, the initiative also includes guidance on food storage and creative ways to use up leftovers.
Lidl say with their meal plans you can feed a family of four for only £40, so I took part to see what you got for your money, how easy it was and, most importantly, discover what everything tasted like?
The seven-day meal plan is available on Lidl's website to download and there are four plans to follow.
Each plan comes with a shopping list and detailed recipes, which were easy to follow. You can choose to download them and print them off – or do as I did and view them on your tablet, laptop or phone.
On the whole the majority of the recipes were on the table quite quickly, although there are a few which need a bit of preparation time, for instance the stir fry which requires all the vegetables to be chopped and sliced – although it was worth it.
I am sure most will be happy to stick to the plan provided, although we altered what we had on certain days because it suited us. However, the meals are the same just in a different order from what was advised.
---
Day One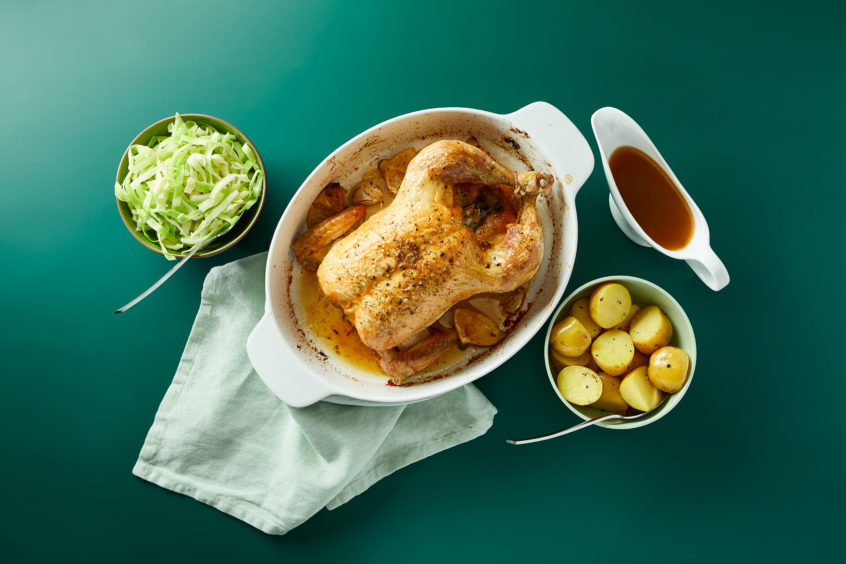 Breakfast: Toast and peanut butter – a simple and tasty start to the day.
Lunch: Ham salad rolls – breaded ham trimmings with romaine lettuce, tomato, cucumber and mayonnaise. Again nice and easy and a decent lunch.
Dinner: Lemon and garlic roast chicken with sweetheart cabbage and baby potatoes – this was an absolute treat. The lemon, garlic and celery placed the cavity of the chicken gave it a marvellous flavour and kept it moist.
---
Day Two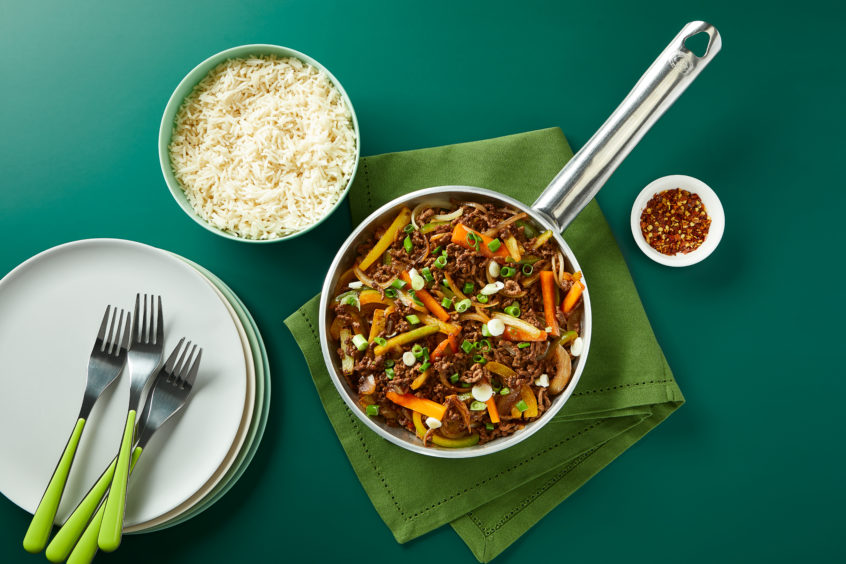 Breakfast: Bran flakes with milk – I will be honest, something I wouldn't normally eat, but enjoyed them.
Lunch: Cheese and coleslaw sandwiches – Really enjoyed these. I mixed the coleslaw up with the grated cheese and they were nice and creamy sandwiches.
Dinner: Speedy beef stir fry – We all loved this. I had never thought of making a stir fry with steak mince before, but it worked really well. Loads of vegetables in it so extremely nutritious and the big surprise to me was how good thinly-sliced broccoli stalk worked in it.
---
Day Three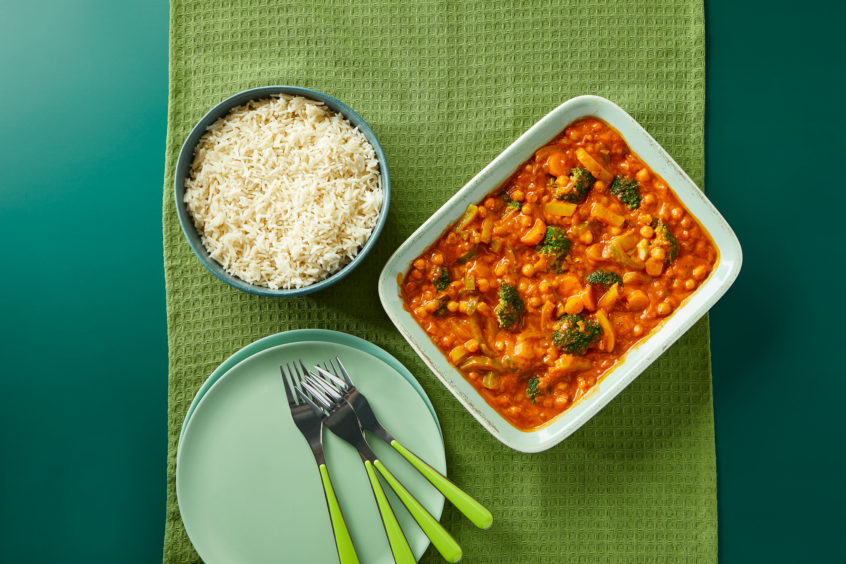 Breakfast: Toast and eggs – As it says on the tin. I love a poached egg and that was how we had them, but you can prepare them anyway you want, maybe scrambled in the microwave like we did here.
Lunch: Pitta bread pizzas – Oil, a minced garlic clove, tomato puree, herbs and a little sugar were quickly boiled together in a saucepan to make a sauce for the base which was placed under the grill for a minute, then topped with cheese and tomato for a quick and tasty pizza. Very nice indeed.
Dinner: Chickpea korma and boiled rice – Unfortunately, we had to take a rain check on the chickpeas because no one is fond of them. We substituted for chicken we had in the freezer which was served with peppers, onions and carrots which I had pre-roasted in my oven to give a sweet flavour. I very rarely use a jar of sauce, but top marks for the one provided by Lidl. It was delicious and it was clean plates all round.
---
Day Four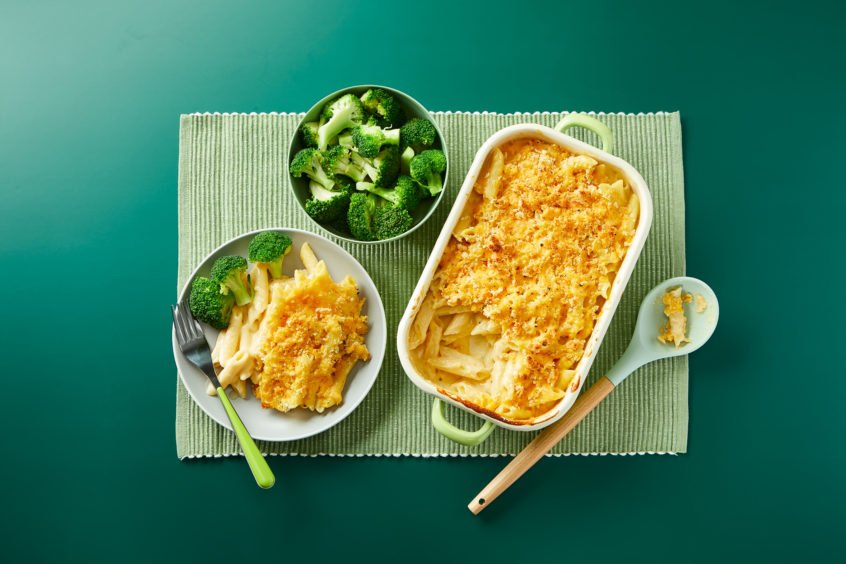 Breakfast: Cornflakes with milk – A quick and tasty start to the day.
Lunch: Ham and coleslaw bagels – The breaded ham trimmings were really tasty and went brilliantly with the creamy coleslaw. We toasted our bagels first.
Dinner: Easy peasy cheesy pasta with broccoli – This was always going to be a winner with us. Everyone in the family loves pasta, cheese sauce and broccoli. Easy to make, top marks for the taste.
---
Day Five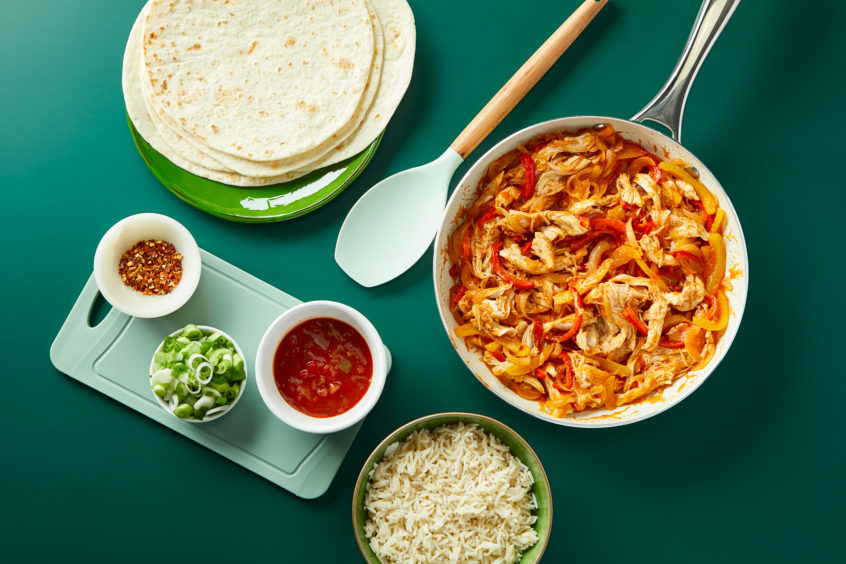 Breakfast: Cornflakes with milk – Easy and a decent start to the day.
Lunch: Tomato and butterbean soup – As a soup lover I was really looking forward to making this and it did not disappoint. Packed full of vegetables it was a delicious and filling lunchtime treat. The recipe offers you the chance to either make your own stock from the chicken carcass from earlier in the week or use cubes from your store cupboard.
Dinner: Cheat's chicken fajitas – This recipe uses the leftover chicken from earlier in the week and if you don't have a great deal (we didn't) you can supplement it by cooking 100g of rice to stir in. We added a chicken breast we had in the freezer rather than the rice which was provided as part of the meal planner. Fajitas are a favourite in our family and we were always going to enjoy this.
---
Day Six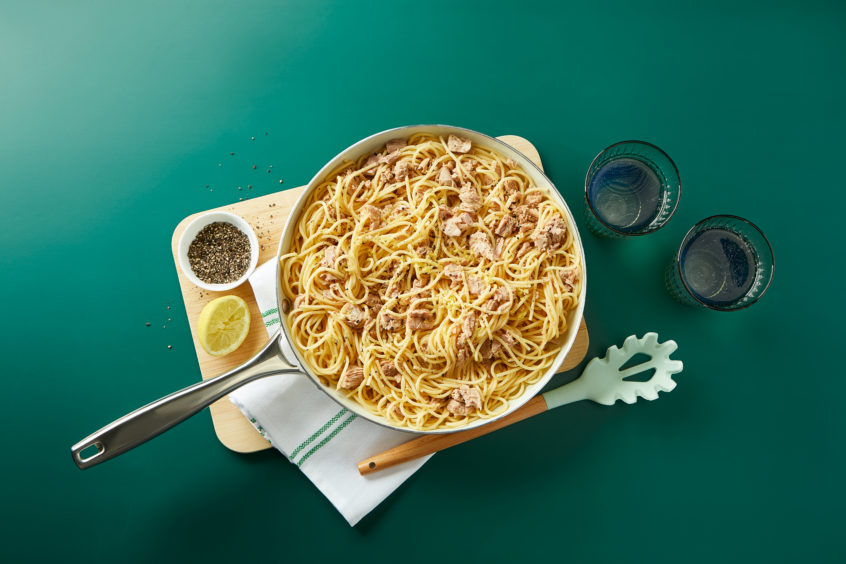 Breakfast: Toast and peanut butter – Simple and tasty. You probably won't believe this, but I don't think I had ever eaten peanut butter, it's never been on my radar. Happy to report I actually quite like it.
Lunch: Creamy tomato and butterbean soup – This was using the leftover soup from the previous day which I blitzed up and served with the bread.
Dinner: Zesty tuna spaghetti – This was easily prepared. While cooking the spaghetti, you fry a couple of cloves of garlic in olive oil and then add that to the cooked pasta with the zest of a lemon and the lemon juice. The flakes from two tins of tuna are sprinkled over the top. Plenty of black pepper and a few chilli flakes made this a delicious dinner which was extremely moreish.
---
Day Seven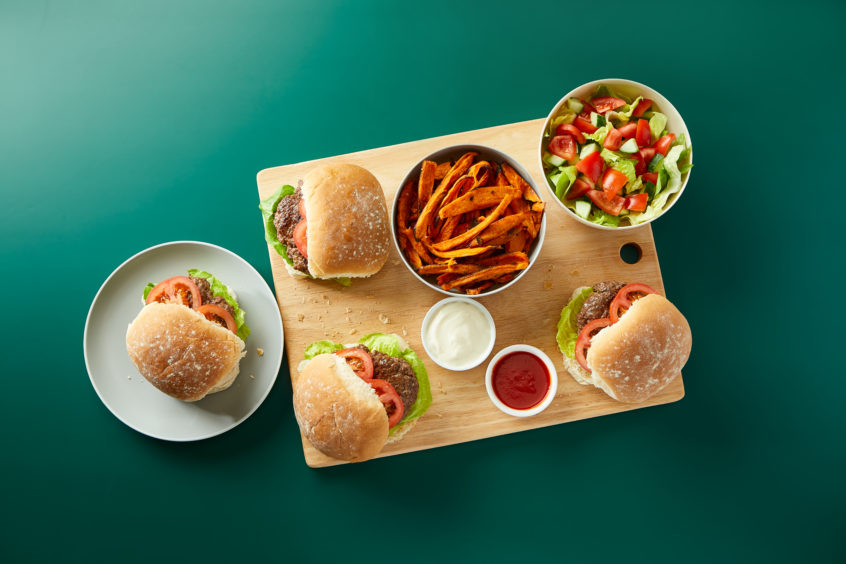 Breakfast: Bran flakes with milk – needs no explanation. Satisfying first meal of the day.
Lunch: Tuna sweetcorn wraps – Easy to make and a real winner with everyone, as we love our tuna mayonnaise.
Dinner: Home-made burgers with sweet potato fries. I was sceptical about making these burgers as there was no binding of breadcrumbs or egg – I was completely wrong! These were amazing and, cooked in the oven, were juicy and I just wanted more. We made small burgers and I added some garlic and jalapeno peppers to the mix which made them even tastier.
The meals are, on the whole, easy to make and the meal plan is cleverly constructed, as it says on the tin, to ensure nothing is wasted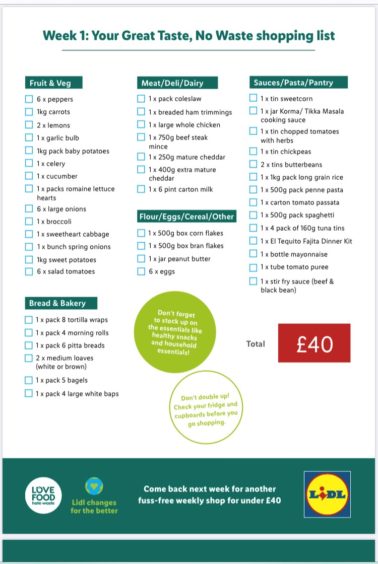 My thoughts
So, after testing the Great Taste No Waste challenge, you will be wondering what my thoughts were?
I will admit I was sceptical about how this would work. But work it indeed does.
The meals are, on the whole, easy to make and the meal plan is cleverly constructed, as it says on the tin, to ensure nothing is wasted.
Most importantly, for me, the meals were very tasty and the entire family were happy with what we ate during the course of the week.
One thing to remember, however, is that you will need a few basic items from your store cupboard, stock cubes or oil for instance, so if you are taking on the challenge, check you have everything you need first of all.
If you haven't given it a go, I certainly would try "Great Taste, No Waste" and remember you can mix and match as I did, depending on how you want to follow the plan.
'Big shop'
Lidl's regional director for Scotland, Ross Millar, said: "With almost two thirds of Scots shopping less often than before, the nation has certainly embraced the weekly 'big shop'.
"By partnering with Love Food Hate Waste Scotland, we are continuing to support the changing needs of Scottish families as they navigate this new world.
"The 'Great Taste, No Waste' initiative aims to show Scots how shopping with a list can reduce household food waste, help feed your family delicious meals, and still provide the Lidl promise of fantastic value for money."
Iain Gulland, chief executive of Zero Waste Scotland, which delivers Love Food Hate Waste Scotland, added: "Food waste is a major contributor to climate change. When we waste food, we waste all the resources and care that went into growing, transporting, packaging and cooking it. And, if wasted food ends up in landfill, it emits methane, a potent greenhouse gas that is many times more damaging than carbon dioxide.
"Preventing avoidable food waste could save the average Scottish household £437 per year, so there's a real cost saving to be made.
"The 'Great Taste, No Waste' list and meal plan will take the stress out of mealtimes while providing an easy way for families to reduce their own food waste at home. Saving perfectly good food from going to waste is something we can all get on board with."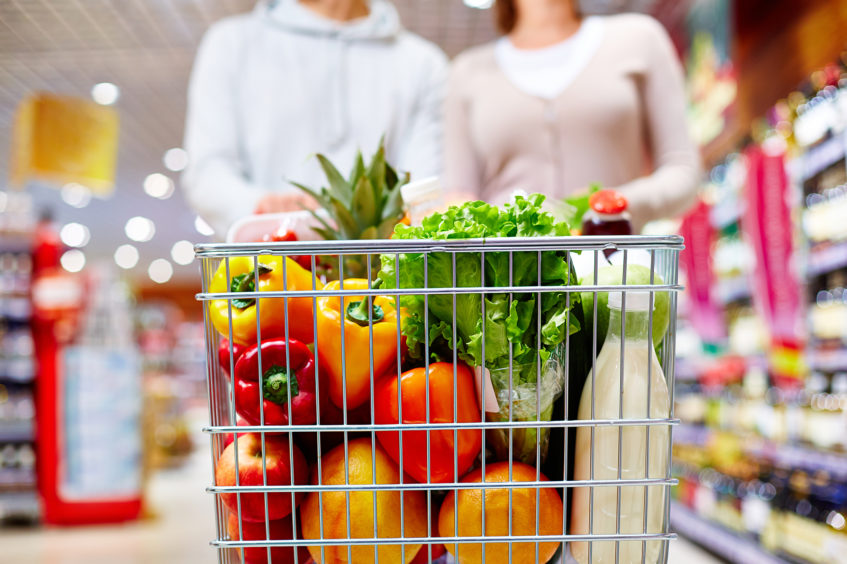 Financial pressure
The Lidl Great Taste No Waste drive is one of the many initiatives supermarkets are using to help customers, many of whom who they are aware are under great financial pressure at the present time.
Lidl are positioning themselves as being one of the supermarkets best placed to help shoppers save, with a new app, Lidl Plus, offering £5 off an initial £25 spend and additional loyalty bonus discounts up to £10 and money-off coupons.
The Great Taste, No Waste list and meal plan is available to download now from: www.lidl.co.uk/greattastenowaste