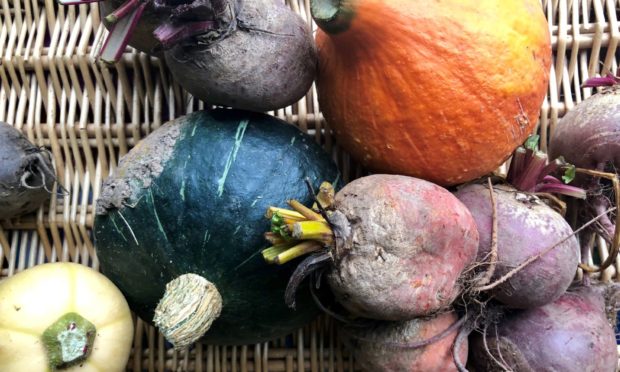 Food writer Catherine Devaney contemplates how to do outdoor dining during the Scottish winter and shares her lessons learned from the spring
If only we could click our heels together three times and be transported, like Dorothy, back to a place called home. To a place where people sit shoulder-to-shoulder without thought for space or distance; where it is possible to order a gin and tonic without hand sanitiser on the side; where a buffet lunch wasn't a high-risk activity and children are allowed to sing in the classroom.
If there was ever a time for the good witch to appear in a puff of smoke, it's right about now.
Just when all these things seemed within touching distance, it's a little wearisome to find the goalposts have been shifted again.
Instead, it seems we are to discover our inner Norwegian and embrace outdoor socializing, Scandi-style, despite the darkening days (both literal and metaphorical).  Apparently it's all about finding the right mindset.
If they can manage outdoor dining through a polar winter why can't we, right? I'm just not sure anyone has factored in the rain. It's less northern lights and more Scottish haar. But I must not dwell on the negative. Repeat to self: must not dwell on the negative.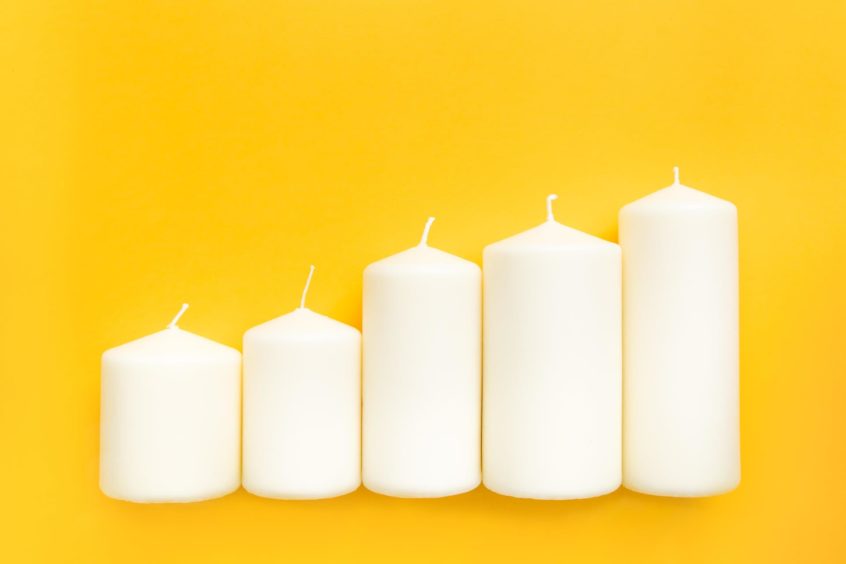 There is much to embrace about the coming winter. So I hear. I almost bought a book on the Danish art of hygge the other day and, pulling myself together, I've been ordering pillar candles by the wheelbarrow-load. Wraps and blankets are next, then it'll be time to stock up on the hot chocolate and dust off the toasting forks. Apparently fire pits and patio heaters are flying off the shelves.
It doesn't often happen that we are ahead of the curve when it comes to trending purchases, but we did happen to acquire a rather lovely fire pit last summer (and used it approximately once). It is blissfully distracting to spend a dark evening googling search terms like "fire pit outdoors with friends" and "Scandi chic fire pit gathering".
I can Pinterest for hours wondering if six of us would be comfortable enough sitting on a few rustic logs (I envisage them artfully arranged and draped luxuriously with a Harris Tweed throw?) or whether we should invest in some ridiculously-overpriced fire pit seating. And such are the problems of the second wave. Last time round it was pasta and toilet roll, this time I predict a run on marshmallows and Adirondack chairs.
Kitchen Life: An abundance of plums is a sure sign that autumn is nigh, plus a recipe to make the most of them
Inevitably, thoughts turn to food that whispers of comfort and escape, something to bring a gentle softening warmth to a hard-edged reality. Tempting though it is to bury myself in a trough of chocolate brownie, apple crumble and melted cheese, such things cannot end well.
Lessons from the spring have taught me that barrelling off down that path, in the manner of a truffling pig, leads only to three weeks of utter misery in the name of The Fast 800 (which is less of a diet and more a merciless, sleep depriving brush with starvation). Not a leisurely form of repentance, I can vouch.
There has to be a better way; a way to find solace in food that truly nourishes and brings real joy. And, although I didn't buy the book on hygge, there's much to be said for the idea of taking pleasure in the simple things. Preparing food that brings joy is one of the best ways I've found to be kind to yourself and calm anxious thoughts on tricky days.
Try investing just a little time sourcing the ingredients, talking to the growers and makers if you can, then set aside some time to lose yourself in the process of simply preparing vegetables, savouring their colours and patterns. Focusing on something as elemental as making a bowl of soup from scratch somehow calms the busy mind; eating it nourishes the physical senses; and sharing it with a friend outside on a crisp autumn day replenishes the soul.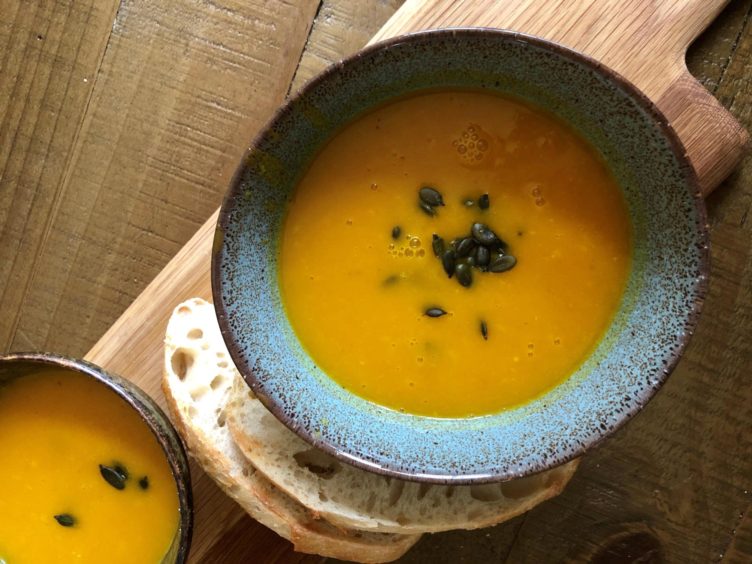 Monday morning found me out of sorts and strangely disconsolate, but as I stepped into the always welcoming stone-floored shop at Pittormie Fruit Farm, where there's always someone happy to explain the difference between a kabocha and an onion squash, it was with genuine excitement that I spotted home-grown beetroot, both golden and candy, flame-coloured piles of autumn squash and fresh kale of the darkest forest green. Keeping it simple, searching out what is seasonal and local, then spending a little more time than usual enjoying the end result is how I'm keeping sane at the moment.
Running my hands over the slightly bumpy, cool skin of a squash, brushing mud from the tangled earthy roots of a beetroot, picking fresh thyme leaves, and marvelling at the gloriously childish pink candy stripes and deep oranges of the beets once they've roasted in the oven and slipped their skins.
For a simple supper that really lets the earthy sweetness of the beetroot shine, try honey and balsamic roasted beetroot with salty goat's cheese, fresh thyme and hot walnuts on sourdough. Roast the beetroot whole with a drizzle of olive oil at 200C (180C fan) for about an hour or until a skewer glides in easily (it may take less time, it really depends on the size of the beetroot).
Let them cool slightly then you should be able to simply push the skins off with your thumbs – this in itself is incredibly therapeutic – although you may want to wear gloves or your fingers will stain. Cut them into wedges and set aside, meanwhile heat a generous knob of butter in a pan until foaming and add a couple of tablespoons of honey. Swirl the honey and butter together, then add a splash of balsamic vinegar.
Add the beetroot wedges to the bubbling pan and toss in the sticky glaze. Let them bubble and caramelise for a few minutes, then add some toasted walnuts to the pan and (always toast the nuts first as seriously enhances the flavour). Now spread a thick layer of goat's cheese (try Crowdie if you're a goat's cheese refusenik) on toasted sourdough, spoon the roasted beetroot on top, scatter with picked fresh thyme leaves and finish with the hot walnuts.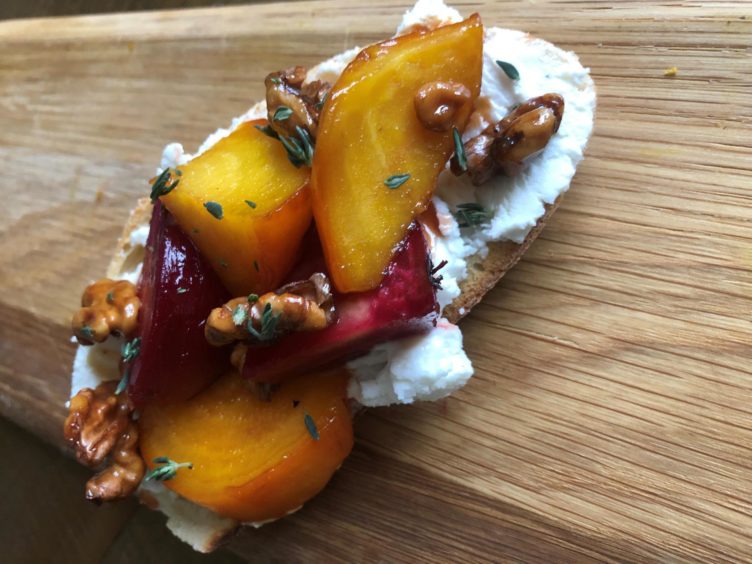 I often make soup with butternut squash, but it's absolutely worth experimenting with some of the autumn squash that are now available. They make a vivid soup to cheer the darkest day, with fresh ginger, chilli and coconut adding a vibrant, cleansing freshness.
I adore the smell of fresh ginger and could literally inhale the chopping board. Peel, de-seed and dice one onion squash, half a butternut squash and two carrots; then set aside.
Chop a thumb-sized piece of fresh ginger, two cloves of garlic, two spring onions and half a red chilli (de-seeded); then sauté with a tablespoon or two of olive oil until the garlic softens and turns golden.
Stir in a teaspoon of ground cumin. Add the vegetables and a little more oil, then roast in the pan for five minutes or so until they slightly caramelise, stirring to stop them sticking.
Cover, just, with vegetable stock, bring to the boil then simmer for about fifteen minutes or until the squash is tender. Blitz with a stick blender then add half a tin of coconut milk and blitz again. Season to taste.