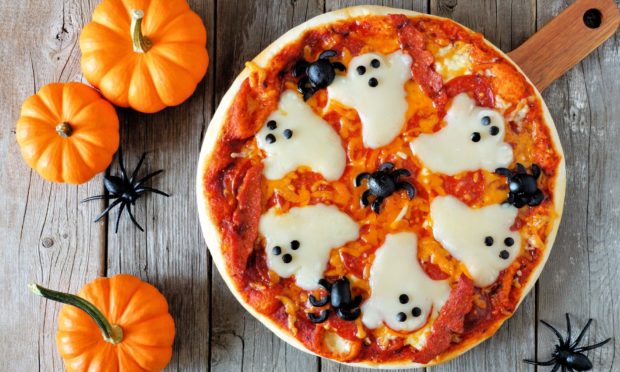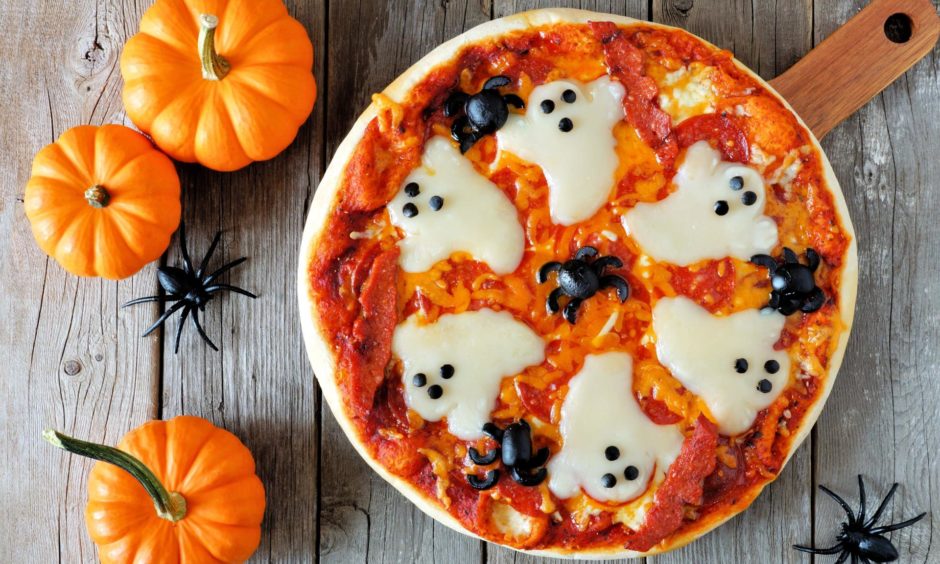 Pumpkins are increasingly becoming more popular in Scotland as part of Halloween, but what will you do with yours when the night is over?
With Halloween only a few days away, many people will already have carved out some amazing pumpkin designs which will be on display on the night ghosts and ghouls come out to play.
But when all the scary fun is over, there are some great ways to use up the leftover pumpkin.
The American tradition of pumpkin carving is growing increasingly popular in Scotland, and most of pumpkin sales in the country happen around Halloween.
Pumpkins are rich in vitamins and minerals and are a great food source, but almost all of the ones bought for Halloween end up uneaten.
Climate change
Food waste is a major driver of climate change. On the surface, perfectly edible food going in the bin is bad news for the environment, yet it runs deeper than that.
Wasted food also means squandering all the resources that went into growing and transporting it. Then when pumpkins, or any type of food waste, ends up in landfill, it rots, producing methane – one of the most damaging greenhouse gases driving up climate change.
In the short term, methane is many times worse than carbon dioxide – scary stuff! So, use up as much of your pumpkin as possible.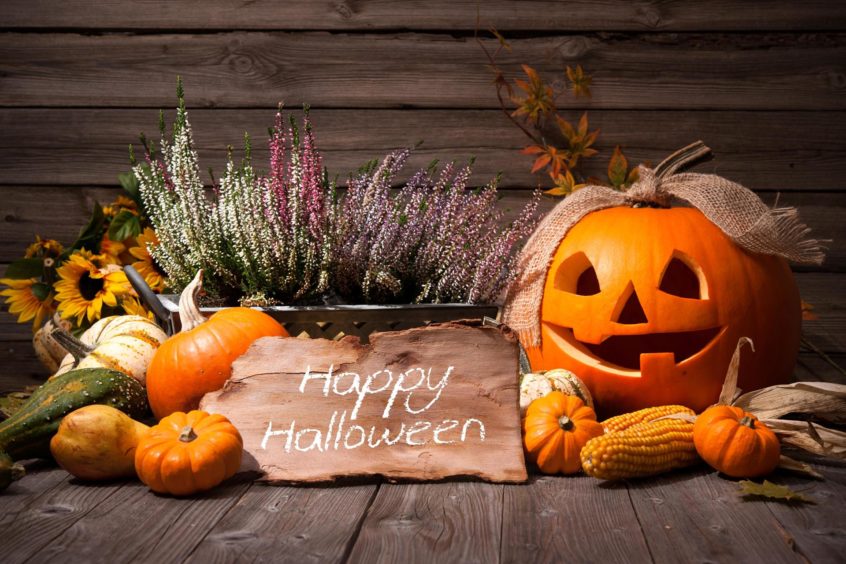 Zero Waste Scotland is encouraging people to make use of the whole pumpkin this Halloween. There's a whole variety of uses for pumpkins that are better than throwing it in the bin.
Pumpkin flesh, or the pulp, makes a delicious centrepiece in a soup or a curry.
And, after carving, you can find all sorts of pumpkin recipes, from muffins to lasagne, over on Zero Waste Scotland's Love Food Hate Waste website.
Pumpkins can also be used to make dog biscuits, ice cream and face masks.
Zero Waste is also urging people to recycle their lanterns after Halloween, possibly by letting children have some smashing pumpkin fun that breaks up the lantern so that it fits in their food waste recycling caddy.
Recycling food waste saves it from landfill, where it generates the planet-harming methane.
The edible waste from pumpkins in Scotland is estimated to be around 1,472 tonnes a year.
Eat up those pumpkins
Sue Roberts, programme manager for food waste communications, Zero Waste Scotland, said: "Picking your own pumpkins is a great way for you, and the young ones, to connect with food and see the care and resources that went into growing it.
"Once you have finished scaring the neighbours with your creation, you can find all sorts of pumpkin recipes, from muffins to lasagne, at our Love Food Hate Waste Scotland website.
"Pumpkin flesh is perfectly edible and makes a delicious centrepiece in a soup or a curry. Yet, often they aren't thought of as food around Halloween and we end up wasting a lot of pumpkins every year.
"Throwing out food wastes the resources involved in growing and transporting it and if it goes in the general waste bin it will create the climate warming gas methane as it decomposes. So please, always use the food caddy for any food you don't eat.
"Halloween is the ideal time to experience the satisfaction of using the whole pumpkin. We'd also urge people to recycle their lanterns after Halloween, possibly by letting children have some smashing pumpkin fun that breaks up the lantern so that it fits in their food waste recycling caddy."
Watch this video by Glasgow Science Centre of a unique way to smash your pumpkin.
Here are a few ideas of things you can make with your pumpkin flesh:
Red lentil lasagne with "spooky pumpkin seed face"
By Michael & Savanah, Granton Primary School
Michael and Savanah were winners of Zero Waste Scotland's Halloween-themed "Don't Be Afraid of Your Leftovers" school competition in partnership with Scottish Business in the Community and Good Family Food.
The recipe calls for leftover Quorn bolognese but meat would work just as well depending on what you have in your fridge. The lentils are a great way of bulking out the leftover portion and creating a spooky face with pumpkin seeds is a creative way to use them up!
(Serves  6)
Ingredients
1 batch of leftover Quorn or mince bolognese
Half a pack of lasagne sheets
150g grated cheddar cheese or parmesan
50g pumpkin seeds (toasted)
125g dried red lentils (cooked as per pack instructions)
8 cherry tomatoes (cut in half)
200g of pumpkin flesh (cooked and mashed)
2 tablespoons plain flour
50g butter
1 pint milk
Method
Preheat the oven to 200°C conventional / 180°C fan
Boil the red lentils for 20 minutes in boiling water, then drain
Add the cooked lentils to the leftover bolognese and warm gently in a small pan until mixed thoroughly. Take off the heat and set aside. Add the halved cherry tomatoes to the sauce.
Make the white sauce – place a medium pan on a low heat and add the butter, allow to melt. Add the flour and whisk until it is thoroughly combined and cook through for a minute or so. Slowly add the milk, mixing all the time so it doesn't form lumps. If it gets lumpy keep mixing with the whisk. Cook gently until the milk has heated through and the sauce has thickened. Take off the heat and set aside.
Assemble the lasagne into a square / rectangular oven proof dish. Start by spreading out a layer of pumpkin mash, then follow with a layer of lentils and bolognese then a layer of lasagne sheets. Next add some white sauce and scatter 1/3 of cheese on top.
Repeat the steps above until the dish is full and all the ingredients have been used up (2 – 3 layers).
Create a spooky face on top using pumpkin seeds. Tip – why not try to make a ghost or skeleton or a vampire with the seeds? Finish with a scattering of cheese. Place into a preheated oven for 35-40 minutes until golden and bubbling on top, and cooked right through.
---
Petrified Pumpkin Pizza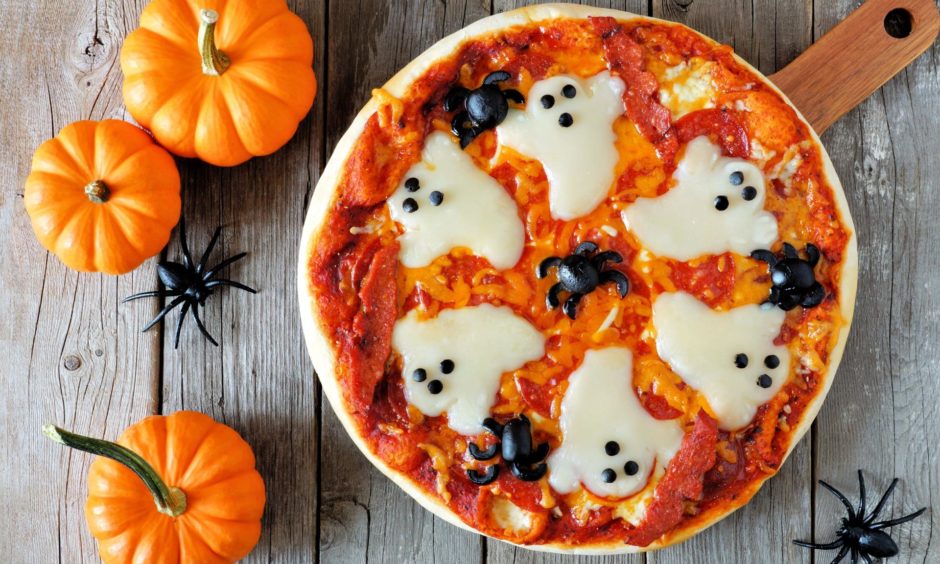 (Serves  6)
Ingredients
2 large ready-made pizza bases or make your own
1/2 pumpkin, cut into 1cm cubes 125ml chicken or vegetable stock
1 tbsp dark brown sugar
100g baby spinach leaves
125g cheese
40g unsalted butter
1 tsp thyme leaves, chopped
Olive oil (to drizzle)
Method
Heat the butter in a large frying-pan over low heat, add the pumpkin and cook gently, stir until tender.
Add the sugar, stock, and 1/4 cup water then bring to a simmer and cook for 5 minutes or until most of the liquid has evaporated and pumpkin has caramelised.
Add the spinach and stir until wilted.
Preheat the oven to 200°C.
Spread the pumpkin mixture on to the pizza bases, top with the cheese and thyme, then drizzle with oil.
Bake for 10 minutes or until base is crisp and cheese is bubbling. Cut into wedges to serve.
---
Spicy pumpkin soup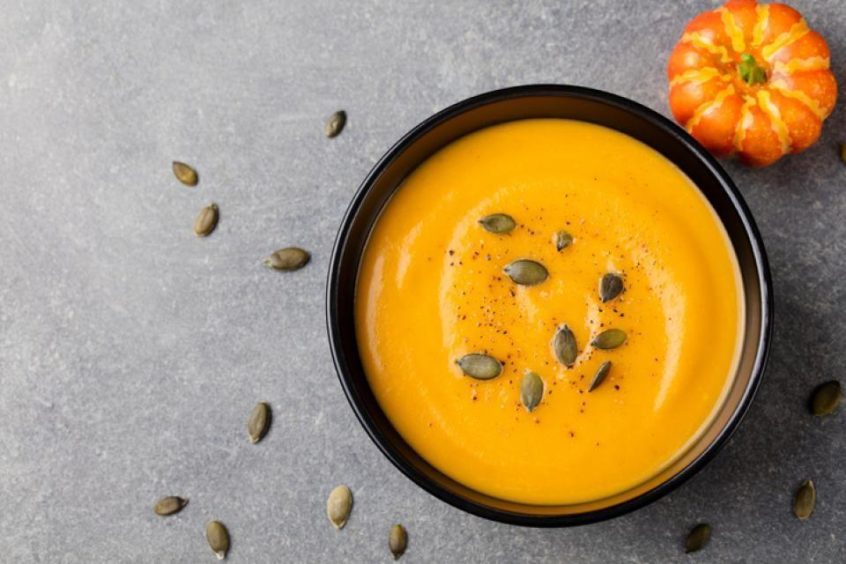 It's sweet and spicy, this pumpkin soup is an autumn favourite and perfect if you're making soup for the first time, as well as for seasoned cooks. It works really well if you roast the pumpkin and sweet potato first. Delicious!
(Serves 1)
Ingredients
½ medium pumkin or ½ butternut squash
1 sweet potato
½ red pepper
1½ cups (375 ml) of water
1 cup (250 ml) full fat milk
1 red chilli
Pinches of salt and pepper for seasoning
Method
Preheat the oven to 190 degrees Celsius.
Remove the pumpkin flesh with a spoon and peal the sweet potato.
Chop the pumpkin and sweet potato into 1" cubes.
Slice the red peppers and put all vegetables on a roasting tray, with a drizzle of oil.
Place in the oven to roast for 30-40 minutes, until soft.
Allow all the vegetables to cool a little.
Once cool enough to handle, add the pumpkin, sweet potato and peppers to a blender with the water, milk and diced chilli, and blend until smooth.
Pour into a saucepan and heat until piping hot, adding more water if you like a slightly thinner soup.
Season to taste with salt and pepper.
Chef's tip: To give the soup a sweeter flavour, roast the pumpkin and sweet potato until they are dark and caramelised. It is important to allow the veg to cool before putting in the blender as the pressure of the steam could create a mess in the kitchen!
Use up: Use up some uncooked veg that you may have left over from another dish.
Variations: To make this a more balanced dish, you can serve with garlic croutons or a few slices of bread and butter. You can also vary the ingredients buy using butternut squash instead of, or as an addition to, the pumpkin!
Extra flavour: Adding your own mix of herbs and spices can really enhance this dish, such as coriander, cumin, oregano or fennel seeds.
Vegan options: To adapt this dish for vegans, replace the milk with vegetable stock or coconut milk, both of which will create different flavours.
Allergy advice: This versatile dish is easily adapted to avoid allergens and be suitable for most diets.