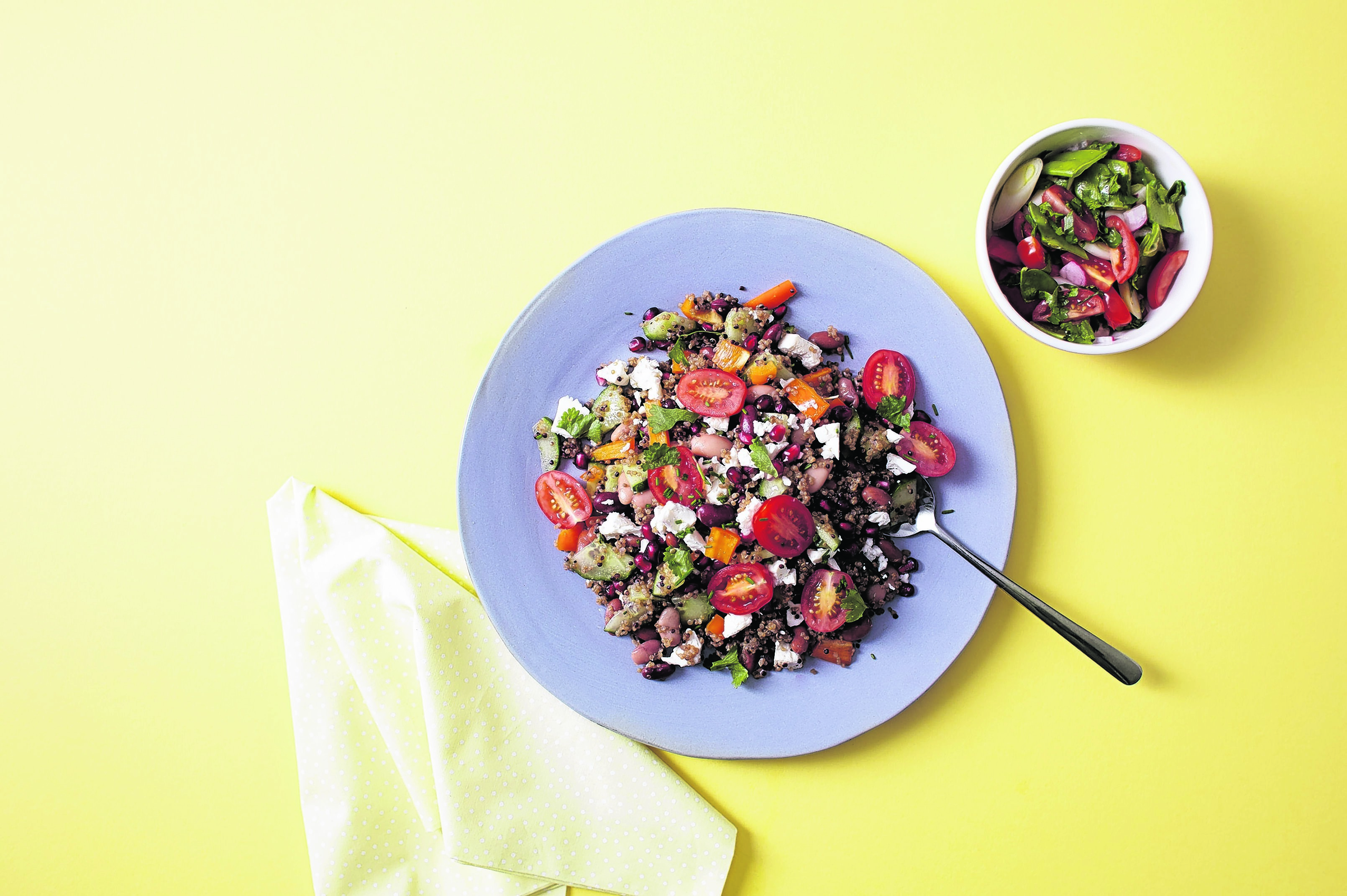 BEAN AND QUINOA SALAD WITH POMEGRANATE SEEDS AND FETA
SERVES ONE
125g ready to eat quinoa
1/2 tin (200g) mixed beans (drained)
4 baby plum tomatoes, halved
1/4 yellow pepper, deseeded and chopped
5cm cucumber, sliced
50g feta cheese, crumbled
1tbsp pomegranate seeds
Juice of 1/2 lemon
1tbsp olive oil
Combine the ready to eat quinoa (or boil and simmer for around 15-20 minutes if not using ready-made), beans, tomatoes, pepper, cucumber, feta and pomegranate seeds.
Dress with a splash of olive oil and a dash of lemon juice.
---
TOFU AND NOODLE STIR-FRY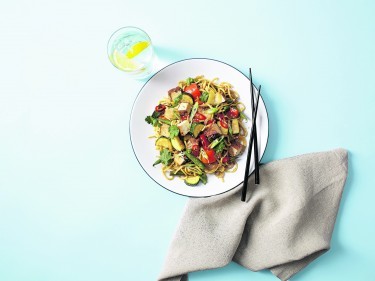 SERVES ONE
1tsp light olive oil or rapeseed oil
1/2 onion, sliced
1 garlic clove, crushed
1/2tsp grated fresh ginger
1/4 red pepper, chopped
1/2 courgette, sliced
50g green beans cut into 2cm lengths
2tsp tamari soy sauce
125ml water
100g tofu (Ocado recommends Dragonfly Organic Marinated Tofu)
150g fresh egg noodles
Handful fresh coriander
2tsp sesame seeds
Heat the oil in a wok and stir-fry the onion, garlic and ginger on a medium to high heat for two minutes.
Add the pepper, courgette and green beans and stir-fry for another two minutes.
Add the tamari and water, cook for another two minutes then add the sliced tofu and noodles.
Leave to cook for two minutes and take off the heat, and then gently stir in the coriander and sesame seeds.
---
FRESH GNOCCHI WITH ROASTED VEGETABLES AND PESTO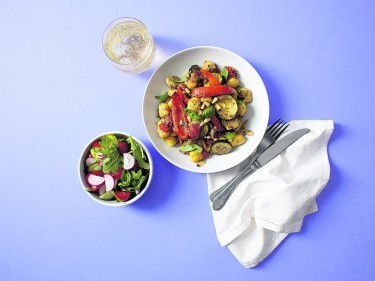 SERVES ONE
1/2 red pepper, sliced
1/2 courgette, sliced
1/2 small onion, sliced
50g cherry tomatoes whole
1tbsp olive oil
1 garlic clove, crushed
200g potato gnocchi
1tbsp pesto (Ocado recommends Zest Vegan Basil Pesto)
Pre-heat the oven to 200C/400F/Gas mark 6.
Place the chopped vegetables and whole tomatoes in a large roasting tin with the garlic. Toss lightly in olive oil so that the vegetables are well coated, and roast in the oven for about 20 minutes.
Cook the gnocchi in boiling water for three minutes, drain and return to the pan. Add the pesto and warm through for a further minute.
Combine the cooked gnocchi and pesto, mix with the roasted vegetables and serve.