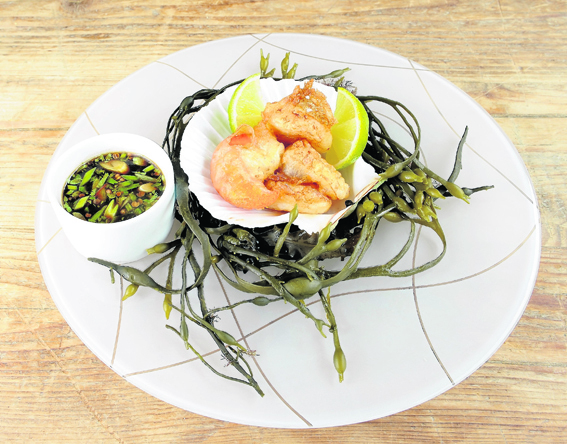 Here's two fabulous scallop dishes by Michelin-star chef Michael Smith, from the Three Chimneys on Skye
This year has been designated Scotland's Year of Food and Drink and offers a chance to promote Scotland's natural larder and produce. With this in mind I'm singing the praises of one of my suppliers, David Oakes, who ranches amazing scallops in Sconser, Skye.
He produces them all year round and his product is the best you can ever hope for. His scallops are taken from the deeper waters of Loch Sligachan and then re-laid in shallow waters as that's where the best nutrients are. He's basically giving nature a wee helping hand.
I asked David what his favourite recipe with his own product was and he said, gin and tonic fried scallops, so that's one of the dishes I've made today. I have to agree with him, this is a fabulous way to cook scallops. Basically they are cooked using a tempura batter which is really light and crispy. In keeping with the support your local producer theme, I'd suggest using a Scottish gin as there's now an excellent range being produced in Scotland.
The second recipe, citrus cured scallops or ceviche, is perfect for the summer months. For the marinade I'm using Summer Harvest Cold Pressed Rapeseed Oil. The multi-award winning oil is grown pressed and bottled on a family farm in the Strathearn Valley in Perthshire.
Give these a try and remember – support your local producer!
SCALLOPS IN G&T BATTER WITH CHILLI DIPPING SAUCE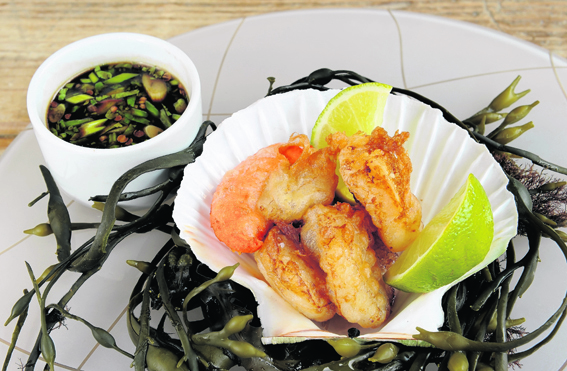 SERVES 4
Fresh scallops, (alternatively use any fish or vegetables)
FOR THE BATTER
4 heaped tbsp plain flour
1 rounded tbsp cornflour
1/2tsp baking powder
Pinch of salt
1 Scottish gin and tonic with ice (125ml tonic, 25ml gin, 2 ice cubes)
FOR THE DIPPING SAUCE
Juice and pulp of 2 limes
2tsp dark brown sugar
1 red chilli, finely chopped
1 clove garlic, finely chopped
Dash fish sauce
Dash soy sauce
Chopped fresh coriander
To make the batter combine the dry ingredients in a bowl and mix with a fork to remove any lumps. Slowly pour in the G&T, mixing with the fork gently until double cream consistency
(if you're lucky there should be a wee dram left). It is important not to over mix the batter.
For the dipping sauce, mix the lime juice with the sugar until it is dissolved. Mix in all the other ingredients and adjust to taste. Heat a deep fryer to 180C. If the scallops are quite large, slice them through the middle into discs around 2cm thick. Coat them in the batter and fry for 1-2 minutes until golden. Drain on kitchen paper and serve with the dipping sauce.
CITRUS CURED (CEVICHE) WITH SCONSER KING SCALLOPS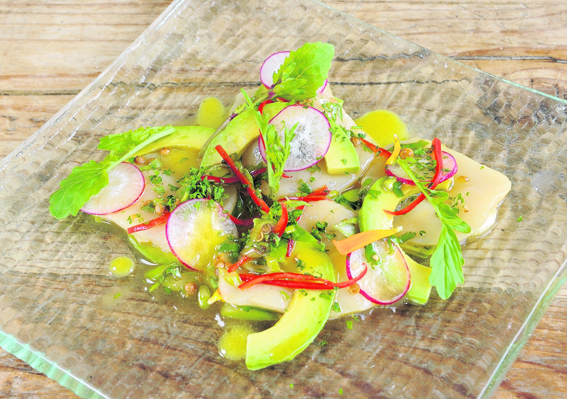 SERVES 4
8 hand dived Scottish (preferably Sconser) king scallops
Juice of 3 lemons and 4 limes (plus lime zest)
1 large red chilli (de-seeded and finely diced)
1tsp Scottish rapeseed oil
1tsp toasted and crushed coriander seeds
2 spring onions finely sliced
6 cherry tomatoes ( cut into 1/8ths )
1 small bunch fresh coriander and mint (chopped)
1tsp brown sugar
Salt and pepper to taste
Place the wet ingredients in a non-reactive bowl along with the chilli, sugar and salt and pepper and mix well until the sugar is dissolved. Add the rest of the ingredients and gently mix. Thinly slice or dice the scallops and immerse into the liquid. Leave for a minimum of 10 minutes or maximum of six hours. Serve with sliced avocado.