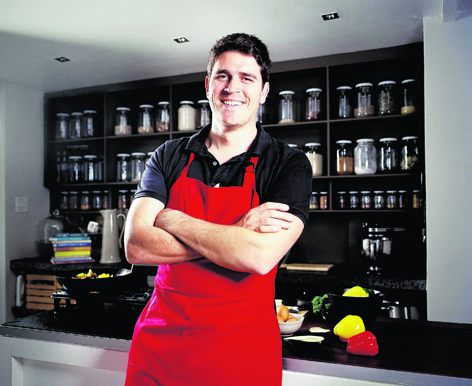 Bread and pasta fans, look away now. The South African authors of The Real Meal Revolution tell why they believe going carb-free is the key to health and weight control.
In terms of kitchen "outlaws", sugar has completely overtaken fat as public enemy number one. In fact, fat has been making something of a comeback in recent years, and the latest advocates to sing its praises are sports scientist and marathon runner Professor Tim Noakes, nutritionist Sally Ann-Creed and chef and open ocean swimmer Jonno Proudfoot.
Their book, The Real Meal Revolution, has taken South Africa by storm and has just landed on UK shores, promising to help people lose weight without giving up all that juicy meat, butter and cream.
There is a catch though – carbs are strictly off the menu.
This low-carbohydrate, high-fat (LCHF) plan has similarities with the Paleo diet, in that it advocates a return to eating what our ancient ancestors, the hunter-gatherers, ate some 200,000 years ago – before we started cultivating grains. It also draws heavily on the Banting diet devised by British undertaker William Banting, who famously gave up the carb-rich eating habits of the Victorians in the 1860s to cure himself of obesity.
Mr Noakes is convinced that this eating regime has benefited his own health. "We've been raised to believe that cholesterol, caused by eating too much fat, causes diseases, and that every disease in the book is linked to a high-fat diet. It turns out that's completely wrong," claims Mr Noakes, who has Type 2 diabetes but, at 66, says he's running like a 40-year-old.
"What's killing us is having elevated blood insulin concentrations all the time, and that is caused by high-carbohydrate diets and it's exacerbated in people like myself, who have insulin resistance."
To devise their recipes, Proudfoot drew up three lists – green, orange and red – of foods people should eat in abundance, be wary of and avoid altogether.
Mr Noakes acknowledges it's not a "one-size fits all" diet, but recommends insulin resistant people, with a family history of diabetes, should try it.
Whether or not you want to go full-on Revolution, here are three recipes from the book to try at home…
Please consult your doctor before embarking on any extreme diet change, especially if you have a health condition.
WARM HADDOCK AND CAULIFLOWER SALAD WITH TAHINI DRESSING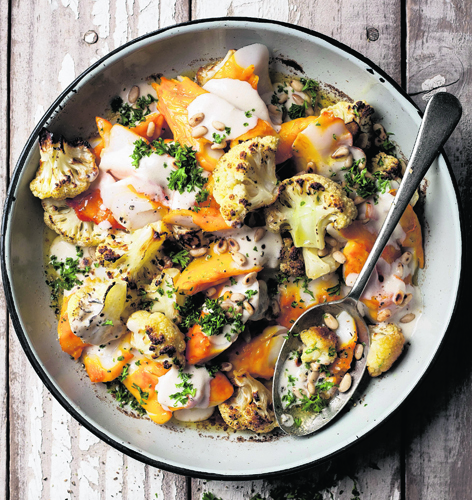 SERVES 2
FOR THE DRESSING
4tbsp tahini
Juice of 2 lemons
1 garlic clove, minced
1/4 cup extra virgin olive oil
Approx 100ml water
FOR THE SALAD
100g butter
300g cauliflower, cut into small pieces
300g smoked haddock
60g toasted pine nuts
Preheat the oven to 180C (Gas 4).
Melt the butter in the microwave or in a small pan. Place the cauliflower in a small oven tray and drizzle with butter. Roast the cauliflower until it is golden on the edges, around 30 minutes.
Add the haddock to the tray and return to the oven for about 10 minutes. Remove from the oven, break the haddock up and give everything a good mix, either in a bowl or in the tray.
Portion the salad onto plates and scatter with pine nuts.
Combine all the dressing ingredients together in a small bowl and while mixing continuously, pour in the water until you reach a good pouring consistency. Drizzle over the salad before serving.
Note: if you've been good with your carbs for the day, this is epic with some pomegranate seeds scattered over it.
COURGETTE AND GARLIC GRATIN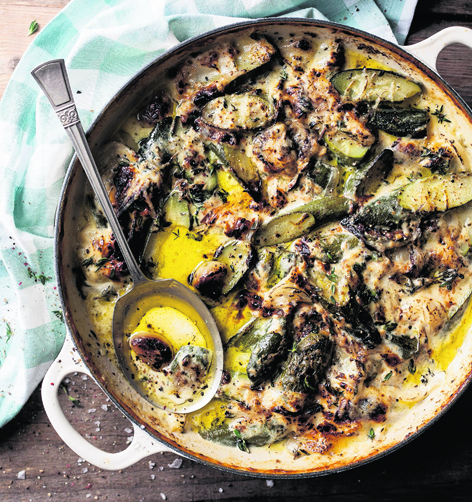 SERVES 4
800g courgettes
1 onion, roughly sliced
1 handful thyme sprigs
1 whole head garlic, cloves peeled
100g butter, broken into pieces
250ml double cream
Salt and pepper
Preheat the oven to 200C (Gas 6).
Cut the courgettes into large chunks. Lay the onions, courgettes, thyme and garlic in an ovenproof lasagne dish (or casserole dish), mix well and then press down.
Dot pieces of butter evenly over the top of the dish, then cover everything with the double cream. Season with salt and pepper. Place the tray in the oven, uncovered, and bake for approximately 45 minutes.
If you want to thicken the sauce in the bottom of the tray simply strain through a sieve and reduce it on the stove before pouring it back over.
Note: If you want some extra goodness, sprinkle a layer of grated cheese on top of the gratin before serving and pop it back under the grill for a cheesy crust.
LAMB BLANQUETTE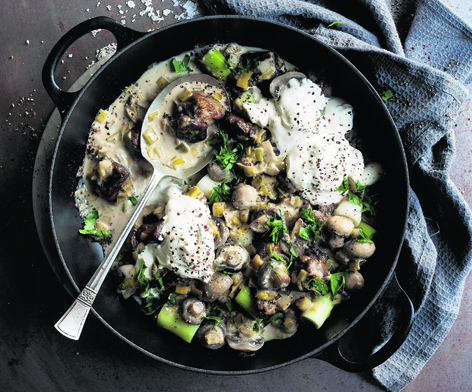 SERVES 4
600g lamb shoulder, cut into 20g cubes
8 peeled shallots
4 sticks celery, cut into large chunks
5 sprigs thyme
5 sprigs rosemary
2 whole heads garlic, cut in half across the meridian
2 cups chicken stock
1 cup white wine
125ml cream
2 bunches of leeks, trimmed and cut into big chunks
250g white or button mushrooms, whole
Salt and pepper
Handful of parsley, freshly chopped
125ml creme fraiche
Preheat the oven to 160C (Gas 3).
Place the lamb, shallots, celery, thyme, rosemary, garlic, stock and wine in an ovenproof casserole dish. Cover the dish with foil and place it in the oven for two and half hours.
Check the meat to see whether it is soft and tender. If it is still tough, pop it back in for another 30 minutes. If it is melt-in-the-mouth tender, drain all of the juices from the tray, including the fat, through a sieve into a pot and simmer to reduce.
Once all of the liquid has reduced to about 400ml, add the cream, along with the leek chunks and mushrooms, and reduce the sauce until it goes thick and creamy.
Once the sauce is thick and the mushrooms and leeks are tender, add the meat, season with salt and pepper and stir through the freshly chopped parsley. Finally, garnish with dollops of creme fraiche and serve.
Note: If you're splashing out, splash some truffle oil over this before serving. It will be truffle oil
well spent.