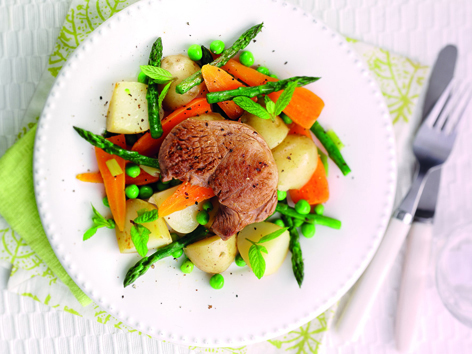 It's a sure sign that spring is on the way when you see Jersey Royals for sale. They have been grown on Jersey for more than 130 years, with the main outdoor crop planted from January to April with harvesting taking place from the end of March through to July.
BACON CRUSHED JERSEY ROYALS SERVED WITH
ROAST COD
SERVES 4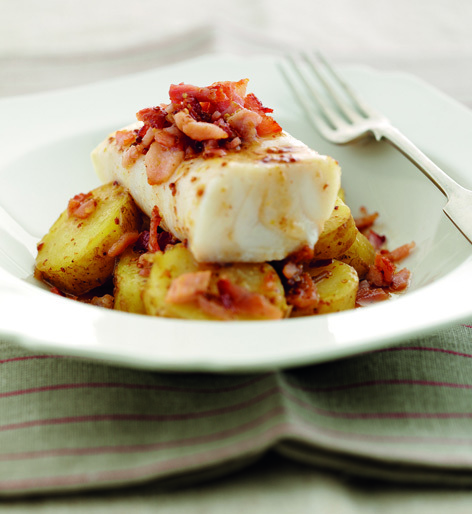 4 x 150g thick cod fillets
1tbsp olive oil
300g Jersey Royal Potatoes
300ml hot vegetable stock
25g butter
1tbsp oil
3 rashers un-smoked bacon, chopped
Salt and freshly ground black pepper
2tbsp sherry vinegar
2tsp clear honey
1tbsp wholegrain mustard
4tbsp olive oil
Preheat the oven to 180°C/fan oven 160°C/Gas 4. For the roasted cod, heat the oil in an ovenproof frying pan and fry the cod for 2-3 minutes skin side down. Transfer to a baking sheet and bake in the oven for 5-7 minutes, or until completely cooked through.
For the bacon crushed potatoes, place the potatoes in a pan with the vegetable stock. Bring to the boil and cook for 20 minutes, or until the potatoes are tender. Drain, then return the potatoes to the pan and lightly crush.
Heat the oil in a pan and add the bacon. Cook until the bacon is crispy. Remove about 3tbsp of the bacon. Add the crushed potatoes to the remaining bacon and toss until mixed with the bacon and juices. Season well.
For the dressing, mix together the vinegar, honey and mustard, whisk in the oil, taste and season. Pile the crushed potatoes and top with the cod and a pile of the reserved bacon. Pour over the dressing and serve.
TIP: If you want to serve this for dinner parties replace the cod with sea bass and serve with asparagus.
JERSEY ROYALS SPRING LAMB SAUTE
SERVES 4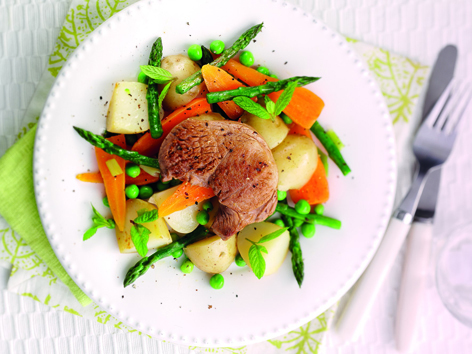 1kg Jersey Royals, scrubbed
300g Chantenay or small carrots
30g butter
4 lamb leg steaks
6 spring onions, sliced
120g asparagus, cut into short lengths
80g frozen petit pois or garden peas
Salt and freshly ground black pepper
Handful of mint leaves, to garnish
Cook the Jersey Royals in lightly salted boiling water until tender – about 15-20 minutes.
At the same time, cook the carrots in a separate saucepan of boiling water. Melt half the butter in a large frying pan and add the lamb steaks, cooking them over a high heat for 2-3 minutes on each side.
Remove from the pan, cover with foil and leave to rest in a warm place (such as a low oven). Wipe out the frying pan with kitchen paper and add the remaining butter.
Sauté the spring onions and asparagus for 3-4 minutes, then add the frozen peas and cook for 2-3 more minutes.
Drain the Jersey Royals and carrots and add them to the frying pan, tossing them gently with the asparagus mixture. Share between four warmed serving plates and top with the lamb steaks. Serve, seasoned with black pepper and garnished with mint leaves.
TIP: Use lamb chops instead of steaks if you prefer.
JERSEY ROYALS, GOAT'S CHEESE AND ASPARAGUS FLAN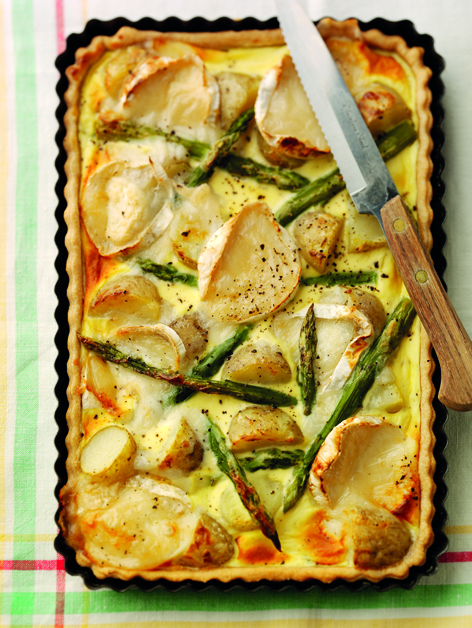 450g Jersey Royals, scrubbed and cut into chunks
250g asparagus
500g pack ready-to-use shortcrust pastry
3 eggs
1 x 300ml pot crème fraiche
2 x 100g packs Somerset goat's cheese (with rind), sliced
Salt and freshly ground black pepper
Fresh herbs, to garnish
Cook the Jersey Royals in lightly salted boiling water until just tender.
Drain well, then cool. At the same time, cook the asparagus in a small amount of boiling water for 3-4 minutes.
Drain, then rinse with cold water to cool quickly. Preheat the oven to 200°C, fan oven 180°C, Gas Mark 6. Roll out the pastry on a lightly floured surface and use it to line a 20x30cm (8×12 inch) oblong tart tin. Line with a piece of foil or greaseproof paper and baking beans and bake 'blind' (i.e. without a filling) for 15 minutes.
Take the flan from the oven and remove the foil or paper and baking beans. Reduce the oven temperature to 180°C, fan oven 160°C, Gas Mark 4.
Arrange the Jersey Royals over the base of the flan with the asparagus. Beat together the eggs and crème fraiche. Season. Pour into the flan case and arrange the sliced goat's cheese on top. Bake for 30-35 minutes, until set. Serve warm, garnished with fresh herbs.
Tip: The flan is suitable for freezing, so if there are any slices leftover, just wrap them in freezer bags and freeze for up to 3 months.
THAI-STYLE JERSEY ROYALS WITH CHICKEN
SERVES 4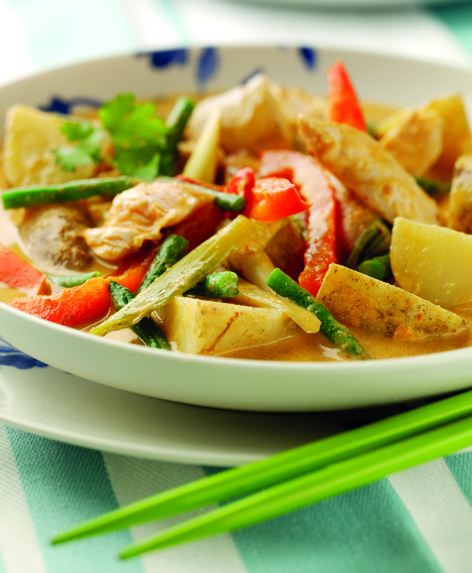 750g Jersey Royals, scrubbed
1 bunch spring onions, sliced
600ml vegetable stock
400ml can coconut milk
1 red chilli, deseeded and thinly sliced
1 stalk lemongrass, cut into two pieces
2tbsp Thai red curry paste
100g fine green beans, sliced
4 skinless boneless chicken breasts, each cut into 5-6 pieces
1tbsp chopped fresh coriander
Salt and freshly ground black pepper
Put the Jersey Royals into a large, deep frying pan or wok with the spring onions, vegetable stock, coconut milk, chilli, lemongrass and curry paste.
Bring to the boil, then cover and reduce the heat. Simmer for 15 minutes. Add the chicken and green beans to the pan and cook gently for another 15-minutes, until tender.
Stir in the coriander and season to taste with a little salt and black pepper.
Serve in warmed bowls.
TIP: You could make this recipe with fish instead of chicken – salmon would be delicious. Just add four skinless, boneless salmon fillets to the pan when the potatoes are tender and cook, covered, for 10-12 minutes.