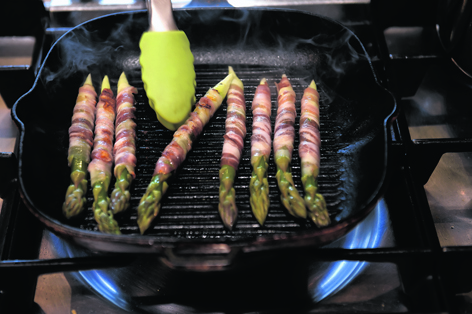 Summer eating, when there are so many lovely foodstuffs in season, makes life much easier as there's less preparation to do. Asparagus makes life very easy as it's very simple to prepare and can be used to create wonderful dishes for this time of year.
I'm a huge fan of asparagus but it's one of the foods I try to eat only when it's in season – the Scottish asparagus season is about to get into full swing, so make sure to take full advantage of it. Asparagus loves butter, eggs and cheese and any of these combinations work fantastically well with it.
To prepare, snap off the woody part then peel off the bottom half using a potato peeler. It's essential to peel the stems as this allows the seasoning to soak in. Boil in heavily salted water, just enough to cover it, for three to four minutes depending on the thickness. Drain, then add butter, let it melt and away you go – a fantastically flavoursome treat.
CHARGRILLED ASPARAGUS WITH PARMA HAM, POACHED EGG AND PARMESAN
SERVES 4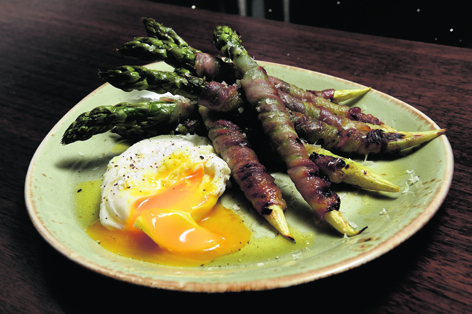 450g fresh medium asparagus
20 strips thin sliced Parma ham or air-dried ham
Olive oil
2 tbsp white wine vinegar
4 fresh organic very fresh eggs
Maldon salt and freshly ground black pepper
50g freshly grated Parmesan
First prepare the asparagus. Snap the ends off the spears and using a potato peeler, shave the ends to a point. Wrap each asparagus tightly in a slice of ham, leaving the asparagus head showing. Preheat a griddle pan until very hot.
Brush the wrapped asparagus with olive oil. Griddle for 5-7 minutes until tender and lightly charred, keep warm. Don't fiddle with them as you want good chargrill lines.
To poach the eggs, boil water in a clean saucepan, add the vinegar and place it over a low heat – the water should show a few bubbles on the base of the pan, but no more. Whirl the water gently round until it's in a gentle whirlpool. Break the eggs carefully into the hot water (or into a cup first and tip them into the water) and cook for 3-4 minutes. Lift them out of the water with a slotted spoon and drain thoroughly on kitchen paper.
To serve, divide the asparagus between four warmed plates. Add a poached egg and a drizzle of olive oil, season with salt, pepper and grated Parmesan. Use the asparagus to dip into the egg.
SUPER SALAD OF ASPARAGUS, TENDERSTEM BROCCOLI, MORELS AND SUMMER LEAVES
SERVES 2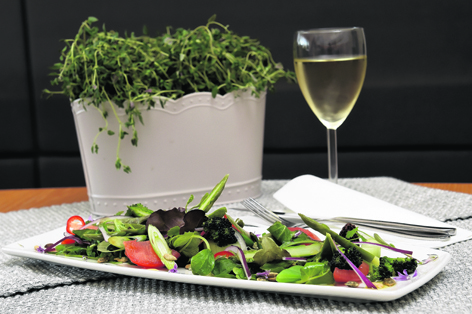 200g asparagus
100g tenderstem broccoli
Half an avocado, peeled and sliced
6 mangetout, sliced
Half a red onion, peeled and sliced
6 dried morels
150g summer leaves
Half a red chilli, sliced
2 tomatoes
Half a cucumber, peeled
Toasted pine nuts
Toasted pumpkin seeds
FOR THE DRESSING
1 tbsp smooth Dijon mustard
100ml white wine vinegar
200ml extra virgin olive oil
Pinch Maldon salt
Freshly ground black pepper
1 garlic clove, crushed
First make the dressing; either place all the ingredients in a liquidiser and blitz for 60 seconds. Or whisk everything well until emulsified. For the salad, prep all the veg. Blanch the asparagus and tenderstem broccoli for 3 minutes, remove and drain well.
Place the tomatoes in boiling water for a few seconds. Remove and take off the skin. Halve and remove the seeds. Soak the morels in hot water according to the pack instructions. Remove and quickly fry in butter for a minute or two. Remove and slice.
Now, arrange all the ingredients on a serving dish and drizzle over the vinaigrette. Season lightly with salt and pepper and serve.