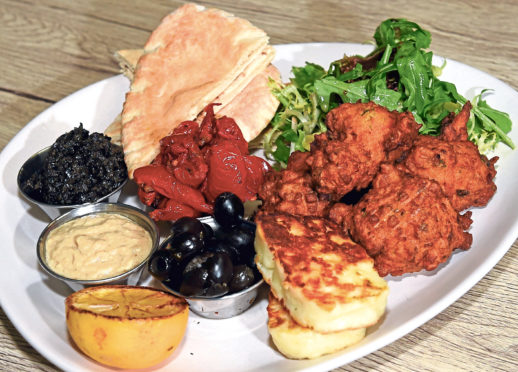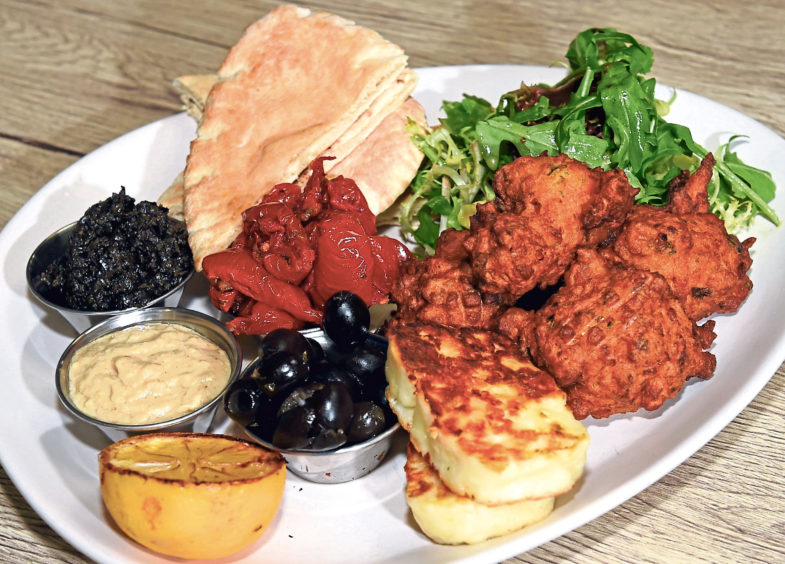 I have a new favourite beauty spot in the north-east. I'd heard people speak very highly of Newburgh beach but despite having lived in Aberdeen for the best part of 20 years, I had never been.
I'd been told it is beautiful and a great place to spot a thriving seal colony. The perfect place to take the family.
So when I saw "Newburgh away" on my son's football fixture list, I decided this was the ideal opportunity to kill two birds with one stone and hit the beach before his match.
And we were not disappointed. The weather was glorious – albeit, unsurprisingly for this part of the world, rather windy – and made the beach and surrounding area look resplendent. In fact, if I could have blocked out the chilly gusts, I could have believed I was somewhere on the Mediterranean.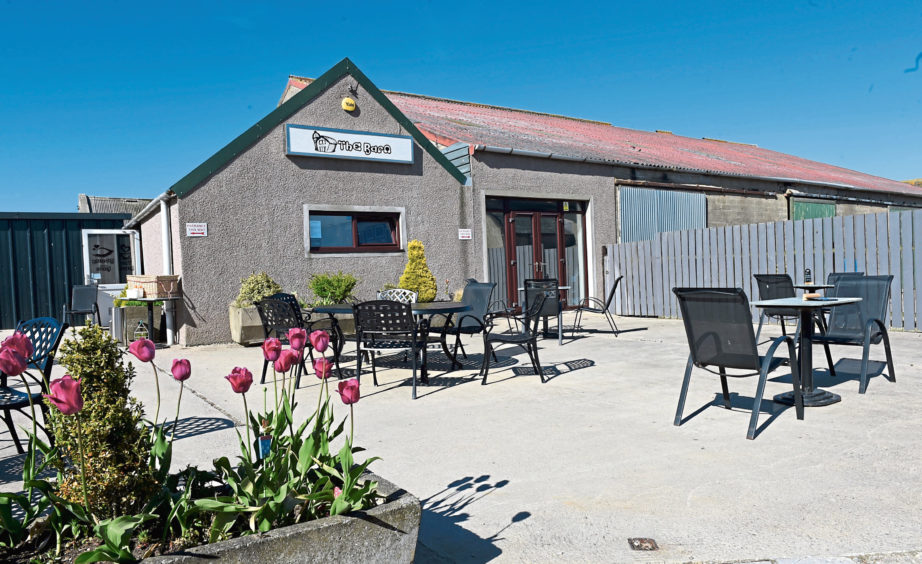 The seals weren't immediately visible, but after walking to the water's edge we started to spot a few dark heads bobbing along. And the longer I stood there, the more I could see and the closer they came. What a thrill to have a seal staring at me from about five metres away. A truly wonderful experience, and I could have spent hours there.
However, we had a football match to get to, but I made a mental note to go back to Newburgh beach and make a day of it… when the temperature heats up a bit.
After our brush with nature and a keenly contested game of football, we'd worked up a healthy appetite. I'd booked a late lunch at The Barn at Foveran, somewhere I knew very little about. But the lady seemed very friendly on the phone and we made the short journey to The Barn ready for a good feed.
With two young children in tow, we noted the nice little outdoor play area next to the car park, as well as the complimentary sun cream, which was a nice touch on such a sunny day.
On entering The Barn – which is literally a converted barn on a working farm – we were struck by two things: the lovely array of cakes on display and the warm, friendly welcome of the staff.
Once seated, we took in our surroundings. The conversion has led to a bright and airy space with natural light flooding in through windows in the roof. And we loved the selection of paintings by local artists that adorn the walls, all for sale should you wish to take one home. The fairy lights wrapped around the ceiling beams made us want to come back when The Barn is open on Friday and Saturday evenings – the menu for which looks very appetising.
But lunch was what we were there for, and we looked through the decent-sized menu and specials before making our decisions.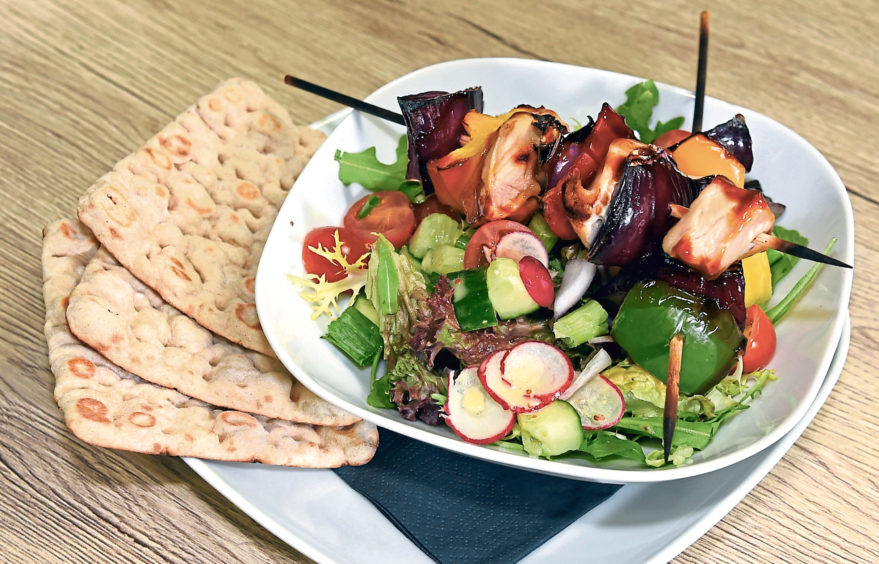 As we were all hungry, we chose a mezze board main course to share as a starter. The menu is more for light bites during the day, but there is still plenty to choose from.
This was a delicious selection that included houmous, olives, halloumi, falafel that was almost like pakora, flatbread and the best tapenade I've eaten. Everything was so good, even the normally fussy children enjoyed it all.
We eschewed the tasty-sounding baked tatties and paninis and opted for more substantial main courses. I love big chunks of chicken, so couldn't see past the teriyaki chicken skewer and salad. This arrived as two big skewers packed with chicken, peppers and onions on a bed of salad in a bowl, with two large flatbread on the side. The portion was decent and I couldn't fault any of it.
My vegetarian wife was pleased with the number of choices she had, and eventually plumped for the spring vegetable gnocchi with parmesan. She pretty much cleared the plate, which surprised me as gnocchi can sometimes be a bit much as a main course. But it had a lovely flavour and the peas were fresh and full of flavour. A fine dish.
The kids ate up their mains with haste. The footballer had a giant waffle with bacon and maple syrup, while our daughter chose a burger. Unlike many restaurants, this was a quality, homemade burger that was in a different league to the usual frozen fodder often dished out on children's menus.
We also had fries with parmesan and truffle oil, as well as the most delicious potato wedges – I did tell you we were hungry!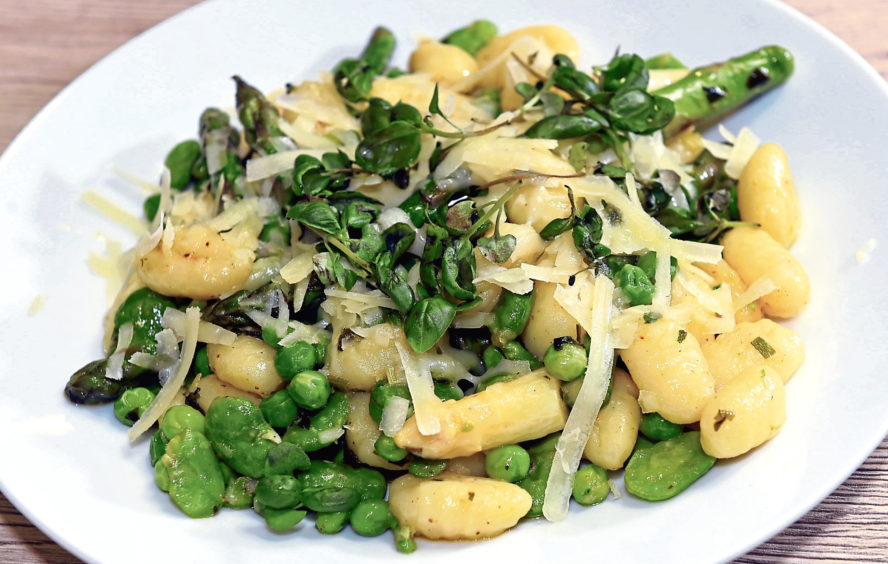 The meal was a triumph, but we were stuffed and couldn't manage one of the lovely-looking cakes or ice cream sundaes on offer, although the kids did manage their ice cream pots that came as part of the kids' menu. Very good value.
We sat for a while, letting our food digest in relaxed surroundings, watching the fantastic afternoon tea platters being served to other diners.
This really is a place for everyone. Families young and old, couples, friends in for a coffee and a blether. The owners have come up with a formula that works for all types of customer, and we loved it.
Maybe next time we'll come back without the kids and enjoy some of the local beers, cocktails and tapas they offer.
I'm sure the welcome then will be just as warm, and the food just as good.
The restaurant
The Barn
Westfield, Foveran, Ellon AB41 6AY
t: 01358 788707
w: www.barnenterprises.com
The bill
Mezze board £10.95
Teriyaki chicken skewer £8.95
Spring vegetable gnocchi £9.95
Waffle and bacon £6.95
Kids' burger £6.95
Chips and parmesan £2.45
Potato wedges £2.45
Soft drinks x 3 £6.35