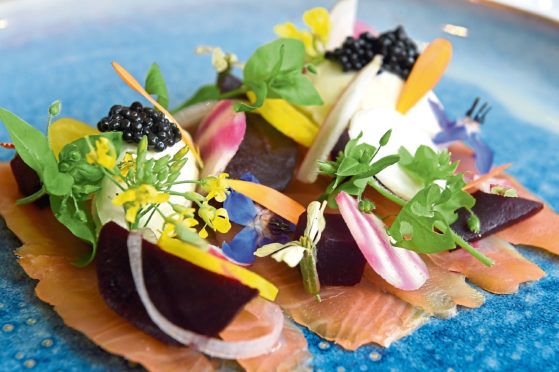 Fully paid up member of the Nosey Parker Club (NPC) that's me.
Not surprisingly, I took a great deal of interest in the transformation of the old, former Maple Court Hotel into the vivacious and glamorous, Ness Walk, a brand-new five star luxury hotel recently opened in Inverness.
The builders moved in, a few damaged trees came down, new buildings went up.
That was about as much as I could gleam squinting through the hoarding surrounding the hotel grounds and probably designed to keep NPC members at bay…
When all was revealed, I was suitably impressed.
Once it had been opened for a few weeks, my partner and I headed there to try out the pre-theatre menu.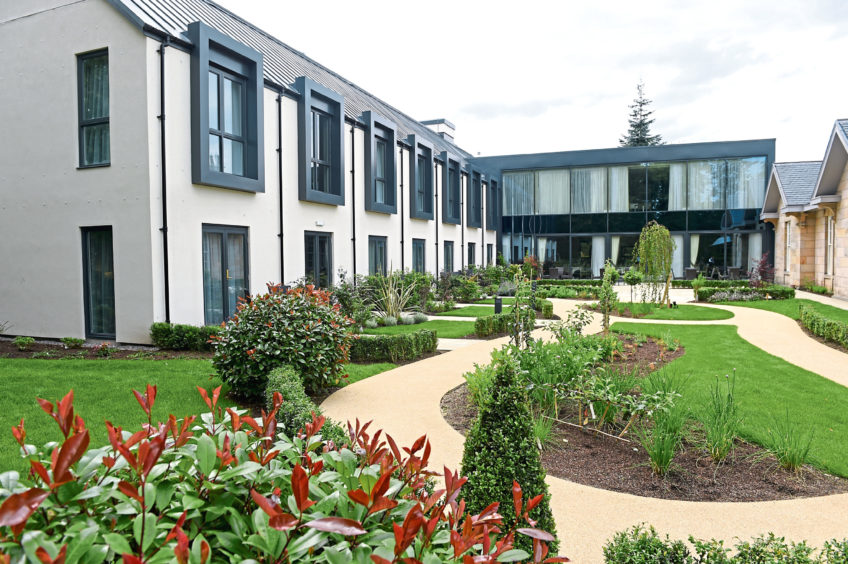 When it comes to a new place, I tend to opt for lunch or an early-bird meal first before going head long into a full-on dining experience.
That way, any initial teething issues will have disappeared.
Ness Walk is part of the Kingsmills Hotel Group whose chief executive, Tony Story, has strong ties with Inverness and Aberdeen.
What he's created is a stunning, high class venue, sitting within wonderful gated grounds overlooking the River Ness.
Prior to being the Maple Court Hotel, the building was the Springfield Hotel and before that, former home of Provost Dr William Simpson.
A painting of Dr Simpson hangs in Inverness Town House, and it's said that not much is known about him apart from him apparently running off to London with someone else's wife at the end of his term in office.
Love a bit of gossip (see earlier reference to NPC), and Ness Walk certainly makes for a good talking point.
We were welcomed by head concierge Stephen, a well-known figure on the Highland hospitality scene, who offered to give us a wee tour of the building which we readily accepted.
The entrance hall and adjacent lounge are elegant and tasteful and the furniture sumptuous, while the bespoke carpet has a pattern said to represent the flow of the River Ness.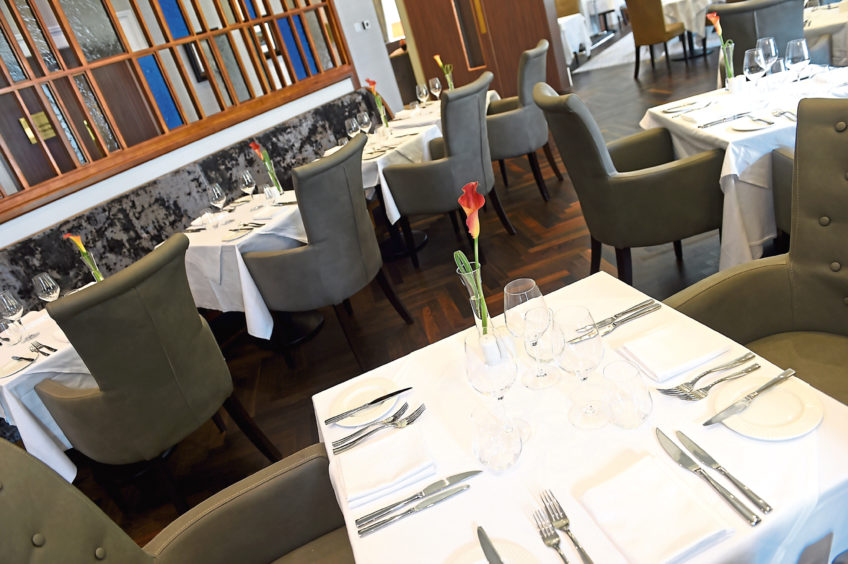 After giving the lounge, restaurant, function suite, verandah and new courtyard garden the once over, we pulled up a seat at the glamorous lounge bar and ordered a Ness Legend cocktail, a twist on a classic G&T made with locally sourced gin and absinthe, herbs, lychee liqueur, and a tonic reduction.
Watching barman Mike in action was like watching an alchemist at work as, with the final addition of the tonic, the purple-coloured drink turned a nice shade of pink.
I'm not a huge cocktail fan but with hints of liquorice and mint, and a lovely mouth feel, this was a cocktail I'd happily order again.
Dinner was served in the Torrish Restaurant – the name comes from a type of fishing fly, and once more we were blown away by the sheer elegance and style of the room.
Many traditional features such as ornate plasterwork have been retained, while stylish globe wall lights give it an almost art-deco air.
No matter where you sit, there's fine views to enjoy, either of the river, gardens or courtyard area that's home to a herb garden, fruit shrubs and trees.
White linen tablecloths, sparking glasses, gleaming cutlery, fresh flowers and candles on each table, and polite, well-informed staff – the restaurant ticked a lot of boxes.
An amuse bouche of a goat cheese cigar with teeny dots of beetroot juice set the tone for what was to become a wonderful dining experience.
My partner began with chilled pea soup – farm-fresh peas plus horseradish cream, radish shavings and croutons in bowl, with a mini copper pan filled with pea soup to pour over.
It looked amazing and tasted just as good.
I opted for citrus cured salmon with pickled vegetables with mint yoghurt which again, looked almost too pretty to eat as it was dressed with delicate flowers.
The salmon had a real citrus zing but not enough to drown out its flavour, while the addition of caviar took it to the next level.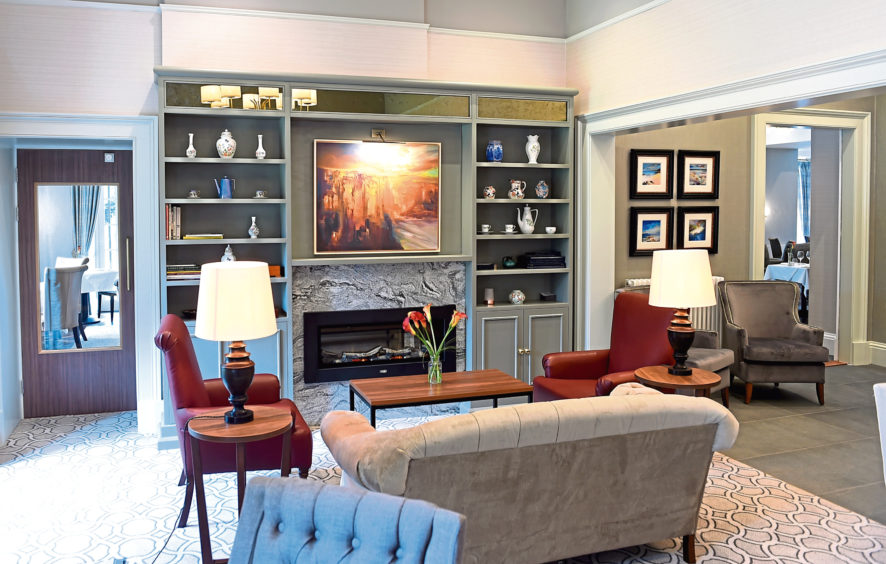 For mains, my partner had grilled North Atlantic cod with two types of chilled asparagus, dauphinoise potatoes and a brown shrimp salsa verde which was simply, sublime.
I paid a £5 supplement and plumped for slow-cooked Aberdeen Black Angus featherblade of beef which simply melted in the mouth.
Served with delicious roast potatoes, a fabulous artichoke puree, charred shallot and charred baby-gem lettuce plus confis salsify created a lovely fusion of flavours and textures.
As I'd had a pre-dinner cocktail, I didn't want wine with my meal but the other half had a nice class of house Cab Sav which he said was perfectly chilled and delish.
We decided against a dessert as, although it was a pre-theatre offer, the portions were pretty filling.
For me, Ness Walk is a fabulous addition to the Highland fine dining scene, and the head chef, Craig Douglas, clearly has great flair.
The pre-theatre deal offers two courses for £19.95 and is available between 5-6.30pm.
Now that we've dipped out toes in the water, we'll definitely be back for lunch or dinner in due course.
The restaurant
Torrish Restaurant, Ness Walk
Address: 12 Ness Walk, Inverness, IV3 5SQ
t: 01463 215215
w: www.nesswalk.com
The bill
Pre-theatre supper x 2 + £5 supplement, £34.90
Ness Legend cocktail x 2, £18
Cabernet Sauvignon, £8.50
Total: £71.40