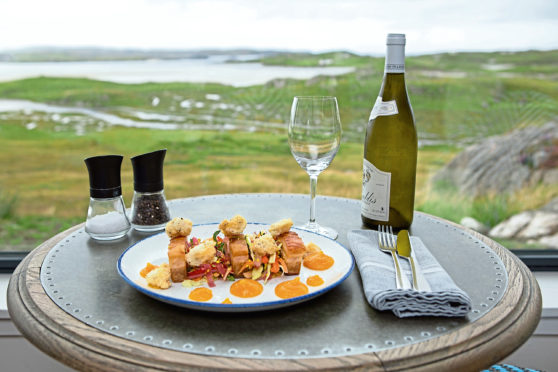 The newly opened Uig Sands on Lewis markets itself as a restaurant with a view.
With that in mind, I deliberately booked a later sitting, visualising a beautiful sunset over the breathtaking white sands of Uig Bay as the perfect way to end my holiday in Timsgarry.
But alas, it was not meant to be, and we trudged into the restaurant completely soaked – and rather worried about the puddles of water we were leaving in our wake.
The friendly staff immediately put us at ease, however, pointing out where we could hang our jackets to dry before showing us to a table right beside the large window.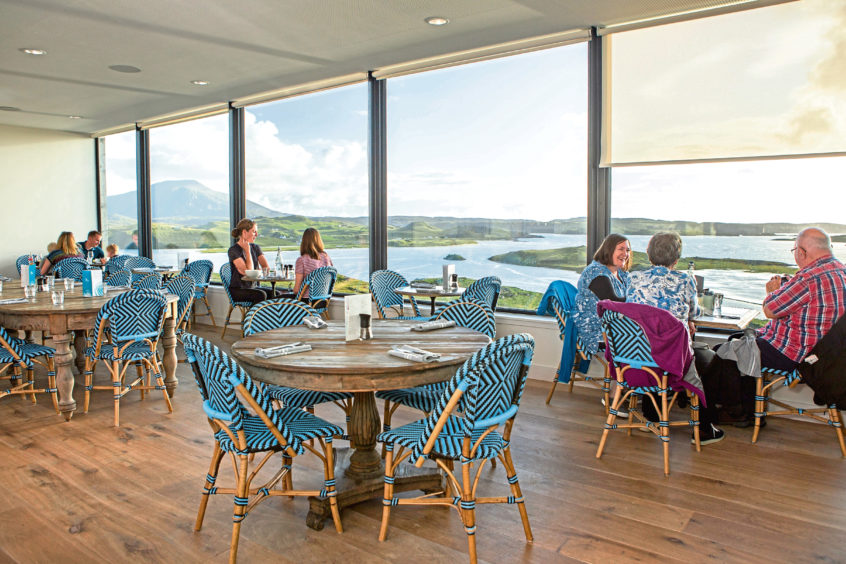 Despite the rain, we happily admired the spectacular bay and the hills around us as we sipped our wine and perused the menu, which focuses on fresh and local produce – particularly seafood.
Owned by Dickon and Elly Green, who are also behind the award-winning Uig Lodge a few metres up the road, the 40-seater restaurant opened in March and certainly already seems to be a popular spot for both tourists and locals.
It has been simply decorated, with the large window spanning one wall ensuring the view outside is the focal point for diners.
In the centre of the restaurant are two large tables – one sitting about 13 – and, on the night we were in, this added to the family-friendly, relaxed atmosphere.
My only gripe – and a small one at that – is where the specials board has been placed. Instead of being in easy view of the diners, the blackboard easel is at the bar as you arrive, meaning we had to wander over and try to remember what was on offer so we could repeat it to our company. An easy thing for some perhaps, but with so many varied flavours on offer with each dish, it was a challenge to remember and recite them back to the table.
Eventually, both my friend and I decided to go for a starter of Uig Lodge smoked salmon, with celeriac and horseradish remoulade.
It was beautifully presented and absolutely delicious – fresh and flavoursome. It is easy to see why the lodge – which has been smoking salmon since 1984 – is so popular with visitors keen to learn more about the art, and why it has picked up so many awards, including the Guild of Fine Food's Great Taste Awards.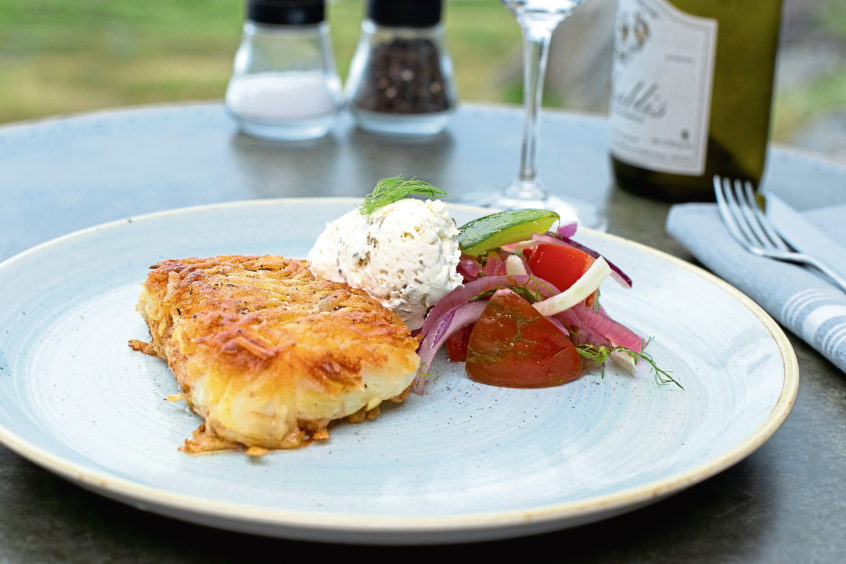 For our mains, I opted for the pan-fried cod fillet in potato crust with heritage tomato and fennel salad, while my companion opted for roast pork belly with salt and pepper monkfish, apricot and ginger beer relish and coconut cashews.
Both of us had been a little concerned about the strong flavours, but were delighted once we tucked in.
My cod was wrapped in golden potato, and looked almost like a giant rosti – though much more neatly presented – and the soft, white flakes of fish melted in the mouth, with the salad ensuring it was not too heavy.
The roast pork belly – something my friend admitted she would not usually choose – looked beautiful on the plate, with the monkfish scattered among the precisely cut portions of meat. It was perfectly cooked, and certainly seemed to go down well.
We shared sides of lemon and thyme saute potatoes and spiced roast butternut squash, which were not really necessary due to the ample portion sizes, but tasty all the same.
Despite the generous helpings we decided to go for dessert and, on the recommendation of our young waitress, both chose the raspberry lemon oat crumble. Perfectly light, with a real zing to it, it rounded off the meal nicely.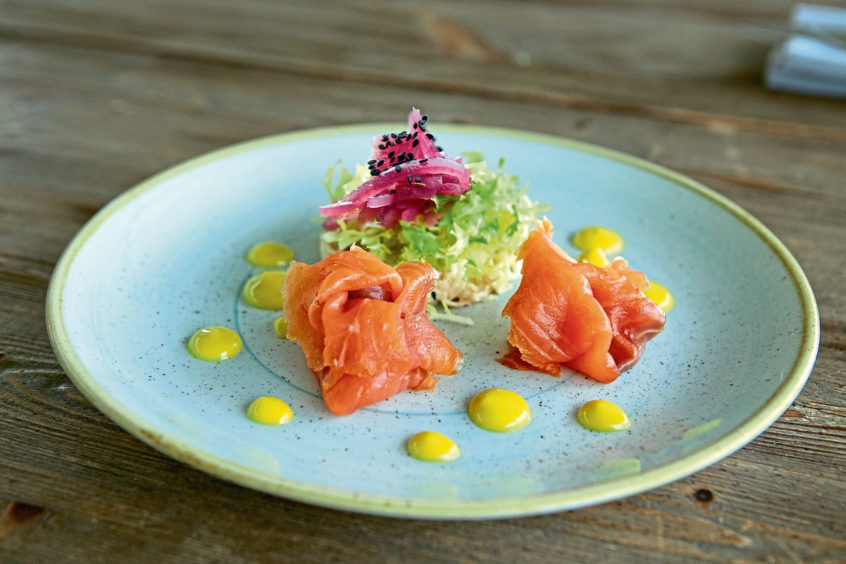 By the time we had finished our meal, there were only a few tables left, but the staff were in no rush to shoo us away.
Instead, we were left in peace to sup the last of our wine and watch darkness fall over Uig Bay.
It was the perfect end to our break on Lewis, and a restaurant well worth the trip wherever you're staying on the island.
The restaurant
Uig Sands Restaurant
Timsgearraidh, Lewis HS2 9ET
t: 01851 672334
w: www.uiglodge.co.uk/uig-sands
The bill
Smoked salmon x 2 £17
Cod fillet £19
Pork belly and monkfish £19
Sauté potatoes £3.50
Butternut squash £3.50
Raspberry lemon oat crumble x 2 £13
Bottle of chenin blanc £20.50
Total: £95.50