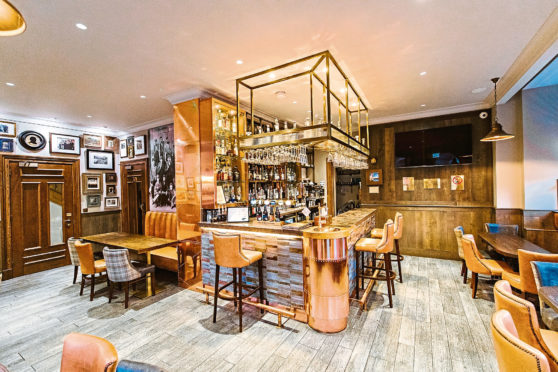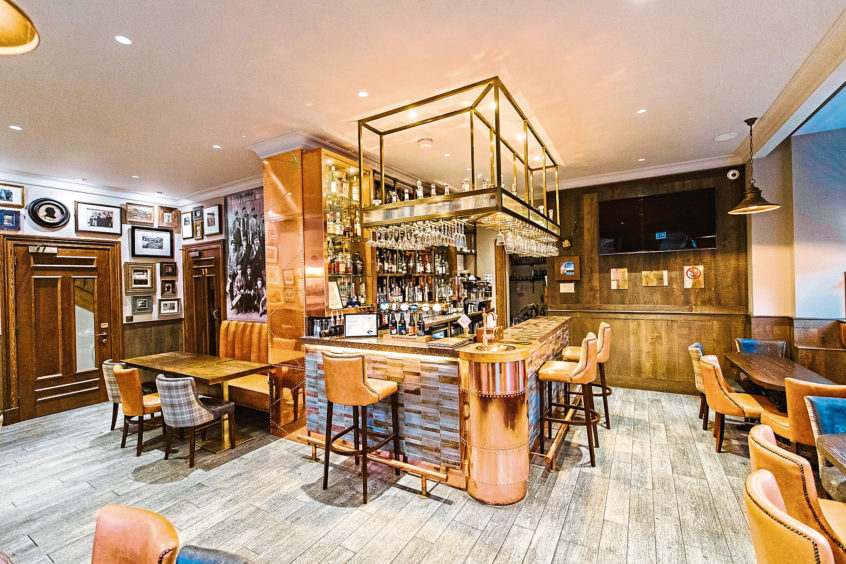 The Station Hotel in Rothes has a long and varied history, dating back as far as 1899.
It was once a favourite with the well-to-do, who would stay there while travelling north to fish for salmon on the River Spey.
Having fallen out of fashion and eventually closing its doors in 2006 – as the Ben Aigen Hotel – The Station Hotel was reborn in 2016 after an extensive restoration project.
The hotel has a strong reputation for its food offering, so I was keen to sample its fare on a Saturday lunchtime stop.
We opened the door to Toot's Café Bar & Bistro and were met by a stylish, contemporary space with nods to the area's rich history in the whisky industry. Old whisky-related photographs occupy every available space on the walls in the corner we sat in, and the well-stocked bar even boasts a locally hand-crafted copper sink for adding water to your whisky.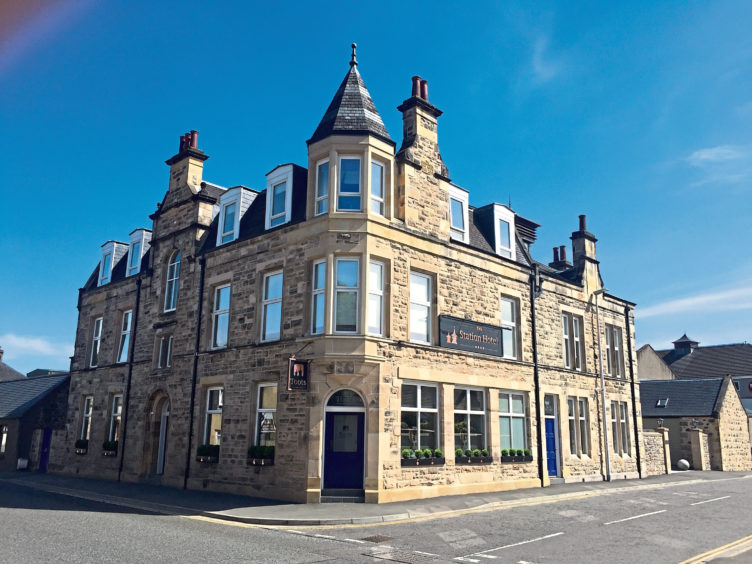 The bistro is named after Ernest Forsyth – an ancestor of the current owners – who was known as Toot. Toot was a well-respected Rothes figure who ran the local copperworks business.
But enough of the history lesson, and on to the all-important food.
The main menu at Toot's, which is the same as in the Station Hotel's other restaurant, Pagodas, is artistically designed and offers a good variety of dishes.
There is a "Bits & Pieces" menu offering lighter bites in the form of hot and cold sandwiches, which looked delicious and filling when we saw them arrive at tables around us, but we were on the hunt for something more substantial.
Although sorely tempted by the baked Clava Brie melting pot, I couldn't resist the Portsoy smoked haddock chowder. As a huge fan of Cullen Skink, I had to give this version a try.
A large bowl of creamy chowder duly arrived boasting a crispy hen's egg in the middle as well as an unexpected haddock goujon sitting on top.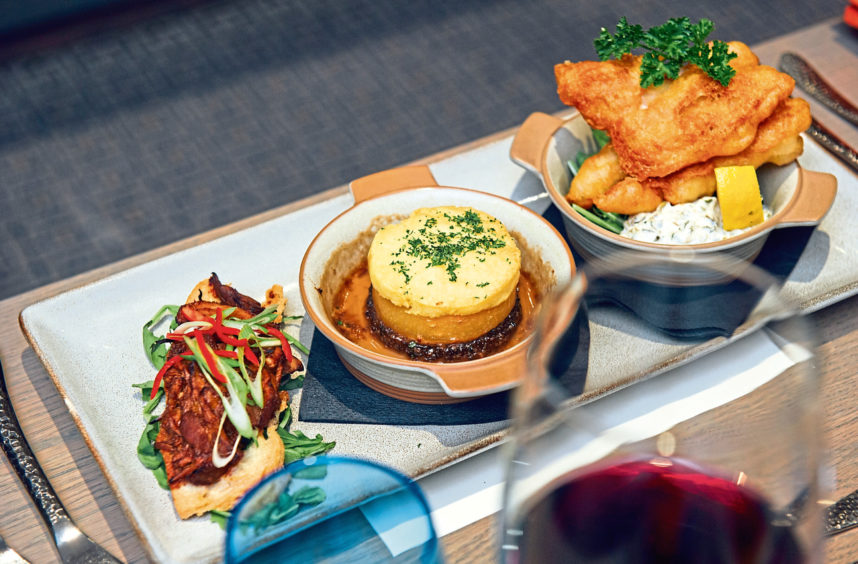 The dish was piping hot and tasty, although I would have liked a few more pieces of fish to give it a little more flavour.
My wife enjoyed her potato and leek soup, while the children's cheesy garlic bread was about the best I have tasted, and came with some dressed leaves, about which my son said: "Even the salad is nice." Praise indeed from a 10-year-old.
I was struggling to decide what I wanted for a main course, so I decided to choose from the unusual "mix 'n' match" section at the foot of the menu.
Best described as a Scottish tapas selection, I was able to choose from six dishes. I was informed that three dishes plus a side would usually suffice for a main course, but I couldn't narrow it down to three so decided against a side dish in favour of a fourth tapas.
I knew that I was biting off more than I could chew after having polished off the chowder, but I was game to give it a go, and I love sampling a variety of different flavours.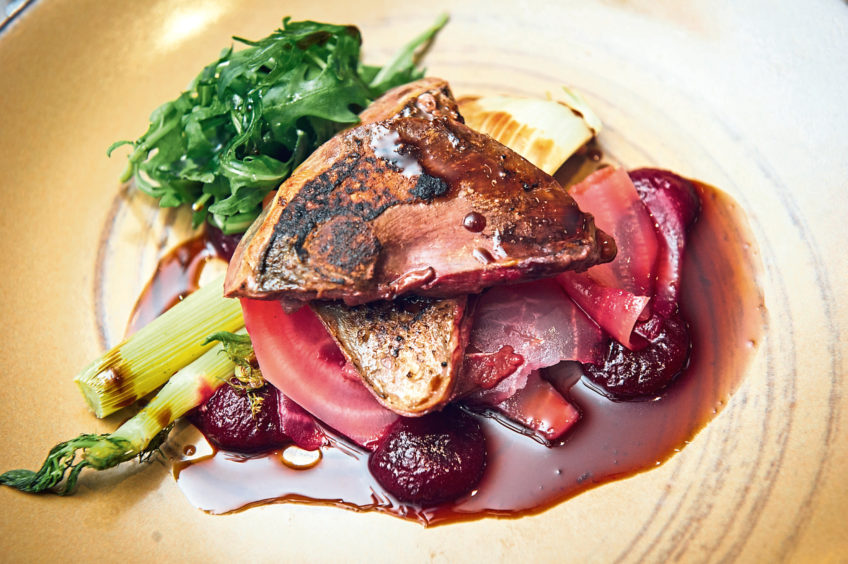 And so they arrived: beer battered haddock goujons; roast venison meatballs; haggis bon bons; and macaroni bites. Certainly lots of variety.
The pick of the bunch was the haggis. The meat almost melted into one of the most delicious whisky sauces I have ever had. Similarly, the tomato sauce with melted cheese that enveloped the venison meatballs was divine, albeit I wasn't as taken by the texture of the meat.
The macaroni bites were lifted by the sticky, sweet sauce drizzled over them, and the haddock goujons were light and plentiful and served with homemade tartare sauce.
I certainly wasn't hungry after all that, and had to share some of the dishes with my family.
My wife thoroughly enjoyed her sweet potato and lentil dahl with spiced rice and chapati bread, although confusingly it was bereft of lentils. But that did not detract from the lovely flavours.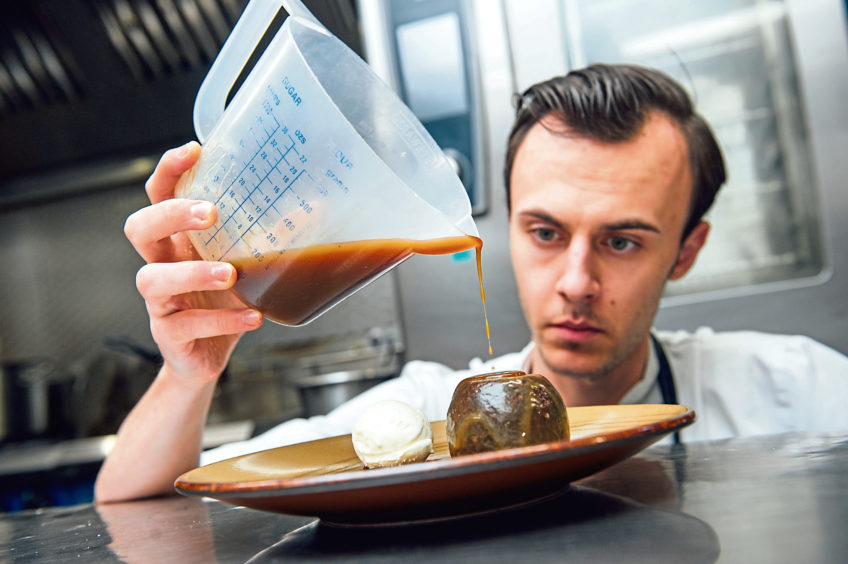 Care had clearly been taken with the kids' burgers as they looked home-made and would have been well received by adult diners, but they were a bit too chargrilled and my daughter didn't eat hers.
The desserts saved her day, however, as her sticky toffee pudding was delicious. Rich and sweet with a fabulous sauce and ice cream sprinkled with chocolate flakes, it was devoured. My son also enjoyed his chocolate ice cream.
For those who like to know a bit more about their meat and fish, the menu states the hotel only uses the best Scottish beef, pork and lamb, which it cooks over a charcoal fire. Its steaks are hung for a minimum of 21 days before being salt-aged in-house for a further five days. All its fish and shellfish is ethically caught, sustainable and delivered from boats from the Summer Isles on the west coast of Scotland, ensuring they can offer fresh produce to customers within 24 hours of it being caught.
And for those who like to know more about the history of whisky, there is even an ex-Balblair Distillery copper pot still with an informative plaque in the hotel's car park.
It's certainly a hotel with a rich history, and on the evidence of our visit, has strong links with the local community, who were visiting in their droves for a hearty lunch.
The restaurant
Toot's Café Bar & Bistro
The Station Hotel, 51 New Street, Rothes, Aberlour AB38 7BJ
t: 01340 832200
w: www.stationhotelspeyside.com
The bill
Haddock chowder £7.95
Soup of the day £5.95
Kids' garlic bread x 2 £3
Mix 'n' match dishes x 4 £17.70
Sweet potato and lentil dahl £13.25
Kids' burgers x 2 £14
Kids' ice cream £1.50
Kids' sticky toffee pudding £1.50
Soft drinks x 3 £6.85
Total: £71.70