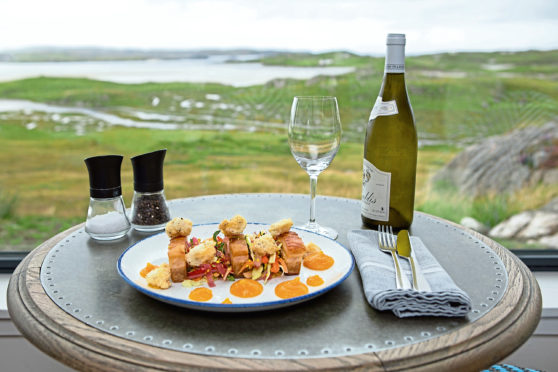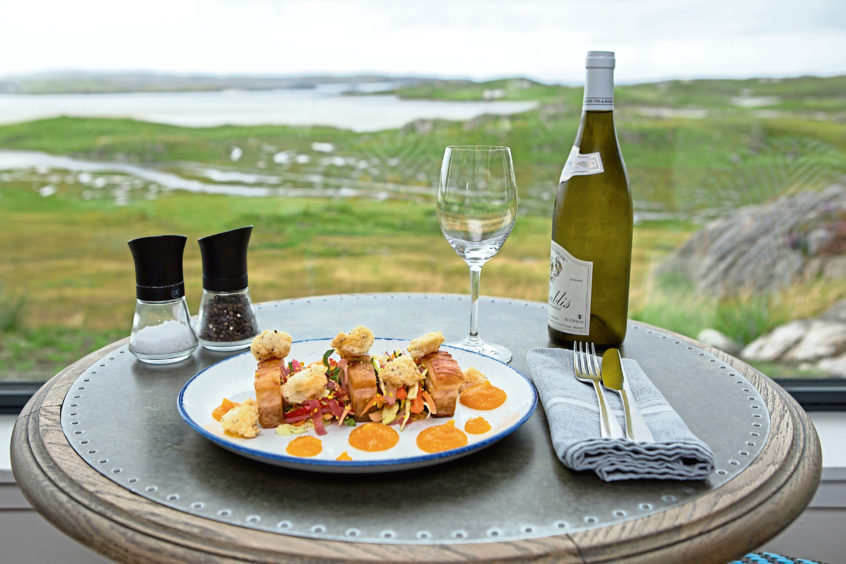 As the year draws to a close, it's the perfect time to look back at the high points of 2019.
For our food critics, that means reacquainting ourselves with 12 months of dining delights, from establishments right across our circulation area.
We've been reminiscing about the freshest seafood in Skye, wonderful steaks in Aberdeen and top-quality cooking in the Highlands.
With 52 restaurants to choose from, it has been hard work whittling the candidates down to the final eight, but our team of reviewers got there in the end.
So take a moment to sit back, relax and read all about the best the north and north-east has to offer. And try not to salivate at the thought of all that fabulous food!
Vovem, Aberdeen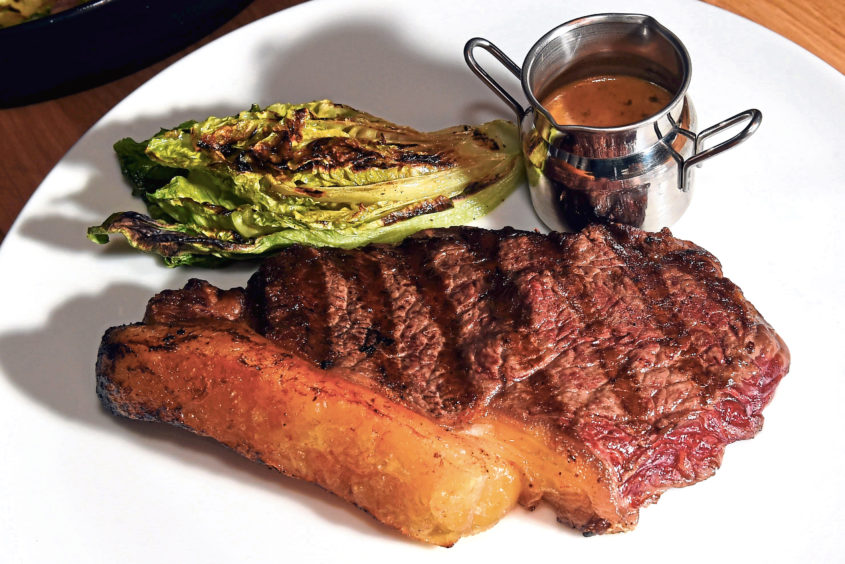 I like my steak rare, the background noise kept at a steady medium and the service "well done".
And it is the simple things like this that really make Aberdeen's latest restaurant offering stand out from the crowd.
With a string of popular venues already under his belt, new owner Stuart Clarkson has gone big with his latest venture Vovem.
With the tagline "Meat & Liquor" it didn't take much convincing for my partner and me to head along on a cold winter's night.
And straight away we were greeted with warmth. After a friendly welcome from the maître d, she ushered us past a long sparkling bar to our comfy seats next to a roaring wood-fired grill.
As always, it was nice to see local butchers and farmers on the menu.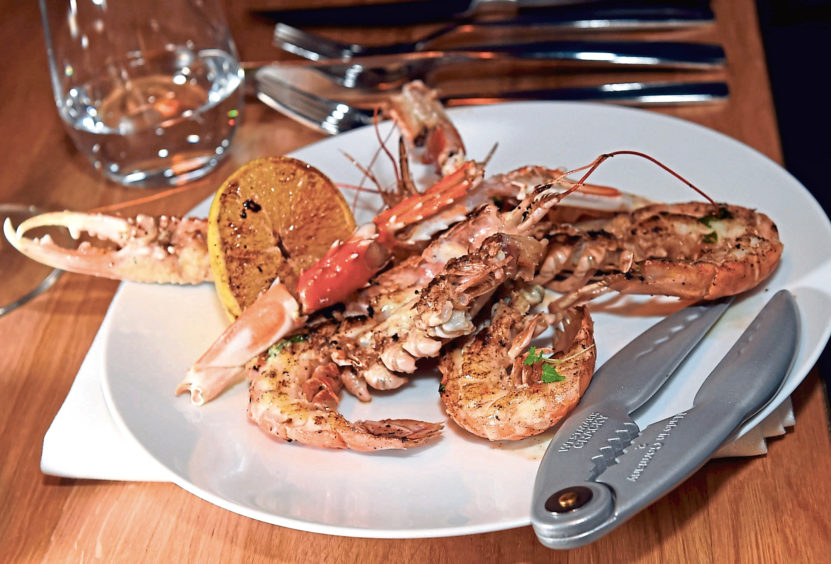 For starters I had grilled langoustines and they were extremely tasty. My partner opted for Iberian Ham, a Spanish flavour that could be boring and predictable. But it wasn't.
The meat was packed with flavour and melted in your mouth and sat perfectly with the Manchego cheese and fresh spinach drizzled with a perfect amount of dressing.
Next came the steaks. And the sides. How could I fail to mention the sides.
If the steaks, beautifully tender and cooked with a smokiness coming through from the Argentinian-inspired wood grill, were the stars then I don't know what to call the sides.
Each one was fantastic on its own and when combined with a well-cooked steak made our tastebuds sing with pleasure.
Sea Breezes, Portree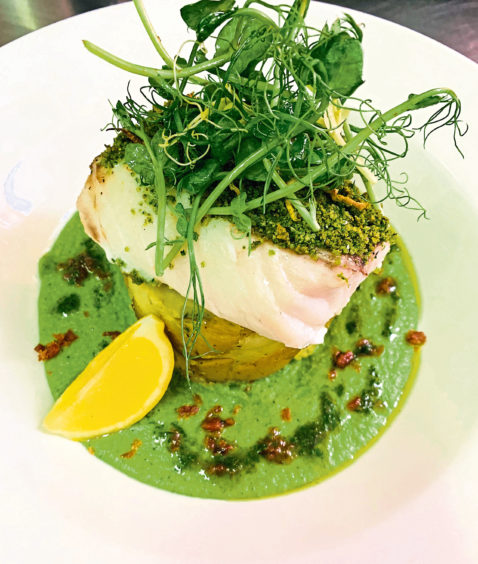 What better to do on a windswept night on Skye than to sample some of the freshest seafood the Misty Isle has to offer?
Having spent most of the day getting battered by the island's temperamental micro-climate, we were in need of a good port in a storm.
And we found a real treasure in Sea Breezes.
Nestled at the end of the quay, its lights beckoned us inside.
With only a dozen or so covers in the tiny restaurant, we were lucky to get a table for two at the weekend.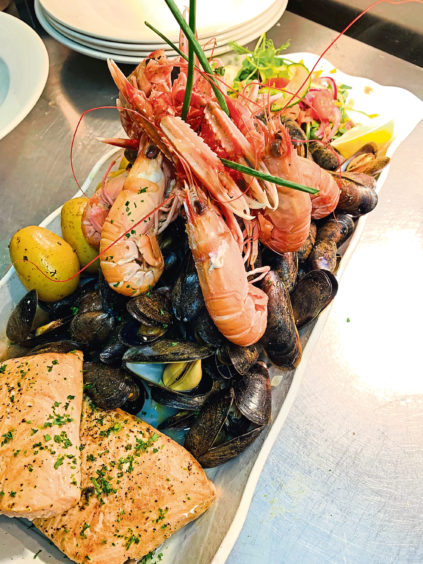 Settling into our corner table, we enjoyed the simple ambience; a few pictures of fishing boats adorned the walls but the rustic wooden tables and chairs evoked more of a country pub feel.
Fellow diners were clearly enjoying themselves, with the wine flowing all around and the delicious smell of fresh seafood sizzling through to the restaurant from the kitchen.
I knew instantly what I wanted from the small but very carefully put together selection.
Cullen skink is one of my childhood favourites that is still an indulgence whenever I see it on a menu.
Sea Breezes' version was a somewhat quirkier take than the normal milky offering – a smoked haddock and mussel tomato chowder.
It was delicious, with chunks of smoked fish cooked to tender perfection.
Our host, who was excellent, friendly and attentive, recommended the special of the day for my main: langoustines, caught that day and off-loaded mere yards from the restaurant's front door.
What came was a plate of some of the freshest seafood I have ever had the delight to be served.
Douneside House, Tarland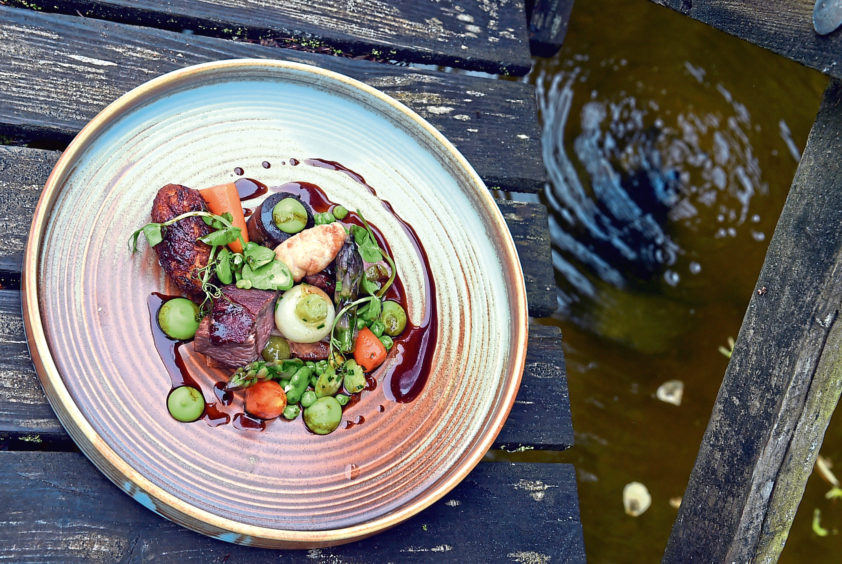 Chef David Butters has crafted beautiful high-end cuisine here.
After making our menu selections in a sitting room with the great view outside and roaring fire close by, canapes arrived.
Tasty morsels of salmon and caviar, and bonbons of haggis and Lochnagar cheese, signalled a special dining experience ahead.
For starters, east-coast crab, with ice cream, cucumber and avocados for my wife, and rabbit loin and braised leg, with chicory, parsley and mayo for me.
The rabbit was tender and delicious, and the crab was plentiful and tasty.
For mains, lamb cooked three ways, with spinach, chantenay carrots and potato terrine, and for me, fillet of Loch Etive sea trout with petit pois, bacon and Shetland potato.
Lamb belly, shoulder and sweetbreads complemented each other superbly for taste and subtle variations in texture.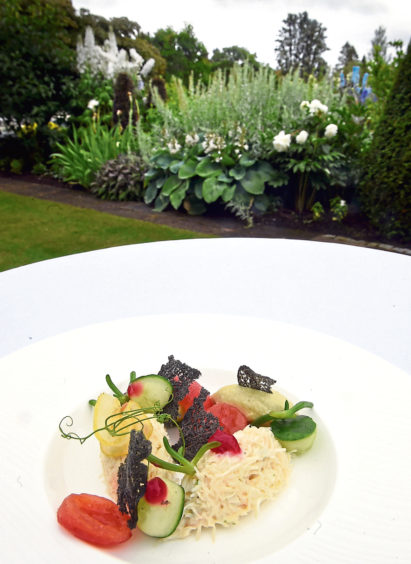 Meanwhile, I had decided that Douneside finally convinced me that I now preferred trout to my long-time favourite of salmon. The trout here was fleshy and packed with flavour, and fairly substantial, too, in portion size.
I almost forgot to mention a virtuoso little taster from the kitchen which arrived before the mains: garden beetroot with beetroot ice cream and beetroot meringue. OK, they were showing off their skills again, but why not?
We rounded off with lemon curd, with berries, meringue and sorbet, which put predictable cheesecake to shame, and an artisan cheese board.
We had been taken on a journey of delightful and unexpected twists and turns by the chefs.
Torrish Restaurant, Inverness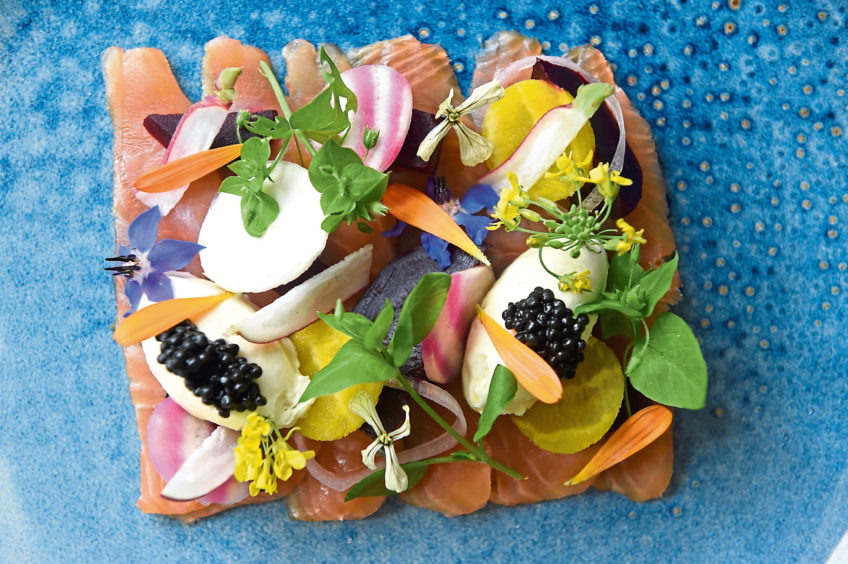 I took a great deal of interest in the transformation of the former Maple Court Hotel into the glamorous Ness Walk, a new five-star luxury hotel recently opened in Inverness.
Once it had been opened for a few weeks, my partner and I headed there to try out the pre-theatre menu.
Ness Walk is part of the Kingsmills Hotel Group whose chief executive, Tony Story, has strong ties with Inverness and Aberdeen.
What he's created is a stunning, high-class venue, sitting within wonderful gated grounds overlooking the River Ness.
An amuse bouche of a goats cheese cigar with teeny dots of beetroot juice set the tone for what was to become a wonderful dining experience.
My partner began with chilled pea soup – farm-fresh peas plus horseradish cream, radish shavings and croutons in a bowl, with a mini copper pan filled with pea soup to pour over.
It looked amazing and tasted just as good.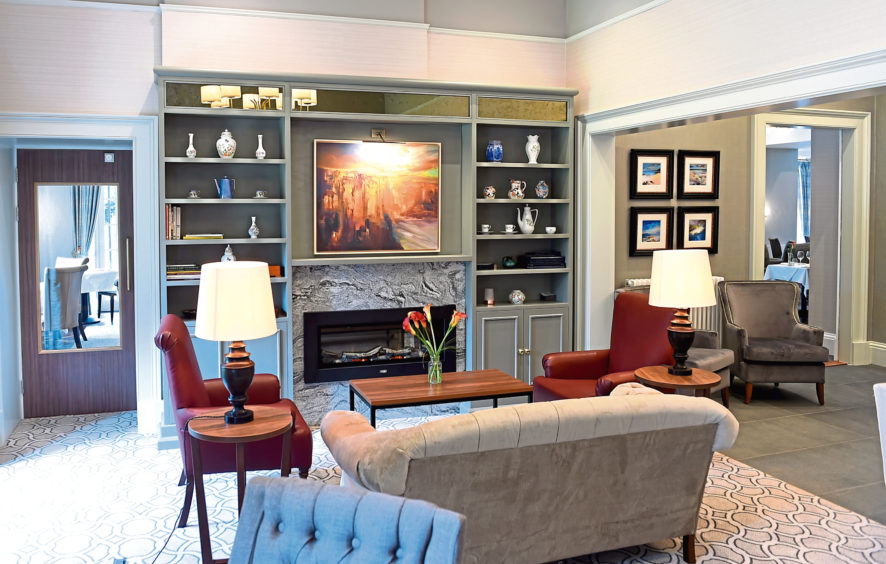 I opted for citrus-cured salmon with pickled vegetables with mint yoghurt, which again looked almost too pretty to eat.
The salmon had a real citrus zing, while the addition of caviar took it to the next level.
For mains, my partner had grilled North Atlantic cod with two types of chilled asparagus, dauphinoise potatoes and a brown shrimp salsa verde which was sublime.
I plumped for slow-cooked Aberdeen Black Angus featherblade of beef which simply melted in the mouth.
The Grandtully Hotel, Perthshire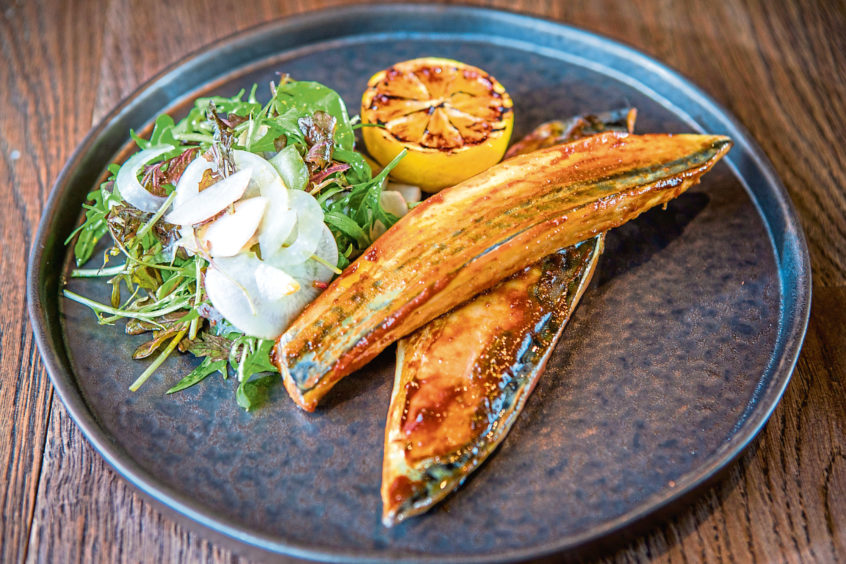 In a world filled with discord and unrest, it gives inordinate pleasure to be able to be unequivocally positive about a small, perfectly formed business in Highland Perthshire – because, truly, they don't come much better than this.
Such is the joy at discovering this gem, sitting just south of the Cairngorms National Park, that I now feel completely evangelical about it.
The hardest thing about the menu was deciding what not to eat, because this selection was actually beamed down to us mortals from above.
Firstly, the bread. Well, the Ballintaggart sourdough with smoked butter was so good I bought a loaf to take home; the Perello Gordal olives, the crispy pig skin, the pulled pork croquette with smoked ketchup, the wonderful Great Glen charcuterie plate and the Strathtay honey, Arran mustard and spignel cured salmon… all simple and simply the best.
Then we ordered salt and pepper squid with hot and sour sauce that was a total delight and, to my tastebuds, as good as the textbook squid served at London's iconic River Café. That's praise indeed.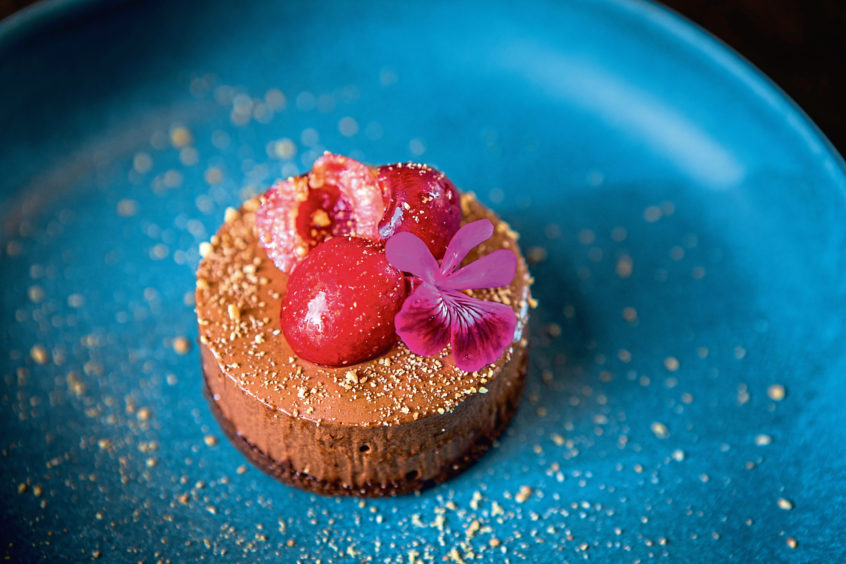 The plat du jour was mackerel with pickled salad and this was the standout for me, the mackerel somehow losing its pungent, jaw-tightening worthiness and becoming a thing of joy.
I couldn't help but think, as we prepared to leave, that those who live near this wonderful place must count themselves so lucky.
Uig Sands Restaurant, Lewis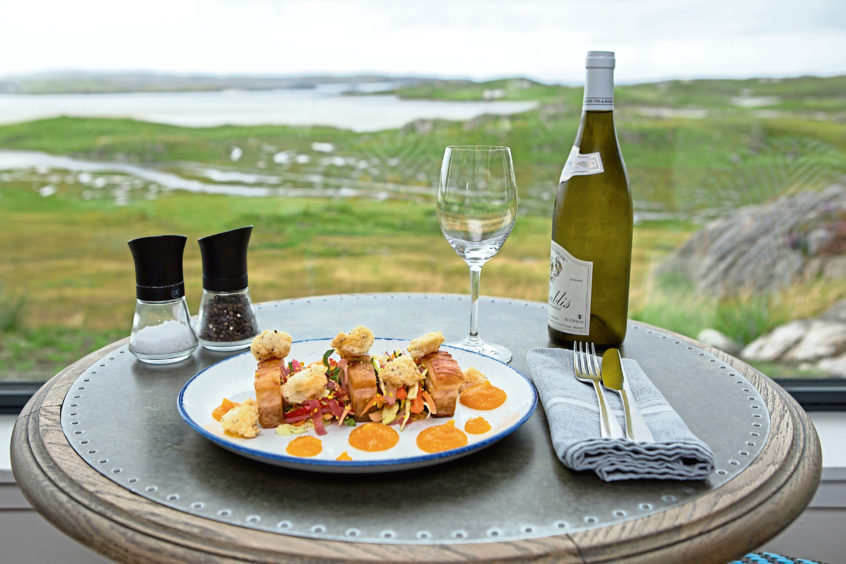 My friend and I decided to go for a starter of Uig Lodge smoked salmon, with celeriac and horseradish remoulade.
It was beautifully presented and absolutely delicious – fresh and flavoursome.
For our mains, I opted for the pan-fried cod fillet in potato crust with heritage tomato and fennel salad, while my companion opted for roast pork belly with salt and pepper monkfish, apricot and ginger beer relish and coconut cashews.
Both of us had been a little concerned about the strong flavours, but were delighted once we tucked in.
My cod was wrapped in golden potato, and looked almost like a giant rosti – though much more neatly presented – and the soft, white flakes of fish melted in the mouth, with the salad ensuring it was not too heavy.
The roast pork belly looked beautiful on the plate, with the monkfish scattered among the precisely cut portions of meat. It was perfectly cooked, and certainly seemed to go down well.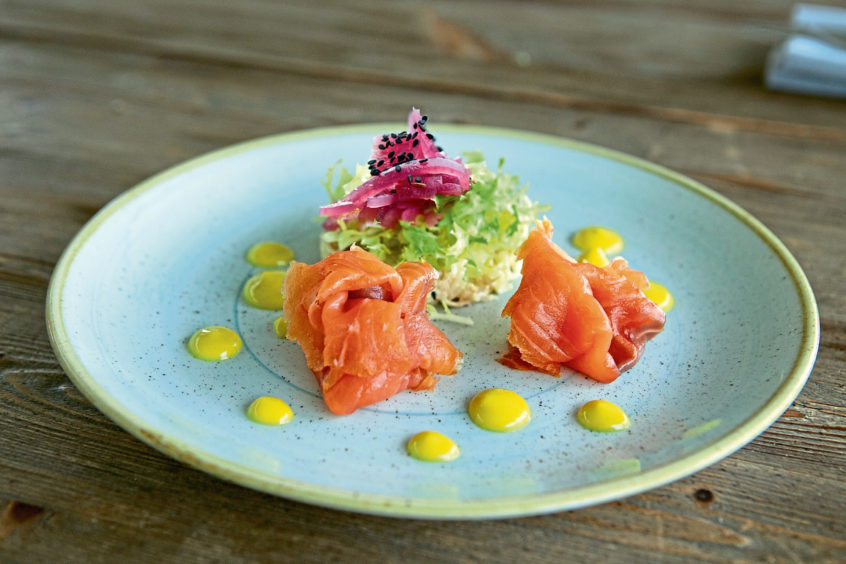 By the time we had finished our meal, there were only a few tables left, but the staff were in no rush to shoo us away.
Instead, we were left in peace to sup the last of our wine and watch darkness fall over Uig Bay.
It was the perfect end to our break on Lewis, and a restaurant well worth the trip wherever you're staying on the island.
Shieldaig Lodge, Gairloch
We had been driving around the region earlier in the day and stumbled across Shieldaig Lodge, a traditional hotel and restaurant that looks out on to Loch Gairloch. It is a beautiful setting and certainly made an impression.
On arrival, we were greeted by a suit of armour standing guard at the entrance. Just inside the doorway to the right was a small sitting room. It looked snug and appeared to have a well-stocked bar of gins and whiskies.
I chose the lobster and asparagus for my starter, which arrived looking like a work of art with the asparagus spears pointing across my plate, stacked on top of pieces of lobster. My husband chose the game terrine, which again looked superb. It was quite rich and so the portion size was just right.
The waiter then brought out some crispy bread rolls and butter, which we devoured before he had a chance to deliver our main courses of scallops and celeriac risotto, and duck with seasonal vegetables.
The scallops were large and plump. I'd been a bit apprehensive about the celeriac risotto but it was smooth with a delicate flavour that really complemented the rest of the dish. My husband said his duck was cooked beautifully.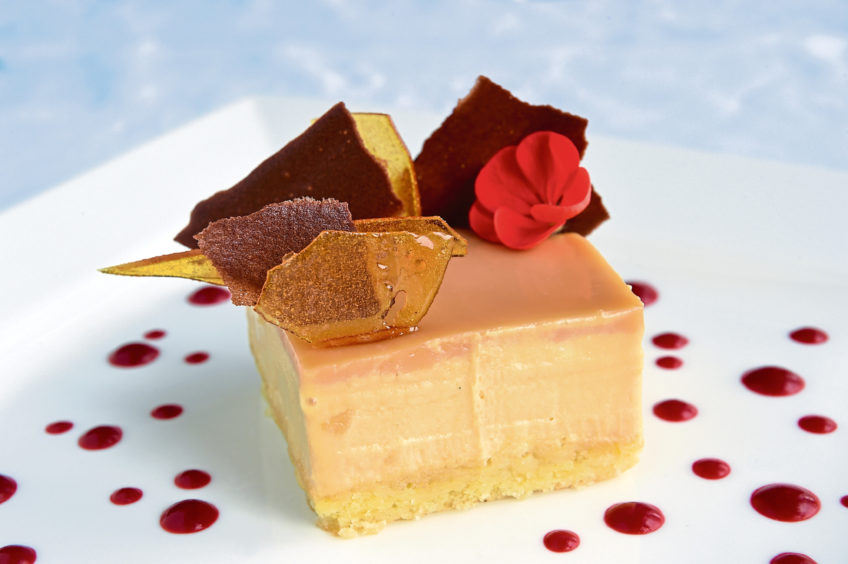 Our desserts were the highlight of the meal and I would return to Shieldaig Lodge for these alone. My chocolate duo was very satisfying – the smooth chocolate truffle was rich, moreish and quite possibly the best dessert I've ever eaten.
Links House at Royal Dornoch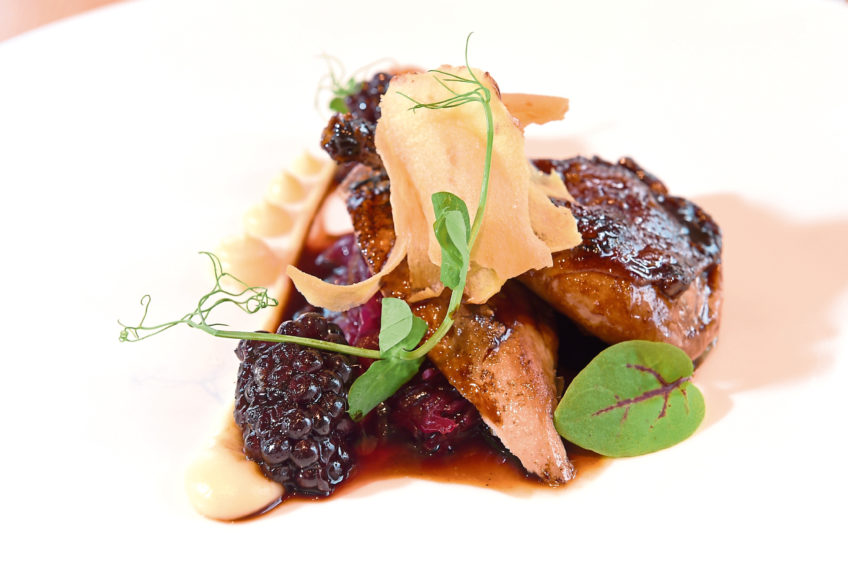 Just a stone's throw from the famous Royal Dornoch Golf Course is Links House. Just walking through the door, we felt swathed in luxury.
Our waiter served up some canapes on oversized silver spoons. A wonderful taste of things to come.
We plumped for the tasting menu, as we were keen to try as many dishes as possible.
Firstly we were presented with a variety of breads: a parmesan swirl, sesame seed focaccia, onion bread and a choice of butters. The quenelles of butters were elegantly presented in oyster shells on a bed of rock salt. I can honestly say the tomato butter was the most heavenly butter I have ever tasted.
Our next course was Scottish bluetail lobster ravioli. The wonderful pillow of ravioli sat on a fennel remoulade and ruby grapefruit and was drizzled with a light bisque. Every single element of this dish was superb.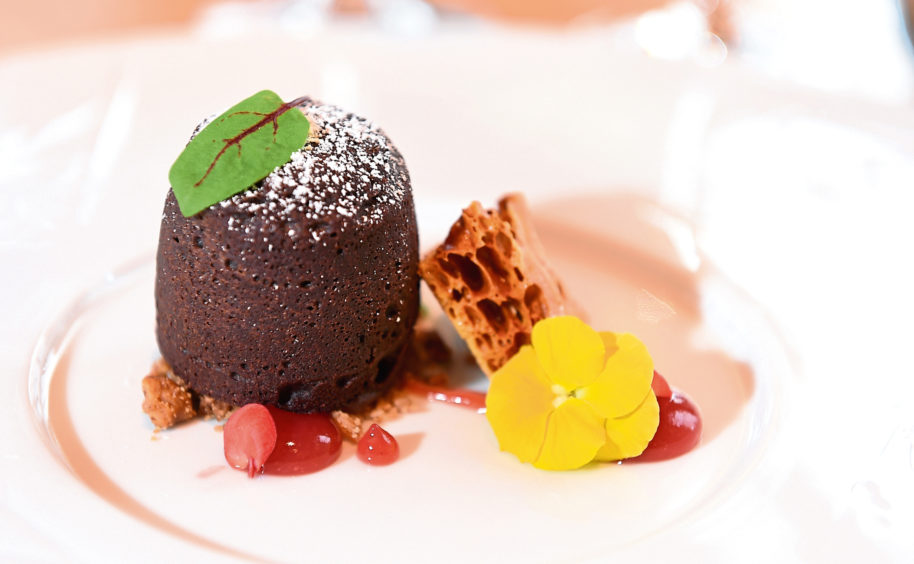 The roast local red leg partridge was skilfully presented on a large white plate with the meat taking centre stage on a bed of sweet pickled red cabbage. I am not usually a fan of game but I loved the partridge. But the star of the show was the pickled red cabbage with spices that reminded me of Christmas.
On to our final course: dessert. Once again the epitome of fine dining, the dessert was packed with so many textures and flavours. The bitter chocolate mousse, honeycomb, sea salt, raspberry and hazelnuts really was rather special. I was in pudding heaven.