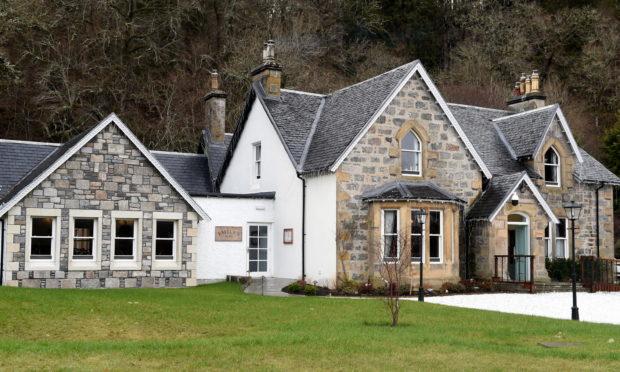 It was blowing a hooly as we headed down Loch Ness-side towards Invergarry.
The rain was coming down as it only can in the Highlands. Have you ever experienced one of those fancy showers you get in posh hotels with jets of water coming from every direction? Well this was Mother Nature's version but with freezing water.
It was the sort of day we could well have just stayed at home in front of the fire and had cheese on toast but we had been promising ourselves a trip to Emily's Byre for some time and neither of us was going to be the first to back out. Well wrapped up and putting on our "this is fun" faces, we made a dash from the car, heads down through the torrent, desperately trying to find the entrance without looking up.
But once inside the haven of Rokeby Manor we immediately began to feel better. A member of staff was at the fire adding more logs and there was a warm, welcoming feel about the place.
We chose to go straight to the dining room, bypassing what looked like a very pleasant bar/lounge area. Well, we were hungry.
Emily's Byre is situated, unsurprisingly, in a converted byre. With exposed beams, solid wood flooring and whitewashed walls it has been converted sympathetically, retaining much of the charm of its original use. Its pine tables and simple furnishings were comfortable and unstuffy.
The kitchen offers a combination of Indian cooking alongside more traditional Scottish food and the menu looked very tempting. We decided I would go Indian and my partner Scottish. For my starter I chose tandoori chicken served with mint sauce and a small side salad. In some restaurants tandoori chicken can be very dry and overcooked, but not here. Whoever is in the kitchen certainly knows how to use their tandoor. These were wonderfully cooked with a slight charring on the outside and deliciously juicy on the inside. The mix of spices they were coated in had real depth and the mint sauce was a brilliant contrast.
My partner had chosen pork pate with sourdough toast. He said it was brilliant. None of your mass-produced flabby pate that often gets served nowadays. This had good texture and was packed with flavour. The sourdough toast added a great crunch.
For mains I could have picked a few things as they all sounded great. Their butter chicken is a speciality and I was tempted but I usually find this dish too sweet. I really wanted to try the north Indian black dal but, true to form, decided to have something with meat so plumped for the Hyderabadi lamb shank. I asked if I could have a side dish of the dal but that was not possible which was a little disappointing.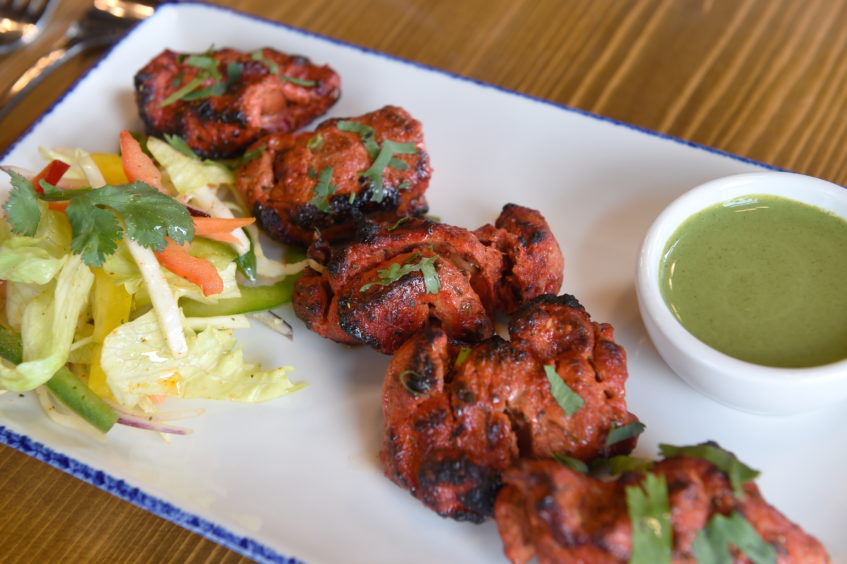 The lamb had been slow cooked and fell off the bone. It came in a rich but lightly spiced onion curry sauce which had a lot of layers of complex flavours. With plain boiled rice and a wonderfully thin puffed-up naan bread, I was in Heaven.
Somewhat lacking in imagination, my partner chose haggis, neeps and tatties. It was only a couple of weeks past Burns Night, so you would have thought he would have had his fill. But no, he was thrilled with it and particularly liked the whisky sauce accompaniment.
We had to try the puddings, although by this time we were both quite full. Despite never being too impressed with Indian desserts, I decided I would continue with my theme and chose their homemade kulfi, a traditional Indian ice cream. It is often very sweet and the waitress did warn me that some guests find it a bit too sugary for their palate, but to me the sweetness was dialled back a good bit from some I had sampled in the past. With a milky sauce and lots of flakes of nuts, it was lovely. I sometimes think that a plate of kulfi on its own can be a bit one dimensional and wonder if it would be better paired with some fruit or even a chocolate tart. But to be fair, on its own it was great.
My partner's rosemary, rhubarb and apple crumble looked lovely. He finished it all and it was only when he had his last mouthful he wondered if there was rhubarb in it – it seemed it was all apple. But it was too late for me to get a taste to check, so the chef gets the benefit of the doubt.
The weather was no better as we battled our way homewards but at least on the drive back we had full tummies and the memory of a really good meal.
The restaurant
Emily's Byre at Rokeby Manor
Invergarry
PH35 4HG
t: 01397 704250
w: blacksheephotels.com/rokeby-manor-home
The bill
Chicken tikka £6.50
Pork pate £6.50
Hyderabadi lamb £14
Haggis £12
Basmati rice £2
Naan bread £1.50
Kulfi £2.50
Rhubarb and apple crumble £6
Skye Red Ale 500ml £4.50
Sparkling water 750ml x 2 £8
Total: £63.50