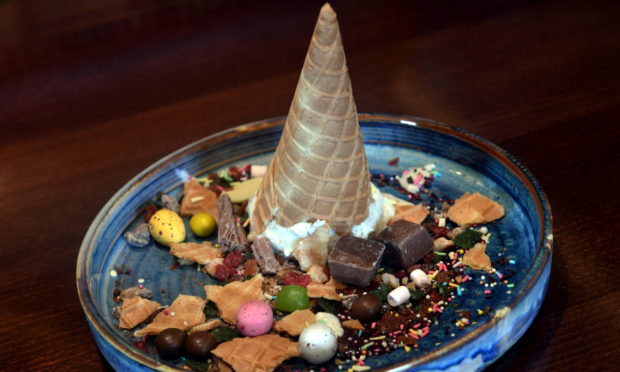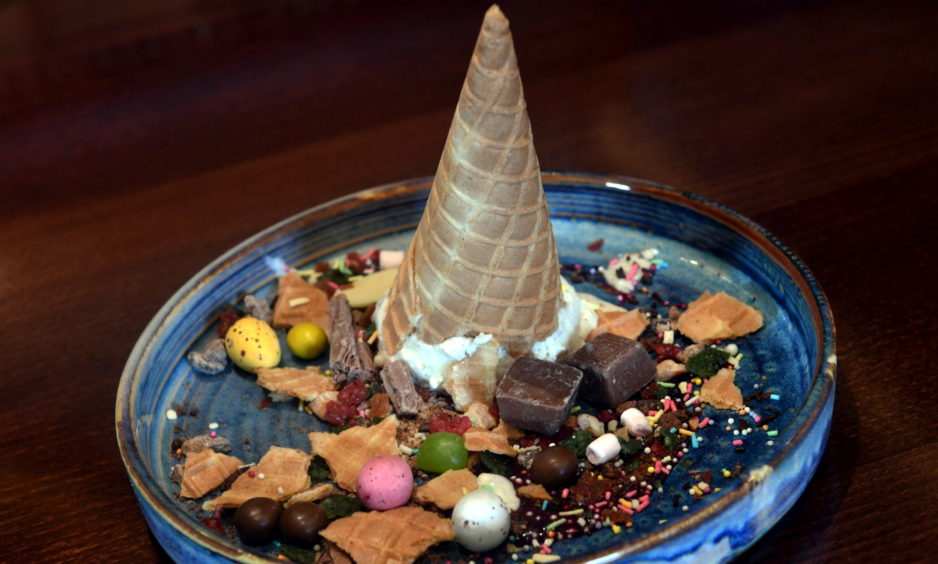 I found myself treading in the footsteps of legendary ballet star Dame Margot Fonteyn.
Others have done it – Rudolf Nureyev, for example.
But not a very edifying sight in my case as I am an overweight gentleman in his vintage years with a dodgy knee.
Anyway, the point of this rambling is that my wife and I were dining in 1236 at The Cave at Meldrum House hotel.
It is simply stunning with its famous cave-like shape and granite covering every inch of walls and ceiling.
The cave was made much bigger a few years ago by knocking it through into a very special former VIP bedroom, which was where Dame Margot – a friend of the last laird – stayed on her visits to the estate.
She must have sat in one of two small turrets from the old bedroom that my wife and I now occupied for dinner.
A big picture of the ballet star in her prime would have been a nice touch to highlight the link, but maybe there is somewhere and I did not see it.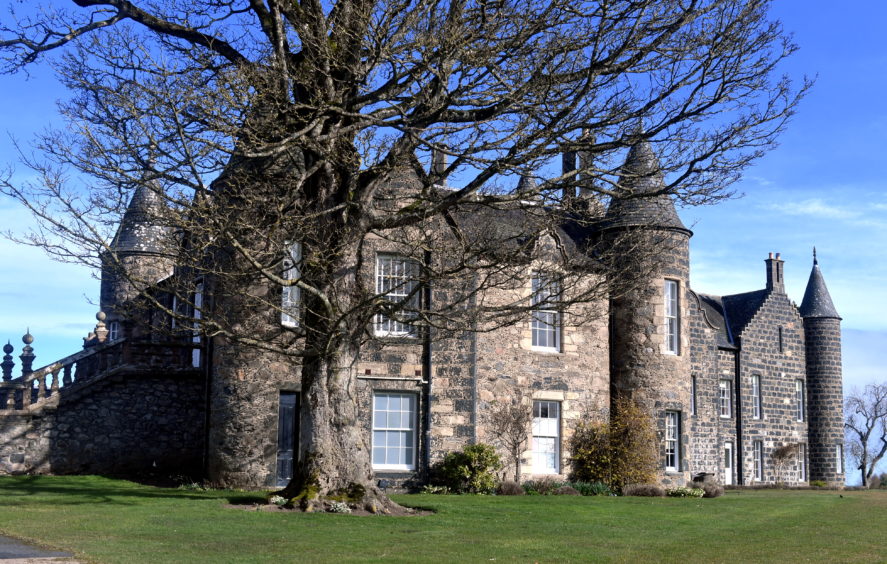 Even big beasts like Meldrum House Hotel and Golf Course must dance to shifting public expectations, especially in the ultra-competitive Scottish country house sector.
It is continuing to evolve after revamping its two restaurants. Now it revels in the names 1236 and Pineapple.
They sound like upmarket diners you might expect to see in a fashionable high street.
But this is rolling Aberdeenshire countryside and Meldrum House sits in splendour, embraced by large grounds and its popular golf course.
The magnificent manor house is the centrepiece, but Meldrum House also has a "USP" most competitors would die for: its cave. You have to pinch yourself to ensure that you heard them correctly when they tell you that this part of the house dates back to 1236, with walls several feet thick.
The cave was the estate's original larder and cold store, with hooks for hanging meat still visible.
We arrived on a cold, frosty Thursday night, but found a cosy welcome and a warm wood-burning stove near our table.
Don't let history and grandeur frighten you off – 1236 is friendly and accessible to anyone and offers reasonable prices.
We settled in and started studying a menu makeover in 1236 that was unveiled days earlier.
It was distinctly traditional but blended exotic flavours and aromas from faraway places to create its own fusion style.
For starters, popcorn chicken for my wife, with smoked-bacon dip and corn dressing; for me, fried calamari and whitebait, with burnt lime and garlic aioli.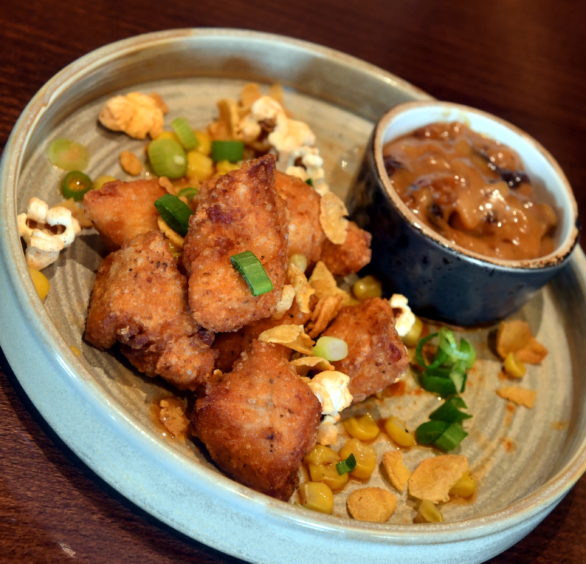 Suddenly I was transported from an ancient manor house to Spanish street tapas with my delicate fish combination.
My wife was raving about the delicious dip for her chicken and a staff member, rekindling the cosy fire, gave us the lowdown on it when she overheard our compliments.
For mains, katsu chicken and beef-cheek pie. You could not find such contrasting dishes yet they summed up the diversity going on here.
The slow-cooked pie came with a topping of mustard mash, lager-based jus and peas on the side.
I remember having beef cheek somewhere else in the past, but it was inconsistent with a mixture of chewy or over-soft meat.
But this was tender and delicious throughout, and a lovely dish. The secret of its success is in the name – you can't cut corners when slow cooking certain meats.
My wife's Japanese katsu had that distinctive thick, fruity sauce and was not over-spiced. It is also offered as a burger on the lunch menu.
My lemon tart pudding with gin and tonic sorbet was another sign they have no intention of being predictable here.
Creating good food is a serious business but my wife's dessert showed they had a sense of humour, too.
Their "Oops!" ice-cream cone creation was a comic work of art.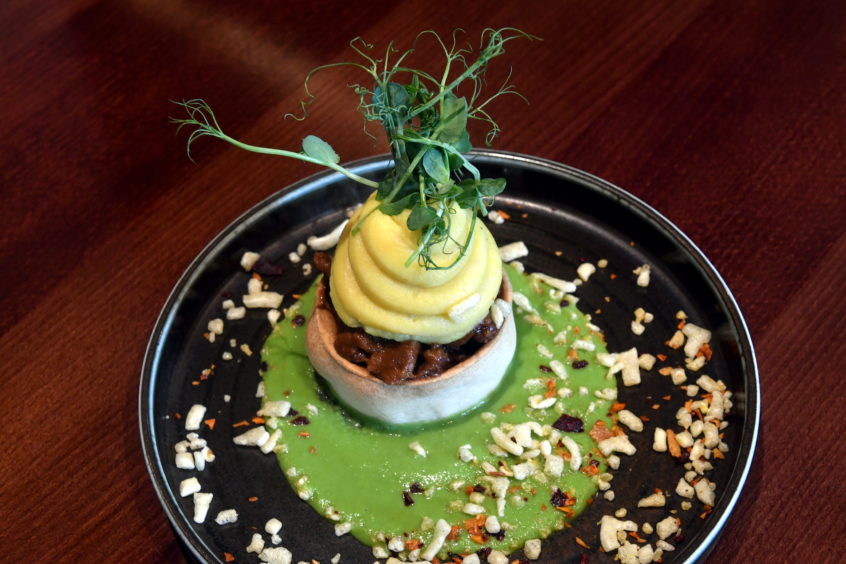 It did actually look like someone had accidentally dropped a cone on the dish, where it was stuck upside down with hundreds and thousands scattered around with various other yummy contents spilling out, such as chocolate flake.
It was all done in the best possible taste – in all senses – and a real showstopper.
I also had a peek at the fine-dining Pineapple restaurant in another corridor – named as such because pineapple images were historically linked with luxury and great hospitality. It certainly boasts a luxury menu.
It was a memorable night and reminded us that one thing that has not changed down the centuries is quality.
The restaurant
1236 at The Cave
Meldrum House Hotel, Oldmeldrum AB51 0AE
t: 01651 872294
w: meldrumhouse.com
The bill
Popcorn chicken £8
Fried calamari £8
Katsu chicken £14
Beef cheek pie £12
Rooster fries £4
Lemon tart pudding £6
Oops! ice-cream £5
Gin and tonic £6.20
Soft drinks £5
Total: £68.20