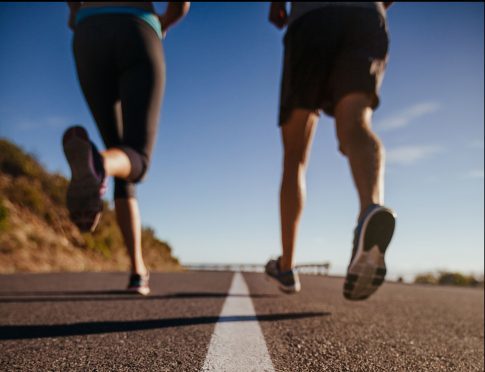 Whether you're taking part in Run Garioch next Sunday; Run Balmoral in April, or The Highland Fling, there are many great Scottish marathons this year to test your limits.
Before you set off, listen to the experts…
BEST FOOT FORWARD
As well as helping keep you comfortable – and therefore motivated – mile after mile, the right shoes can significantly enhance performance, movement efficiency and safeguard against injury, especially where those vulnerable knees and backs are concerned.
"Before you do anything else, make sure you have a good pair of lightweight trainers that are well-fitted and provide any stability that may be required. A bad pair of trainers can lead to blisters, knee pain and conditions like plantar fasciitis," says Tyrone Kon, a leading physiotherapist at London's Boost Physio, an official London Marathon Injury Clinic.
And if you are running a half or full marathon, you'll want to make sure your shoes are properly broken in. "You should have run at least 10k in a pair of trainers before the big event. Under no circumstances should you ever wear new trainers for the actual marathon," states Kon.
Matthew Pierson, gait analysis expert at SportsShoes.com and seasoned runner, suggests breaking shoes in by wearing around the house initially, followed by a few 20-30 minute runs to test them. "Then, if all is OK, you're good to go and can continue training as normal."
FIND YOUR FIT
And the 'right' shoe is a very individual thing. "Due to each individual's biomechanics, everyone lands their stride differently," says Pierson. "Manufacturers have understood this and provide shoes for all running gaits."
Size, width, comfort over the top of the foot and around the ankle, cushioning and support and heel drop are also important factors.
"Depending on your running requirements, you may choose a shoe with more or less cushioning. Many shoes, like racing or off-road shoes, have minimal cushioning as, for instance, racing shoes need to be lighter."
Some people are more prone to blisters than others, and sometimes it's impossible to avoid them entirely when tackling a very long run, but Pierson notes, you can "aim to avoid blisters with the correct footwear and running socks constructed from moisture-wicking, technical fabric with an ergonomic fit, as this will reduce chafing and irritation inside the shoe – plus a more comfortable shoe will of course reduce the pain".
ALL TRAIN NO SPRAIN
Injuries can be a great bane for runners; listening to the experts – and what your body's telling you – is paramount. Research shows between 30-50% of runners will suffer an injury in a training year, very often affecting knees.
"The important thing to do is listen to your knees. 'No pain no gain' may be right for cardio or strength training, but when it comes to joints, pain is normally a sign of a problem," says Mr Ian McDermott, a consultant orthopaedic surgeon specialising in knees and sports injuries. "It can be dangerous to just ignore knee pain, and potentially even more dangerous and damaging to take painkillers and just soldier on regardless."
Problems can include inflammation or degeneration of the tendons (tendonitis and tendinosis); inflammation due to tissues rubbing inside the joint (medial plica syndrome) or outside the joint (such as iliotibial band friction syndrome). They'll usually settle with time and rest, "but physiotherapy normally helps people recover quicker and is often extremely helpful", McDermott notes.
When symptoms persist and are severe, steroid injections, and even surgery, may be advised – and joints that keep swelling after exercise should always be checked sharpish.
Calf strains and ankle pain can also be common, adds Kon, while painful hips can also be an issue.
BABY STEPS
How to avoid such problems? It's all about building up gradually, so you're not overloading this hard-working joint. "Take plenty of time to gradually build up your training and avoid ramping things up too fast, in order to allow your body time to adapt appropriately to the increased stresses that you're putting it through," says McDermott.
Kon agrees it's vital to "progress your mileage sensibly". If you're on a roll, it can be tempting to tag on some extra miles ahead of schedule, but you might be risking injury. "Stick to the plan and don't push on to the next goal before you need to. If you feel like you can do more, that's a good sign, it means your training regime's working and you're reaching your goals and maintaining fitness. Push yourself too soon, and you could hurt yourself," Kon warns.
Stretching appropriately, plenty of sleep, hydration and fuelling well are all also important for reducing injury risk and aiding in post-run recovery, and if you have a history of injury or health problems or if you're tackling a demanding fitness regime for the first time, consider getting an MoT with an expert, who can guide you on the most sensible ways to proceed. "If you were taking your cat on a long journey you'd get it checked before you left. The same goes for your body," says Kon. "Even though you're probably pretty fit, it is worth taking some professional advice."