At 11 years old Ethan Neri loves playing video games and drawing, but he spends most of his time alone.
Although Ethan will happily chat to his mum, Selina, he struggles to interact with other children and on Selina's own admission, making friends is still a "work in progress".
Polite and intelligent, Ethan has come on leaps and bounds from the angry little boy Selina struggled to control, and she is raising him to celebrate his differences.
Ethan was diagnosed with autism last year, having previously been diagnosed with Attention Deficit Hyperactivity Disorder (ADHD).
He takes medication to control his symptoms and Selina believes people must learn to be more accepting of the condition.
SELINA TELLS ETHAN'S STORY
I don't see Ethan as a child with autism but that doesn't mean I don't accept the diagnosis, it's something I've known deep down for years.
It came as a relief when there was an official diagnosis because it meant support could be put in place.
As a single mum with health problems of my own, it's the support that was desperately needed.
I first noticed something wasn't quite right when Ethan was a toddler.
He must have been about three-years-old and his speech just wasn't developing.
He was at the same level as an 18-month-old and he didn't interact with other children.
He also had disturbed sleep and was very hyperactive. It got to the stage where I was begging the nursery not to let him have a nap so I could get him to sleep at night. I used to have to sit with him for at least an hour and rub his back so he'd fall asleep.
We moved from Edinburgh to Inverurie and Ethan started seeing a speech therapist.
Although it certainly helped, there were other things going on as well. He was very literal and needed exact instructions, he would hesitate a lot as well.
I couldn't take him out in public without him running away, which sounds a really odd thing to say. As soon as we were outside he would run off, he'd just be gone.
I couldn't sit talking to someone without him climbing all over me, at the time I didn't know if he was just attention seeking.
I always remember seeing him in a school play and he just sat at the back looking so angry.
It was when Ethan went to school that the differences really became apparent, he was constantly getting into trouble.
There were various incidences, sometimes I think he was just showing off to try and make friends but didn't really know how.
He'd come home upset and he struggled with the homework but with no diagnosis we had no help.
He was finally diagnosed with ADHD when he was six years old and put on medication.
It had been a really long struggle just to get to that point, I'll never forget one meeting I had.
Ethan has struggled at school and a teacher told me he would always be middle of the road.
He was so matter of fact and not willing to give Ethan a chance.
The medication worked for a while then things started to get worse.
He had these obsessions with playing video games and if ever Ethan went somewhere, he always had to clutch something in his hand.
He'd get very anxious and argue with everyone, then he started picking at his skin. There was a freckle on his arm and he gouged a hole to get rid of it.
People see that as self harming but it wasn't, it was another symptom of autism.
Whilst all this was going on we were on the waiting list for further testing, and we were actually taken off it by accident.
It took three years to get seen and for an official diagnosis to come.
All I felt was relief and I suppose I try to see things the way Ethan does.
I sat him down and told him about autism, he simply said "OK mum."
I wouldn't change my son and I believe autism makes him who he is, he's exceptional.
Of course there are challenges, in the morning he has to take his medication and wait for it to kick in.
I constantly have to prompt him and ask him to brush his teeth and get dressed or he stands there in a daze.
I think autism gives him exceptional qualities, he is actually really funny and he also thinks about things.
He'll sit with me and have an adult conversation, I don't know many 11-year-olds who can do that.
This is the Ethan I know and love, the fact that he must have routine is just part of our day-to-day lives.
I am dreading secondary school because it will be a massive change but we just take each day as it comes.
I think autism should be spoken about far more openly but it seems to be kept hushed up.
I want Ethan to be able to go up to people and tell them that he is autistic, I never want my son to think that autism is a dirty word.
Some people seem to think that autism is a mental health problem but it isn't, mental health is just a symptom.
It should be treated exactly the same as any other health problem.
You wouldn't keep silent about epilepsy but autism seems to be one of those things that people don't like talking about.
I want Ethan to be proud of who he is and I honestly wouldn't change him for the world.
I never wish that he didn't have autism, I just hope we reach a stage where he can be open about it without fear of being judged.
WHAT IS AUTISM?
Autism is not a disease and cannot be cured, it is a lifelong developmental disability which affects how people perceive the world and interact with others.
There are around 700,000 people in the UK living with autism, although it affects more men than women.
Autism is a spectrum condition. All autistic people share certain difficulties, but being autistic will affect them in different ways.
Some autistic people say the world feels overwhelming and this can cause them considerable anxiety.
In particular, understanding and relating to other people, and taking part in everyday family, school, work and social life, can be harder.
Research into causes suggests that a combination of factors – genetic and environmental – may account for differences in development. Autism is not caused by a person's upbringing, their social circumstances and is not the fault of the individual with the condition.
SENSORY OVERLOAD
Virtual Reality Technology will be in Aberdeen all this week to enable people to see the world through the eyes of someone who has autism.
The project, which has been put together by The National Autistic Society, will be on offer at Inverurie Train Station between 10am and 1pm today and Garioch Leisure Centre from 2-5pm.
It will also be available at the Beach Leisure Centre and Linx Ice Arena from 9am-5pm on Sunday.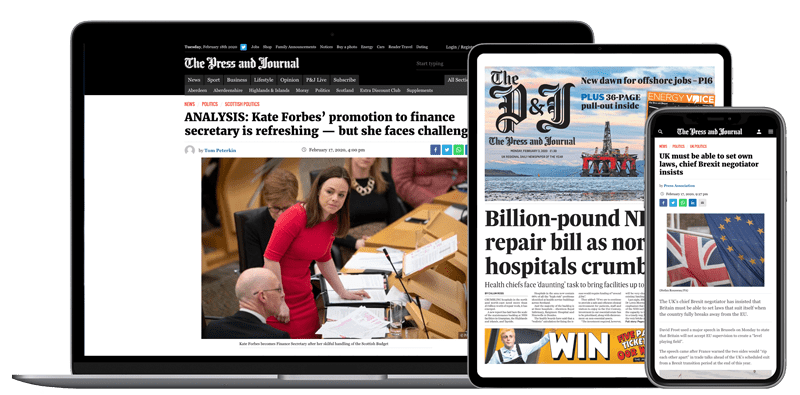 Help support quality local journalism … become a digital subscriber to The Press and Journal
For as little as £5.99 a month you can access all of our content, including Premium articles.
Subscribe