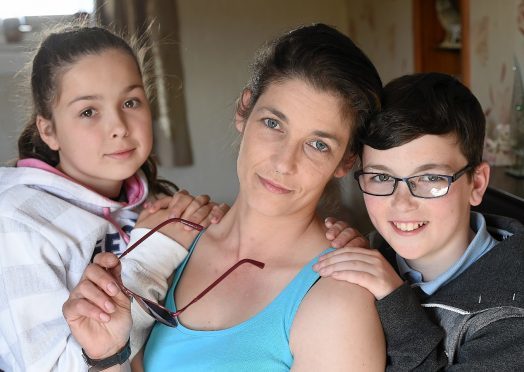 A mother has described how a debilitating condition she suspects to be Lyme disease has left her unable to perform basic tasks.
Marlene Logie from Dingwall believes she contracted the disease after being bitten by a tick in 2012.
She developed the telltale bulls-eye rash associated with the disease at the time – but thought it was normal and did not seek medical advice at the time.
Ms Logie and her family now believe that she is suffering from chronic Lyme disease – a medically contentious strain of the disease which develops if left untreated.
The 33-year-old mother-of-two has given blood tests to a German laboratory which came back positive for the disease.
However, a positive test does not always prove the existence of Lyme disease and Ms Logie has never been clinically diagnosed.
NHS Highland has urged her to contact its feedback department which would allow them to carry out a full investigation of the case.
Meanwhile, Ms Logie struggles with severe muscular and joint pain – as well as issues with what she describes as "brain fog" affecting her memory and thought process.
She said: "Before all of this I was very fit, very healthy.
"I was always out doing things, gardening and that kind of thing.
"Now I'm barely able to make dinner."
She has been signed off work for some time, having previously been employed as a cake decorator, which she described as her "dream job".
She was bitten by a tick on fishing trip to Garve in 2012, which she believes is the root of her current struggles.
She said: "I thought nothing of it.
"I'd been had plenty tick bites before and never had any problems.
"I didn't know about Lyme disease. If I'd known I would have gone to the doctors and got it sorted out much sooner."
Her family has rallied round, with sister Cat's research leading to finding the German clinic where her Ms Logie gave blood for testing.
Her parents Andy and Anne have called for greater recognition of the disease and improved testing.
A spokeswoman for NHS Highland said: "We are sorry Ms Logie is not happy with the care she has received from Raigmore Hospital.
"We would ask that she contact our feedback team in order that we can investigate this properly."