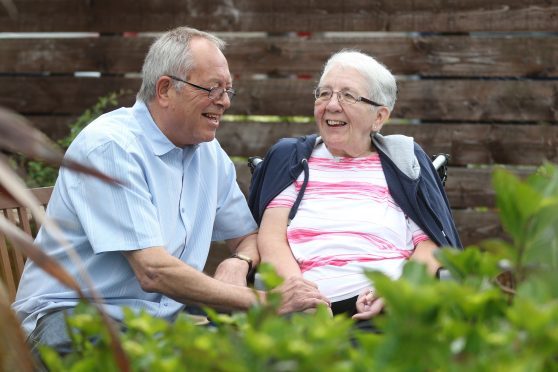 Susan Reid is softly spoken, but her voice grows hoarse after a short conversation and she relies on her husband to finish sentences.
After 45 years of marriage, James continues Susan's train of thought with ease.
He has become her lifeline in recent months and now washes and dresses Susan each morning at the family home in Inverness.
His role as carer is not a job he resents, indeed he is grateful for every second spent with his wife and the couple's four grandchildren who he also helps to take care of.
Meanwhile, Susan, 69, who used to work for the charity Action for Children, can only sit and watch as James, 67, continues with the tasks which were once her domain.
She was diagnosed with Motor Neurone Disease (MND) 17 months ago, and despite the fact the terminal illness came as a huge shock, she is remarkably accepting of the future.
The disease, which causes muscle wastage, has rapidly marched on in the past three months, and Susan is confined to a wheelchair and relies on a breathing machine.
She is no longer able to drive and her voice grew faint within minutes of talking as she explained how life has changed.
But despite a future which will inevitably involve palliative care as the disease progresses, Susan is remarkably positive and hopes to raise awareness of the condition.
"When I was diagnosed in December 2015, it came as a massive shock," said Susan.
"I knew something was wrong but I never imagined I had Motor Neuron Disease.
"The symptoms started in 2013. I kept falling over and there were only so many times I could tell myself I must have tripped over something.
"I lost strength in my hand, I couldn't grip things, so I knew something wasn't right.
"It was still a major thing to take in though. I didn't know all that much about the disease and I chose to keep it that way for a while. Although my family researched a lot, I didn't look things up on the internet in the beginning and that was just my way of dealing with things.
"I knew it was terminal and I am quite resigned to what will happen in the future.
"That's how I've faced this, by thinking, well, this is just how it is and we need to get on with things."
Prior to her diagnosis, Susan helped take care of her grandchildren on what she called "granny day" during the week. She still regularly sees 10-year-old Sophie, Alisa who is also 10, Duncan, eight, and six-year-old Jessica. It has been particularly difficult for her to take a back seat though.
"That was really hard because I can't do things with them like I used too," she said.
"My legs don't work at all. It's difficult to just watch but I still find things to be grateful for every day.
"Me and James are making the most of whatever time we have left together. We try to live life as we did, but this is getting more difficult as times goes on.
"Although he does everything for me, I don't think it has changed our relationship because we have an incredibly strong marriage."
James has had no choice but to watch the disease take its toll, but he too tries to remain upbeat.
"I see Susan every day so the changes aren't as noticeable perhaps, although we were both taken aback by how quickly the disease has progressed," he said.
"Since Christmas it has really escalated, much quicker than we expected.
"Of course, we know what is going to happen eventually and I think that's partly why MND seems to be such a big taboo.
"Our friends are now much more aware of it, but prior to Susan's diagnosis they didn't know anything about it.
"Although she's in a wheelchair she actually looks really well. You wouldn't know anything was wrong with her.
"People know MND isn't a nice disease but they don't really know the details.
"Eating and talking is really tiring for Susan. People aren't really aware of the impact.
"We'll keep doing what we're doing, enjoying every moment together because we don't really know how much time we've got left."
Susan is incredibly pragmatic about the future, and believes knowing the disease will continue to worsen has given her a chance to prepare.
"I don't look back on my life and wish I had done things differently. I feel very lucky to have had a wonderful life," said Susan.
"We've travelled and we have been to some amazing places, we've been to the Far East and America. I've got a very strong faith and I have all these memories. I'm very lucky indeed."
For information about Motor Neurone Disease, visit www.mndscotland.org.uk