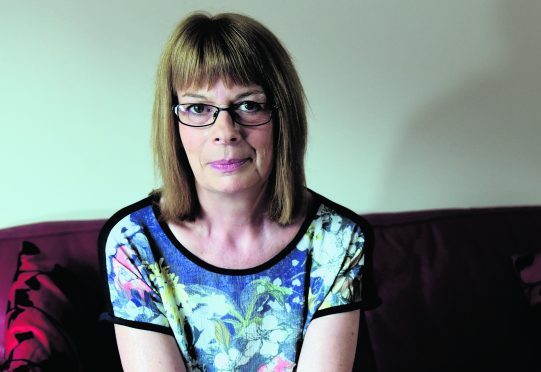 Jennifer Duguid is never without her phone, and even leaves the device by the sink when she has a shower.
But the 56-year-old grandmother isn't addicted to technology, she's waiting for a phone call which could spell the end to a year of ill health.
Jennifer, who lives in Inverurie with her husband, Eric, has been waiting to have her gall bladder removed at Aberdeen Royal Infirmary since June 2016.
The routine operation which involves keyhole surgery was meant to have been carried out within three months of Jennifer's admission to hospital, when gall bladder stones were identified.
But her place on the waiting list has not altered, forcing her to rearrange a family holiday and cancel social outings.
She has grown progressively more unwell but has been told the op has not occurred so as to make way for cancer patients and emergency cases.
The Press and Journal has already revealed that NHS Grampian has spent nearly £45million paying for patients to be treated outwith the region in the past three years – with people looking to other areas of the country due to long waiting lists.
But Jennifer is limited as to where she can have her operation, as she will need an on-table scan alongside the surgery, which must be carried out by a specialist.
She now wants to raise awareness about the impact of long waiting lists, and hopes that the more people speak out, the better.
JENNIFER'S STORY
This isn't my life anymore and I haven't been myself for a long time.
It's upsetting for all my family and especially my husband, Eric.
He's a lorry driver and he comes home from work to see me poorly, and there's nothing he can do.
It has impacted on every aspect of my life.
I first went into hospital last June with gall bladder stones.
Although one stone passed naturally, I was told I'd need my gall bladder removed as there were more stones present.
I was told this would happen within three months and had my pre-op assessment in August.
Since then, nothing has happened and it feels like no one is listening.
When I went into hospital I had a bile duct infection and was also jaundiced, but I was only in for a short amount of time.
Since then, the issue has taken over my life.
I watch what I eat because dairy can inflame my gall bladder, but I feel poorly most of the time.
Whether it's sickness or exhaustion, I feel very limited with day to day activities.
If we go away anywhere, I always leave it till the last minute. Partly to make sure I feel well enough but also because I'm constantly waiting for that phone call to say a surgery slot has become available.
I take my phone everywhere with me, I'm always waiting for it to ring.
We had a cruise booked which we were really looking forward to, but we've had to delay it for a year. When we first booked it, we never imagined we would be in this situation.
It's impossible for me to get insurance when I'm waiting for an operation, the whole thing has been a nightmare.
I've spoken to the NHS feedback team, and everyone has been so lovely and caring. But this operation still hasn't taken place. I think I've been seventh on the waiting list for months on end.
I can't have the surgery elsewhere because I need a scan of my bile duct while I'm still on the operating table, and this can apparently only be carried out by one doctor at the hospital.
The most frustrating thing is that the operation itself is a straight forward procedure.
It is key hole surgery and if everything goes smoothly, I'd even be home the same day.
I'm now relying on pain killers to get through the day.
I work part-time at Tesco and do night shifts, but it's really hard trying to manage working and feeling so sick all the time.
My life has been put on hold and my family are constantly worried about me, it has a ripple effect.
I know there are dozens of people who share my frustration at waiting lists and I'm just hoping that the more people speak out, the better.
Something has to be done because I don't know how much longer I can go on like this.
An NHS Grampian spokeswoman said: "We cannot comment on individual patients.
"However the current pressures we are facing in terms of waiting times and staffing have already been widely reported.
"Speaking in general terms, specialised procedures require more planning and preparation and it can be challenging to replace staff working in these areas when they leave. It is also vital we have the right care in place to look after patients safely before and after their operations.
"Some of the things we are doing now will make a difference in the short term, including training other staff to develop their skills and we continue to advertise vacancies.
"Urgent cases are always seen as a priority and in line with the surgical urgency classification system."