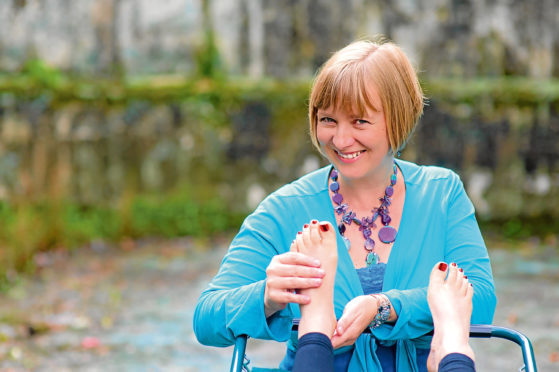 You might have had your palm read at some point, or maybe just heard of someone who has. But what about having your feet read?
Well, Jane Sheehan does just that, and believes that you can tell a lot about an individual's personality solely (pun intended) by looking at their feet.
"I can't predict the future," she said.
"But what I can do is read the structure, texture and blending of your feet to see into your past and reveal certain personality traits.
"People are sceptical at first but are amazed at the things I know after a session."
And we're not talking about what colour you might paint your toenails next, but if you are truly happy in life.
Jane believes that how people describe their own feet is a metaphor for how they feel about themselves.
"The way that people talk about their feet in the first instance is very revealing," said Jane.
"Sometimes people tell me they have 'hideous' or 'deformed' feet, whereas others say that they have 'quite nice feet' or feet that 'take them places'.
"If someone gives me a positive reaction then I generally see them as a positive, upbeat person who is satisfied with their life at that moment.
"If someone gives a strongly negative reaction, it often reveals some real underlying unhappiness."
You might be feeling sceptical at this point, but don't worry – that's normal, according to Jane.
"When I tell people what I do for a living most people look at me like I'm a nutter," she laughed.
"And if you had told me 30 years ago that I'd be a professional foot reader, I'd certainly have laughed you out of here.
"It started when I went for a reflexology massage with a friend in 1996.
"At the time I was working at a design engineering company and knew nothing about holistic therapy.
"But during that massage, every time the therapist would touch my big toe tears would stream down my face.
"After I came out, it felt like I was in slow motion."
Inspired by her experience, Jane went on to study reflexology for a number of years before honing in on the importance of feet specifically.
Although mostly self-taught, Jane did receive some formal training and began to practise on family and friends.
"At one point I was asked to help out at a fundraiser and I thought I was just going along to serve tea and coffee," she said.
"But when I arrived I was pointed in the direction of my very own stand which had a queue out the door of people waiting to have their feet read.
"We left a bucket outside for people to donate and it was then I realised the huge interest in what I was doing."
From there Jane gave up her day job and focused on her passion, and it wasn't long before things took off.
"I had my first TV appearance the day after I went full-time," she said.
"It was on This Morning where I was interviewed by Lorraine Kelly and Tris Payne.
"But since then I've done quite a bit of TV work and have been asked to read the feet of all kinds of people.
"I also do private foot parties where I have read various celebrities' feet, but I try to keep my clients confidential."
As well as various TV appearances, Jane has written three books on the subject.
It's a career which sees her travel up and down the length of the UK holding specialised foot-reading workshops to pass on the mysteries of her profession.
At the end of June, Jane will be teaching in Inverness for the first time.
"It's very different from palm reading," she said.
"It's all about understanding the five energy pathways in the body, one for each toe.
"For example, your second toe on your right foot shows what you want in life.
"If you're getting it, this toe will be touching the floor.
"If it isn't, or if there's a gap between it and the third toe, it indicates you're trying to separate yourself from your emotions."
And as for something as simple as pinched or calloused feet, they too say something about us.
"Ask yourself why someone continues to wear uncomfortable shoes day in, day out," said Jane.
"It's all about looking closely and paying attention to things we usually ignore."
For more information about Jane's foot reading workshop in Inverness on June 25-26, visit www.footreading.com