A new initiative to dispel stereotypes about nursing and prevent a future staffing crisis is being piloted in north-east primary schools.
NHS Grampian has spearheaded a number of projects to encourage people to take up nursing to help fill vacancies in its hospitals.
However this latest scheme will not bear fruit until many of the current crop of nurses are nearing retirement.
The new initiative will give youngsters in seven primary schools in the city an insight into the modern nursing role.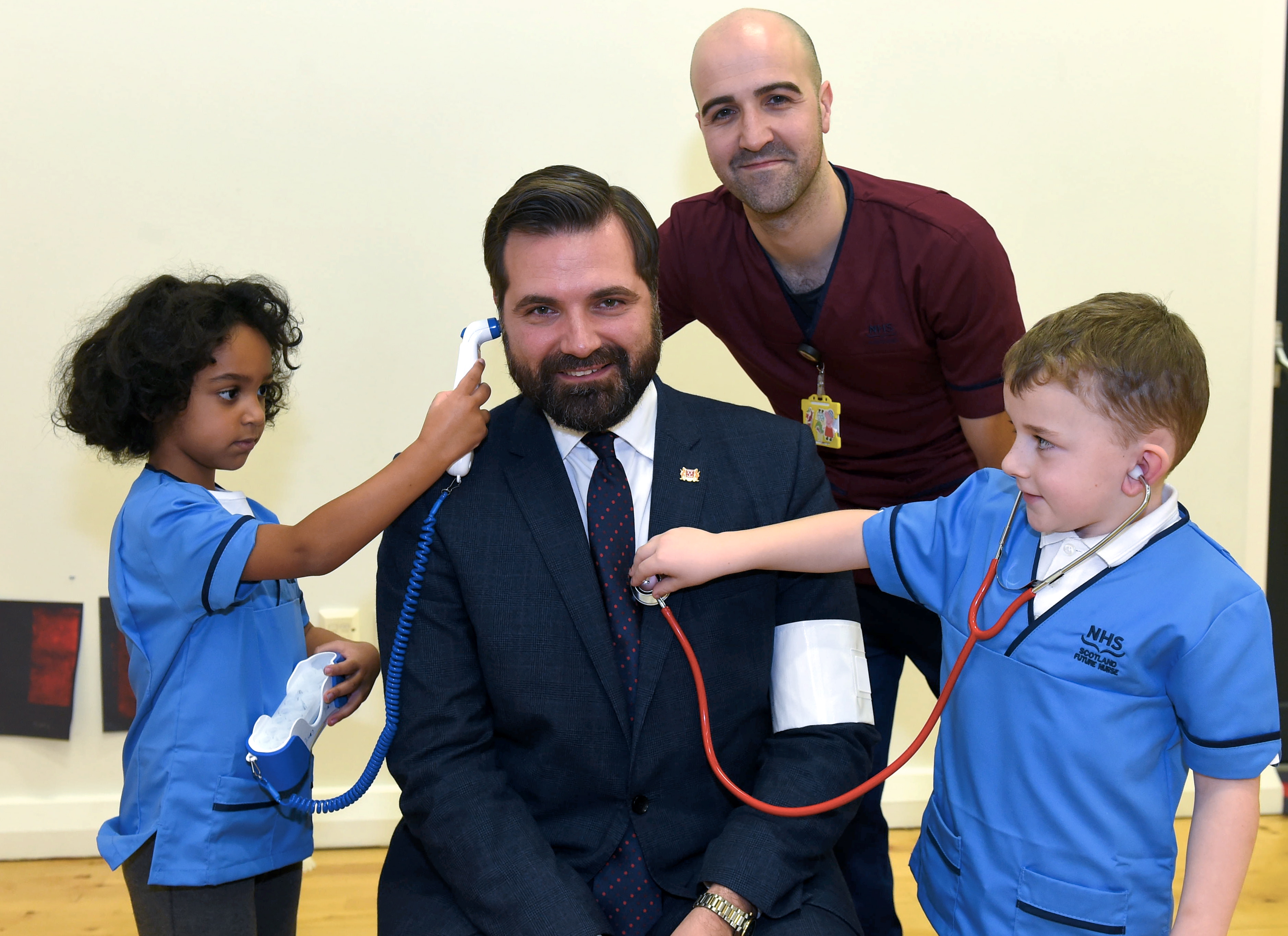 Yesterday P2 children at Braehead Primary in Bridge of Don donned mini nurse outfits and were given a crash course in treating the most common causes of hospital admissions among little ones – head injuries, high temperatures, injured limbs and sore stomachs.
The idea came to Colin McNulty, senior nurse manager with the health board, as his daughter played dress-up in an out-dated nursing outfit.
"If you look at a typical nurse costume for a child, the uniform often comes with a cape and hat, even though these haven't been standard uniform for decades," he said.
"The tools they have may be limited to a thermometer and a fob watch, suggesting nurses do little more than take temperatures or measure pulses.
"The reality of modern day nursing couldn't be further from this but first impressions matter.
"If this is what very young children are learning about nursing then they may decide it is not the job for them in years to come.
"As a registered nurse I am passionate about promoting nursing as a modern and progressive career and challenging the gender bias that is formed from a young age."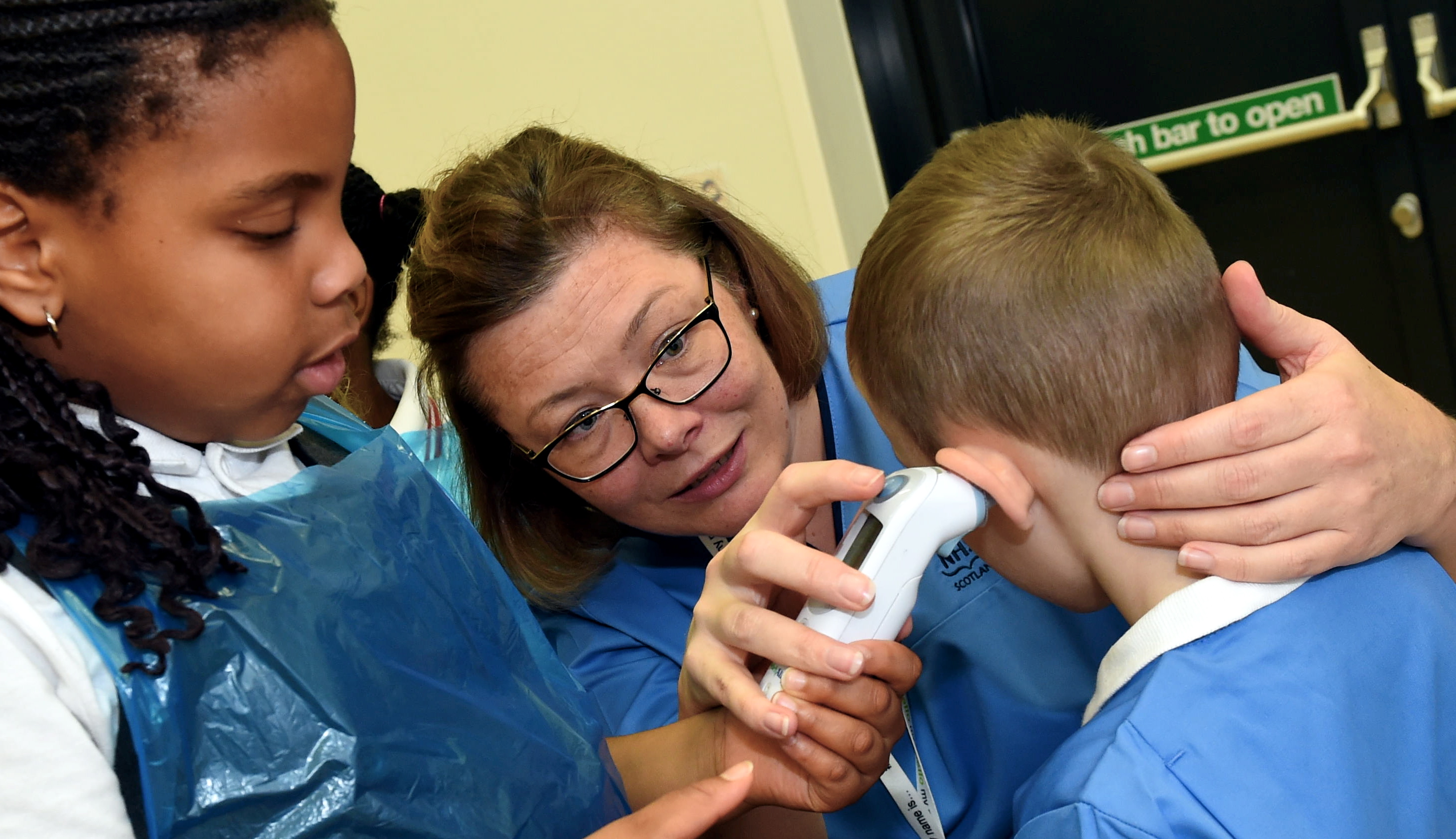 Diane Duncan, headteacher, said the initiative had already been a hit with pupils, some of whom had got the chance to go to hospital and take part in information videos which will be shared among other children.
"I think for the few children that got to go to the hospital it was the absolute chance of a lifetime for them," she said.
"Our intention is for them to share these resources with the other age groups in the school.
"Nursing is definitely a career option we want to promote across the school."
The scheme will be piloted across schools in the Bridge of Don and St Machar catchment areas, as well as in Edinburgh.
---
A survey has revealed a third of healthcare workers would urge their children not to follow a career in medicine.
More than 30% of health staff  said they would not encourage their children to join the profession.
Low pay, uncaring bosses and long hours were all cited as being the worst aspects of the job, according to specialist nursing and healthcare website www.jobmedic.co.uk.
And a fifth of healthcare workers surveyed said they were considering leaving the profession.
Midwife Charlotte Grant, 27, said: "To discover that health workers would not encourage their children to join their profession is not only sad, it is a huge cause for concern for the NHS in the future.
"The NHS is already suffering from lack of staff and the health of the nation depends on people wanting to join the NHS.
"So it is worrying that healthcare professionals – and especially nurses – do not feel they can encourage their children to follow in their footsteps because of low pay and challenging conditions."
The results came from an online survey of 499 health professionals, including 259 nurses.
In addition, a general population survey among 2,001 UK adults was carried out.
A fifth of those surveyed said they would steer their children away from a career in health.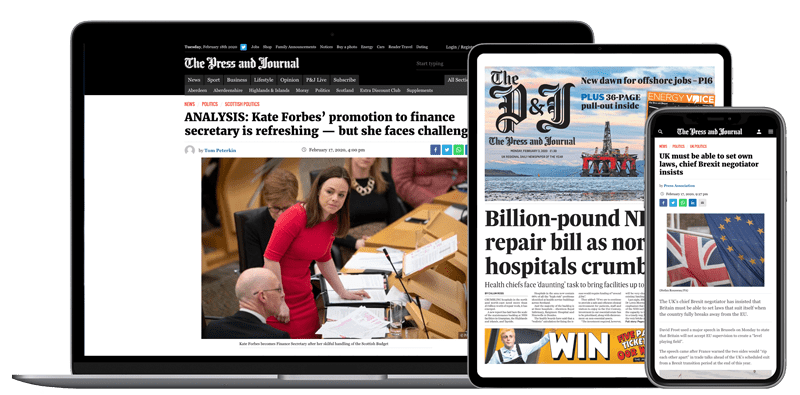 Help support quality local journalism … become a digital subscriber to The Press and Journal
For as little as £5.99 a month you can access all of our content, including Premium articles.
Subscribe