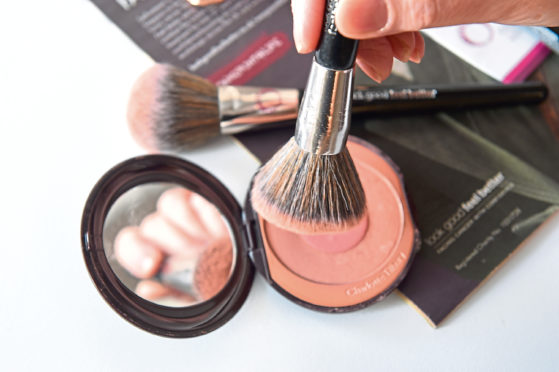 Perfectly groomed brows, just the right shade of foundation and a dazzling smudge of bright lipstick; this is Helen Mulgrew's "war paint" for the day ahead.
She doesn't believe it takes much to look good, and the grandmother of six is determined that even her clothes will match her exuberance and zest for life.
At 58 years of age, Helen admits to having the odd moment of self-doubt when it comes to putting her look together, but she has helped dozens of women feel confident in themselves.
Having previously worked with leading make-up brands such as Lancome and Estee Lauder, there's not much Helen doesn't know about getting your look just right.
And she has put that knowledge to the test as regional co-ordinator for the Highland branch of Look Good Feel Better.
The charity aims to help women who have undergone cancer treatment feel better about themselves, through workshops which can teach them simple make-up techniques in the face of chemotherapy.
Alongside being able to advise women, Helen has also undergone gruelling treatment herself after she was diagnosed with Non Hodgkin's Lymphoma in 2005.
Having attended a workshop, she soon became more involved with the charity and believes make-up can make women feel empowered.
Held each month at the Maggie's centre in Inverness, the events are always well attended.
"I'm so passionate about Look Good Feel Better and the power of make-up in general," said Helen.
"Of course everyone is different, but nothing can really prepare you for cancer treatment, it can be incredibly harsh on your body,
"You lose yourself in the process and I think make-up can give you your identity back.
"Some women can feel very nervous about coming, so naturally I make sure everyone is feeling OK.
"But most of the women who attend are so excited.
"They're gobsmacked about the minimal effort required and what you can achieve with some lipstick."
Although Helen did not lose her hair during treatment, some women who attend the workshops may not have eyebrows or eye lashes.
Helen is on hand to teach women how to draw eyebrows on and also gives skin-care advice,
"Brows are very fashionable these days and I like to make sure my eyebrows are looking good," said Helen.
"A good set of brows for a woman who has undergone chemotherapy can make a huge difference.
"Treatment can impact on people in different ways and although my skin was OK, my nails weakened.
"I was fortunate with the type of treatment I had, but if you look good than you feel good.
"I always have my brows, blusher, foundation and lipstick on.
"That's me ready to take on the world."
The workshops last for two hours and there are also online tutorials for those who may be too poorly to attend.
The very first workshop was held in 1994 and each session is run by volunteer beauty professionals.
Roughly 250,000 skin-care and make-up products are also donated by the beauty industry.
"There's not much we can't give advice on when it comes to feeling better about yourself," said Helen. "I found that when I was undergoing treatment, people were full of sympathy for me.
"And actually, that's not what I needed.
"I found all their sympathetic questions took away my strength and I remember saying that to my oncologist.
"Make-up was, and continues to be, my way of looking good and healthy.
"With my lippy on, there was no need for people to feel sorry for me.
"My oncologist agreed, she told me that she doesn't really wear make-up except to meetings when she needs to feel fierce.
"I understand that sentiment perfectly."
One of Helen's top tips is to use coconut oil religiously as it can help dry skin.
She recommends rubbing it into the scalp to help encourage hair regrowth and using it all over the body.
"It's amazing stuff, it will make you feel better inside and out," said Helen.
"I often give my ladies a little scalp massage, everyone deserves to feel good.
"I believe there has been a big improvement, especially for older women when it comes to make-up and clothes.
"This is partly because women are supporting each other, we're encouraging each other to be bold in our choices.
"My husband will sometimes look at me like I have two heads when I'm wearing a really bright lipstick.
"Bright is definitely my thing and I think the most important thing to remember is that the only person you are answerable to is yourself."
Look Good Feel Better is the only charity that helps people combat the visible side effects of cancer.
For Helen, it has not only enabled her to share her passion for make-up, but also build friendships with the women who attend.
"I bump into women all the time who came along, incredible women who I wouldn't have met otherwise," she said.
"Women are tough; we pick ourselves up, put our lipstick on and get on with it,"
For more information visit www.lookgoodfeelbetter.co.uk