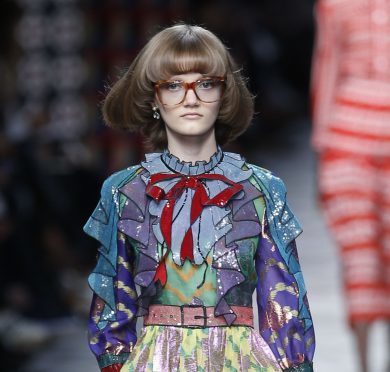 Usually, a catwalk hair stylist's job is to get every girl's hair looking exactly the same, no matter what it takes.
But at the spring/summer 2016 shows, there was a distinct shift, as model's natural manes and quirky cuts weren't, for once, concealed under a mass of extensions, wigs and dye.
'Come as you are' was the mantra at Alexander Wang in New York, where the coolest of the diverse cast sported blunt, choppy bobs and bowl cuts, while the micro-fringe made a return in London and blonde buzzcut babe Ruth Bell was declared the hottest new model on the block.
Bell says her new 'do' was nothing short of life-changing, so should we all be charging to the hairdressers and bidding adieu to our long locks?
"No!" warns Anya Dellicompagni, director of hairdressing, Francesco Group for Wella Professionals. "In order to rock this look and make it work well, you must have the confidence to wear this and stand out from the crowd."
Even if you've got confidence in spades, there are a few factors to consider, so we asked the experts for advice on the three boldest styles of the season…
The bowl cut
A pair of promising up-and-comers showcased the most accessible of the new 'dos; the bowl cut: Isabella Emmack with her monk-like crop at Alexander Wang and Peyton Knight, whose longer, glossy, Seventies-esque rounded bob chimed perfectly with the kooky mood at Gucci.
"There are definitive rules for this hairstyle. The ideal face shape is oval or angular, because this will accentuate the cheekbones and jaw lines, drawing attention to them and creating an architectural line," says Dellicompagni. "If the face shape is more rounded, I would always advise the client to steer clear of this style, as the cut will only emphasise the roundness."
Same goes for the longer length – if it doesn't work with your features, it "may make you and the style look very dated".
How to style it: "To achieve that sleek, glossy, blown-out look, firstly, make sure you wrap-dry your hair with a paddle brush
:: Wella Professionals EIMI Perfect Me Cream, £7.40, LookFantastic
:: Percy & Reed Perfectly Perfecting Wonderbalm, £18, John Lewis
:: GHD Ceramic Vented Radial Brush – Size 3, £17.50, FeelUnique
The micro-fringe
At Lanvin, fringes were choppy and pushed to one side, at Prada they were wispy, and, at Christopher Kane, they were shortest of all, leaving a good inch of forehead visible.
"I love a micro-fringe, but it is a statement," says Paul Percival of Percy and Reed. "I think anyone can have a micro as long as they are prepared to maintain it, because it is a commitment. It doesn't always have to look edgy – if you take Audrey Hepburn, for example, it can still be a beautiful style."
The key, Percival says, is this: "Allow enough length for your face shape. If you have an oval-shaped face, keep it really short, but if your face is longer, have the fringe slightly longer."
And the straighter your hair, the better: "It works best on straight hair, but with all of the products and electricals available, anybody can straighten. Really curly or afro hair is best to avoid this cut, though."
How to style it: "To style, use straighteners if necessary. To maintain, use dry shampoo – because fringes tend to get greasy – and the Percy & Reed Reassuringly Firm Session Hold Hairspray to keep the style in place."
:: The White Touch hair irons, £99, Cloud Nine (www.cloudninehair.com)
:: Percy & Reed Reassuringly Firm Session Hold Hairspray, £12, LookFantastic (lookfantastic.com)
The buzzcut
It's not just Ruth Bell rocking the razored look: lookalike Kris Gottschalk was also cast at the usually ultra-girly Versace show, and there was a trio of suedeheads at Acne.
They looked awesome, but what do us mere mortals need to know before going for the full Sinead O'Connor?
"Ideally, to make this look work, I'd expect the client to have great architectural angles to the face shape," says Dellicompagni. "With it being so short, it can work for any hair type or texture – it's very versatile, and can work so well on so many different people."
But you should never attempt it first time at home: "Always go to a salon. What you need to remember is it's a haircut that needs to be adapted to work with your face shape and features. You need a professional to advise you and make it work."
How to style it: "EIMI Rugged Texture is fantastic to finish with. It gives an overall matte finish while maintaining the style. I would also suggest complimenting this cut with a really vibrant colour to make it stand out," Dellicompagni says.
:: Wella Professionals EIMI Rugged Texture Matte Texturizing Paste, £8.48, Toni & Guy
Tried and tested
Our testers get to grips with a cheeky trio of peachy blushers…
:: Bourjois Aqua Colour Fresh Blush in Cocori Corail, £8.99, FeelUnique
"This makes a great, summer daytime blush as it's sheer, but has a lovely coral-y colour, perfect for the sunshine. The gel formula glides on much like a primer and makes an interesting change from my usual dolly pink, but if you're after really dense colour, you'll need a powder."
4/5
:: Shade Fusion Trio Blush in Peach Rose, £10.90, Kiko
"I don't wear much make-up, but my one concession is a strong blusher. While I was reluctant to swap my usual bold shade for this subtle blush, I was surprised by how much I liked it. Combining three pretty peach shades, the powder gave a delicate glow without being overpowering."
4/5
:: Laura Geller Beauty Baked Blush-N-Brighten in Pink Buttercream, £23, House of Fraser
"If you're after a radiant blush, you can't go far wrong here. This baked powder delivers a unique colour and gave me just the right amount of glow. Weightless and silky, it didn't irritate my sensitive skin, either."
5/5
Buy it now
Created as an ode to the brand's iconic trench, Burberry's new men's fragrance is a suitably classy affair. The guaiac wood and vetiver-laced Mr Burberry has a cool, timeless feel, much like the coat that inspired it.
:: Mr Burberry EDT, £48 for 50ml, John Lewis
Beauty bulletin
Waxing for womankind
Benefit's annual charity campaign is back next month and bigger than ever. The Bold Is Beautiful project has expanded to five more countries with the aim of raising £2.8 million for charities empowering girls and women across the world. Throughout May, 100% of the profits from every Benefit brow wax will go to the project and waxees will get a full-sized Gimme Brow gel, worth £18.50, to take home. Visit www.benefitcosmetics.com to find your nearest location.
Time for make-up shake-up?
Brand loyalty is one thing, but did you know that women are more likely to buy a new car than shake up their beauty routine? According to research from Groupon, a quarter of women are still doing their make-up the same as when they were 18, and 20% of 65 to 74-year-olds have had the same look for fifty years. To inspire a revamp, the company has teamed up with Louise Redknapp to create four beauty tutorials. Find them at www.gr.pn/louise.
Steal of the week
Original Source held a Facebook competition recently to decide the scent of its latest limited edition shower gel. The public had to decide between four options, so rather than something silly like Boaty McBoatface (as per another recent public poll that got out of hand…) we get the very tasteful Limited Edition Original Source Hibiscus And Pomegranate Tea Shower Gel, £2.20, Boots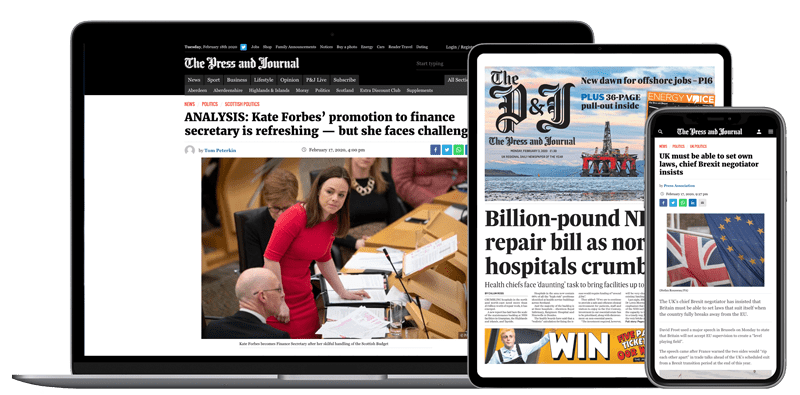 Help support quality local journalism … become a digital subscriber to The Press and Journal
For as little as £5.99 a month you can access all of our content, including Premium articles.
Subscribe