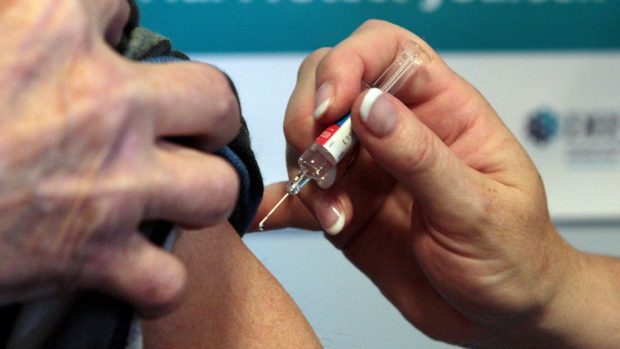 Tens of thousands of people most at risk from flu in the north and north-east have still not had their jabs.
NHS figures show only around one in three under-65s considered especially vulnerable to a seasonal outbreak have taken up free vaccinations.
There are particular concerns for large numbers of otherwise healthy pregnant women – with as few as one in four immunised so far.
Health chiefs are now stepping up appeals to everyone eligible to get themselves protected against the virus as soon as possible.
The arrival of colder weather tends to usher in the flu season but delaying immunisation does not offer better protection.
It must also be renewed each year to deal with current strains.
Spread by coughs, sneezes and contact with contaminated surfaces, the virus can bring on pneumonia and other potentially-deadly infections.
It is a particular threat to those with existing conditions such as asthma, bronchitis, emphysema, chronic heart disease and kidney failure, cystic fibrosis, multiple sclerosis, HIV and diabetes.
Obese people are also at increased risk of complications.
NHS Grampian said 69.5% of under-65s eligible for free jabs were yet to seek help – some 43,000 individuals.
They include 19,000 with chronic respiratory disease (68.3%), 7,000 with chronic heart disease (67.7%) and 300 pregnant women with other risk-factors (65.6%).
Only 27.5% of healthy mums-to-be are vaccinated, meaning more than 3,000 are considered to be risking their babies' health.
In the Highland NHS area the figure for healthy pregnant women stands at 30.1% – with almost 1,200 still to have their jabs.
Some 31.7% of almost 40,000 at-risk under-65s have been vaccinated.
In both areas, take-up by older people – who automatically receive reminder letters – is healthier: 65.4% in Highland and 59.3% in Grampian.
An NHS Grampian spokeswoman said a wide range of efforts were made to encourage others – including text messages, dedicated appointments and evening and weekend surgeries.
More than 50 community pharmacies offer jabs for health and social care workers and a campaign is being run in NHS staff dining rooms.
Large numbers of vacancies are already expected to leave hospitals and other services stretched to the limit over the busy winter months, meaning avoiding staff illness is considered a high priority.