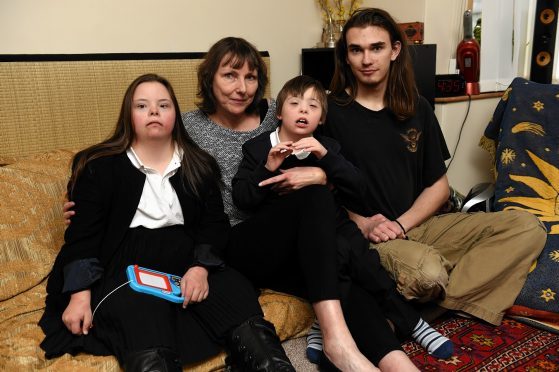 What would you do if faced with a diagnosis of Down's syndrome for your baby? Ellie House met one remarkable family to find out what life is like with the condition
Every year around 750 babies are born with Down's syndrome, with an estimated 40,000 people living with the condition in the UK.
Attitudes towards the chromosome disorder have improved in recent years, and more people have spoken openly about having a child with Down's, including actress Sally Phillips.
The Bridget Jones star discovered her son Olly had Down's syndrome when he was just 10 days old.
Now aged 12 and attending a mainstream school, Sally has spoken openly on the joys of raising a child with the condition.
Recent figures provided by the Scottish Learning Disabilities Observatory also show that the termination rate for those who receive a prenatal diagnosis of Down's syndrome has reduced in Scotland, and is now down from 90% to 85.2%.
But legislation which is currently being debated by the Scottish Government could have a dramatic impact for parents faced with a Down's syndrome diagnosis – and there are even fears that terminations will increase again.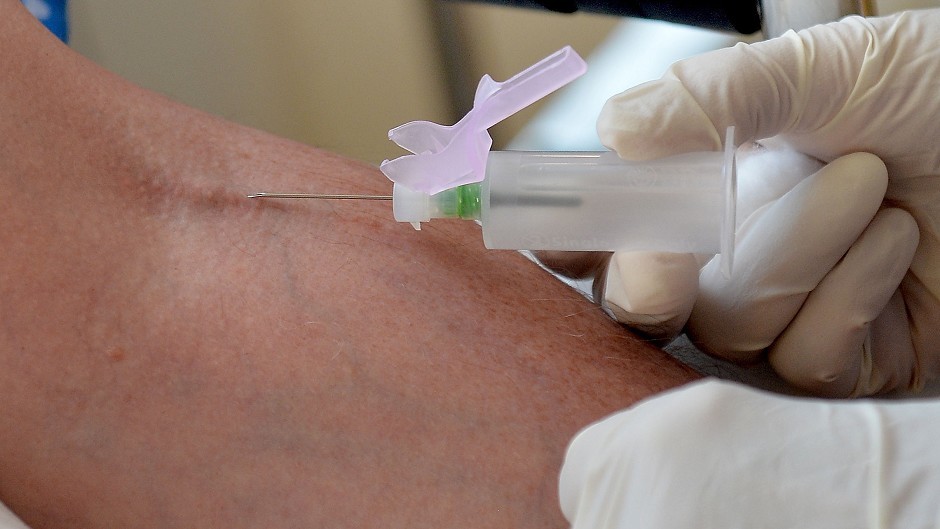 Current testing which carries a risk of miscarriage is normally done from the 15th week of pregnancy and can still be inaccurate.
Non-invasive prenatal testing (NIPT) – which is only available privately in Scotland at a cost of £600 – is far more accurate and can give a much earlier diagnosis. It is this NIPT testing that could be made available on the NHS if given the go-ahead by the Scottish Government.
Concerns that this will contribute towards an increase in abortions come following pro-life protests outside Aberdeen Maternity Hospital this week, which look set to continue for the 40 days of Lent.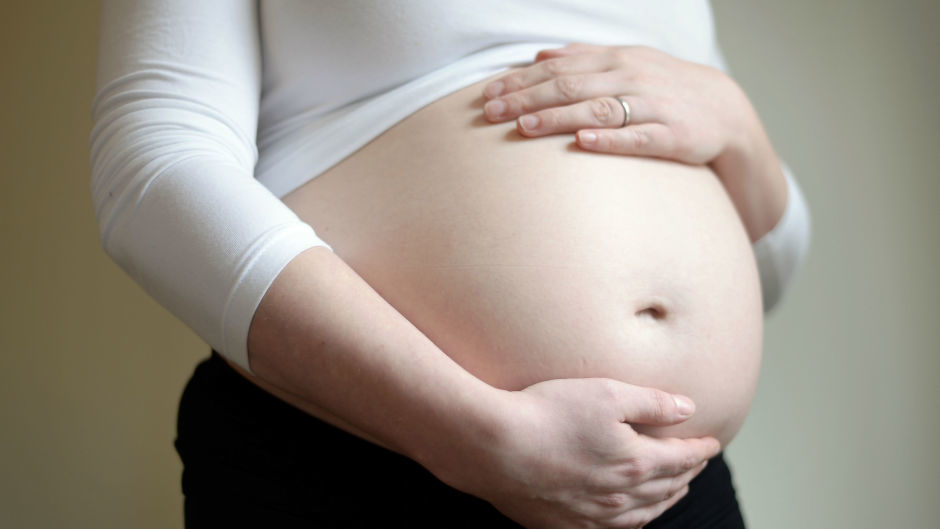 Last year at Aberdeen Royal Infirmary there were seven live births of babies with Down's syndrome, with eight born in 2015 and six in 2014.
Aberdeen mum-of-three Irena Boettcher was repeatedly offered an abortion when she fell pregnant with her daughter, Kirsten, in Germany.
IRENA'S STORY
Every morning Irena gets her two children ready for school in a whirlwind of missing uniforms and lunch boxes, before starting her day as a translator.
The scene is reminiscent in thousands of households across the country, except for what some might see as one heart-breaking difference.
Irena's children, Kirsten and Pascal, are teenagers, long past the age in which youngsters should need or indeed want any help getting ready.
Parents can only look on with pride and the odd pang of nostalgia as their children grow up and seek independence, but Irena will be relied upon as both a mother and a carer forever.
At 16, Kirsten can only speak in single syllables, while Pascal is unable to speak at all.
The siblings were born with Down's syndrome, and their bond demonstrates a remarkable friendship which flourished from the moment Kirsten laid eyes on her little brother.
Irena took the brave decision to adopt Pascal when he was only 11 days old and had been left by his parents in a hospital in Germany.
Already mum to Kirsten, and her eldest child Sonke, who does not have the condition, she was determined that her little girl would not be alone in the world.
The decision to bring Pascal into the family ultimately cost Irena her marriage, and her husband later passed away following the separation.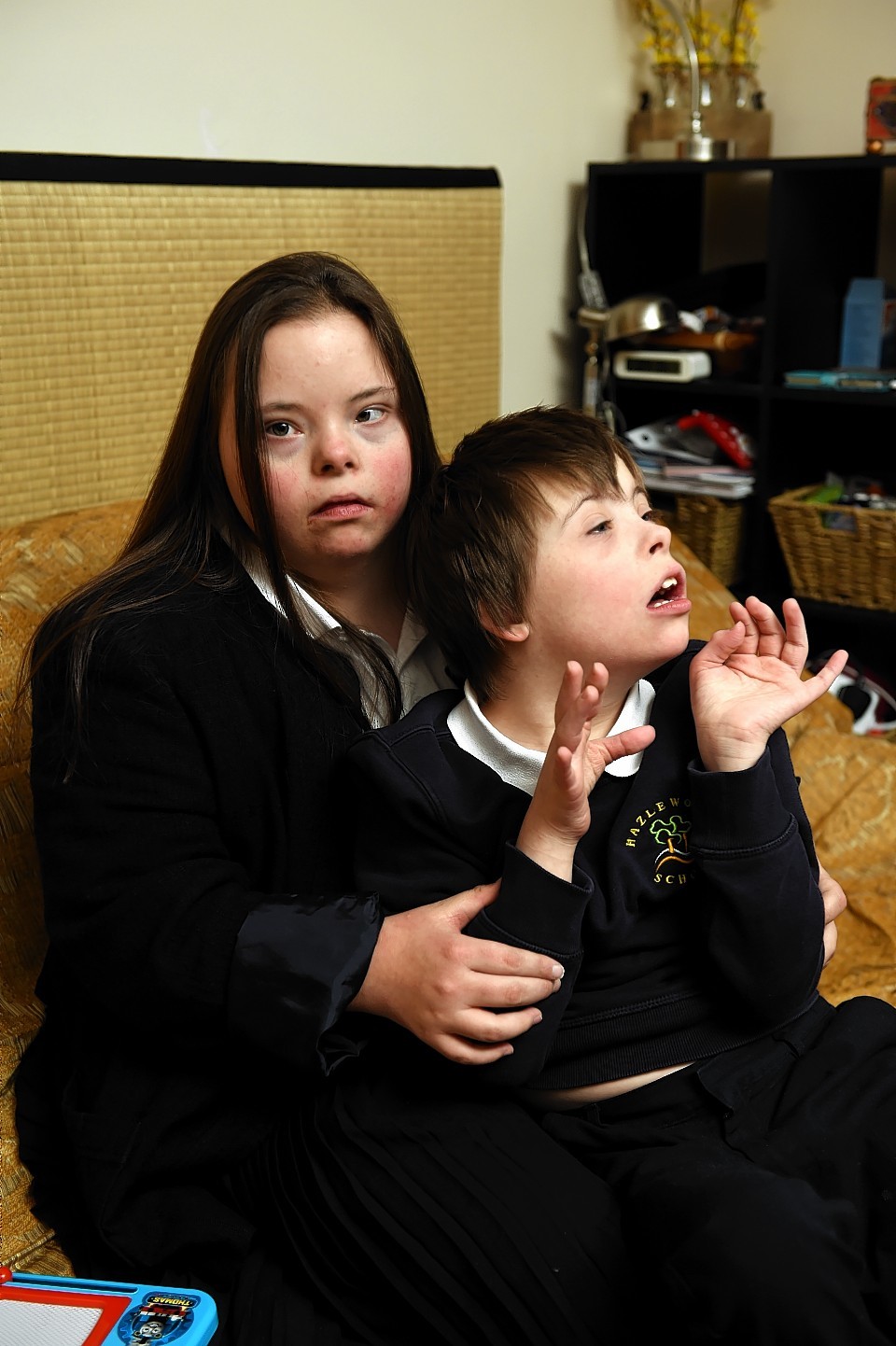 Now a single mother, she has no regrets, but will never forget how she was treated during her pregnancy with Kirsten.
"I knew from the moment I fell pregnant that something wasn't quite right, I think you just know as a mother," said Irena.
"I was nearly 40 and more at risk of having a baby with Down's syndrome. Doctors wanted to do an amniocentesis test, but the risk of miscarriage was high.
"I remember it was suggested that this could be an accidental abortion, that it would be the kindest thing to do.
"Only when I made it clear that I was not interested did doctors back off.
"All I was bothered about was if Kirsten was healthy.
"I didn't know her gender but when she was born, in my eyes she was my daughter."
Kirsten was seen by a cardio-logist when she was only two hours old, and Irena was told that the probability of Down's syndrome was high.
The official diagnosis came when she was three days old.
"It was a relief in a way because I felt like I could get on with everything, it was acceptance," said Irena.
"When we were in the hospital I remember a consultant asked me if I had even thought about the fact that my child could be handicapped.
"I was so angry, but that was very typical of the attitudes we faced.
"From an early age she was clearly different, although you couldn't quite put your finger on it.
"People distanced themselves, even my own family – she was a stranger to them."
Irena made the decision to adopt a child with Down's syndrome when Kirsten was two years old and the contrast between herself and other children was becoming more apparent.
"It was me that really pushed for the adoption, I wanted Kirsten to have a friend in life, a true friend," said Irena.
"There were no problems adopting despite my age, because most people didn't want to adopt a child with Down's syndrome.
"When Pascal was born, he was blue and he didn't breathe.
"He had a severe heart defect and his parents didn't even see him, they left him in the hospital.
"I remember getting this phone call to say a baby needed a family urgently so Pascal came home to us.
"Kirsten treated him like a doll. Straight away she was the big sister, but the main thing was that she was no longer alone."
Even a brief time spent with the pair demonstrates their closeness.
Kirsten clucks over Pascal and encourages him to sit still for the camera, before he crawls into her lap.
Their big brother, Sonke, who is 20 and now at university in Aberdeen, is Irena's main support but what of the future?
"It was me and Sonke who wanted to adopt Pascal whereas my husband didn't really want to go ahead," said Irena.
"We persuaded him but he was reluctant. I never wish things were different, I've just got a different set of problems from other parents who have teenagers."
On her own admission, Irena is "tied" to the house and cannot leave Kirsten and Pascal alone, not even for an hour.
The greatest stumbling block has not been the reality of caring for two children with Down's syndrome, but the response from others.
"People aren't unkind as such, but when they see Kirsten and Pascal I think they can feel very insecure," said Irena.
"Someone once asked me why I hadn't put Kirsten in a home, other people say I'm crazy for having two children with Down's syndrome.
"They have each other and their big brother, but the one real worry is that I won't be here forever.
"They will never be independent, but I just remind myself that they are happy.
"They have their own life in a way."
Irena has been met with a much friendlier response since moving to Aberdeen and both Kirsten and Pascal attend a school adapted to children who have special needs.
Her family is still an incredibly close knit unit and she believes the bond has partly been formed out of necessity.
"I think we've had to have this closeness as a means of protection," said Irena.
"I had no husband and two children with Down's syndrome, certainly in Germany I was considered different.
"I see all the wonderful things in my children though, Kirsten and Pascal will never know what it's like to intentionally hurt someone.
"They simply don't know what it is to be mean, and that's a pretty wonderful thing.
"I would advise other parents who may have been given a Down's syndrome diagnosis before birth to think if they can accept a child with special needs in their life.
"Ultimately, I have no regrets."