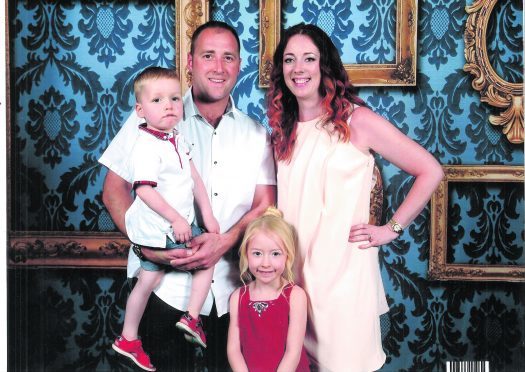 People living with the reality of bowel disease will often say that their greatest fear is being told their only option for treatment is a stoma.
A stoma is an opening on the surface of the abdomen, created surgically, to divert the flow of faeces or urine.
But ask Inverness mum of two, Stephanie Cowie, and she'll tell you that while they may think their life is over, a 'poo bag' will allow them to finally start living.
Stephanie faced horrendous pain after developing ulcerative colitis and endured even more misery when constant toilet trips left her virtually bedridden.
But now, just over a year after having her large bowel removed and replaced with a stoma in her abdomen, she is preparing to do what she once thought was impossible – run 26.2 miles along the course of the Baxters Loch Ness Marathon.
Known as Steph, the 36-year-old who lives in the Drakies area of the city, said: "It's given me a new lease of life and now I am far more grateful for what I have.
"I never would have considered running a marathon before my illness, but here I am, determined to go out there and prove that my life is better all thanks to my ileostomy bag.
"I look at online forums for bowel disease and read comments from people who have been told they need to get a stoma saying, 'that's it, the disease has got me'. It couldn't be further from the truth: what they will come to realise in a lot of cases is that they have got the disease. They've beaten it."
She first experienced bowel problems after the birth of her daughter, Ciara, in 2011. Her doctor put it down to a bug, and Stephanie never thought more about it when her symptoms cleared up after a few weeks.
But they returned three years ago when she was pregnant with her son, Calvin, and this time were much more severe. After her fears were allayed that there was something wrong with the baby, she was assured by her GP that her symptoms were being caused by piles.
She endured weeks of bloody diarrhoea and was quite heavily pregnant by the time she was taken in to hospital for a colonoscopy. Stephanie was diagnosed with ulcerative colitis and a mild medication reduced the discomfort to a manageable level.
But after the birth of her second child, the symptoms returned with a vengeance and were worse than they had ever been.
"What should have been such an amazing time with the latest addition to our family was horrendous. I needed the toilet so often that I couldn't actually leave the house, and even during the night I was up every hour," said Steph.
"I was prescribed steroids and when they did not work, surgery was discussed. However, the doctors convinced me to try another type of treatment which was administered in infusions every couple of weeks.
"It was horrific. I'd lost so much weight, my eyes were bloodshot, my hair was falling out and my mouth was full of ulcers. These drugs suppress the immune system, so the effect is very much like having chemotherapy.
"I knew that surgery was next, and at that point it was actually a relief.
"People think that a stoma bag is the worst case scenario, but for some it's actually the best case scenario. I really hope I can show people who are facing up to a stoma that it's not the end of their life – it will give them an opportunity to get their life back."
After a long recovery and a few complications resulting in further surgery, Stephanie regained her zest for life and she decided that she wanted to celebrate by taking up a new hobby. She decided to give running a go and initially set her sights on completing the River Ness 5K – one of the events on the event programme of the Baxters Loch Ness Marathon and Festival of Running on September 24.
She said: "But then I decided in for a penny, in for a pound and if I was going to do it then I was going to do the whole thing. I wanted a challenge – a way for me to be defiant and to show that the disease didn't get me.
"I know that there will be additional challenges to running with a stoma, but it hasn't deterred me. I need to wear hernia support garments around the stoma area, and as my diet is affected I will have to find ways of keeping myself fuelled up and hydrated. But these are just minor details and I will work them out.
"I am running with a friend who is an accomplished runner, and she keeps me motivated: if we get to the point where I can't run, we will walk. If I can't walk, we will crawl. Whatever happens, I will finish."
Her new-found passion for running has also rubbed off on her family. Ciara and her son Calvin will be taking part in the Wee Nessie event for pre-schoolers, supported by husband Iain. The whole family will be at the event village at the Bught Park in the centre of Inverness to watch her cross the line.
The main charity partner for the Baxters Loch Ness Marathon is Macmillan Cancer Support. There are three lead charities – Chest Heart Stroke Scotland, Highland Hospice and MS Society – and 15 other affiliate charities, although hundreds of runners will use the event to raise money for good causes close to their own hearts.
Macmillan Cancer Support works extensively across the Highlands and the rest of the UK. Over 98% of the charity's £189.7million income in 2013 came from voluntary donations. It uses the money to pay for a wide range of healthcare, support and information services, including cancer care nurse specialists and mobile information centres.
Every day, 19 people in the north of Scotland receive the devastating news that they have cancer. Sadly, 10 people will die as a result of the illness. It is estimated that the number of people in the Highlands living with cancer will double over in the next 20 years.
For more information visit www.macmillan.org.uk