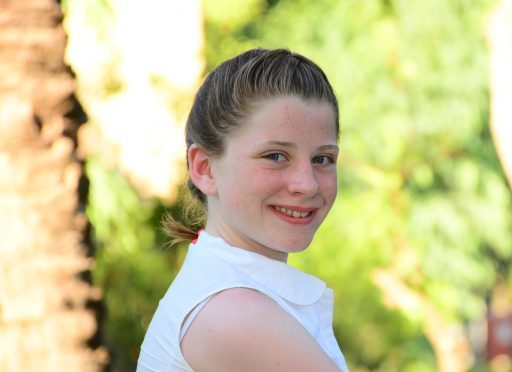 She required a heart transplant when she was just seven years old.
But this week, north-east youngster Sadie Merrin will highlight the remarkable progress she has made during the past four years when she competes in the British Transplant Games in Lanarkshire.
The Elgin youngster, who is now 11 and a pupil at West End primary school, was born with dilated cardiomyopathy and had to wait a long time to find an organ donor.
It wasn't until New Year's Eve on 2012 that she finally received the operation at Newcastle's Freeman Hospital which has transformed her life.
Her mother, Karen, said yesterday: "We have been very fortunate and Sadie has gone from strength to strength since her transplant.
"On the whole, she does the same… No sorry, more than most of her peers but she does get fairly frequent tummy bugs that sometimes require an overnight stay in hospital.
"However, she gets her bloods checked every six weeks and we travel down to to Newcastle every 12 weeks for clinic checks."
Following their daughter's successful operation, the Merrins organised a charity initiative, the Braveheart Ball, at the Thainstone centre in Inverurie, which raised more than £41,000 for the Children's Hospital Unit Fund.
And Mrs Merrin said: "We are planning another event for next year, with the proceeds going both to CHUF and the Royal Aberdeen Children's Hospital."
Sadie will be among more than 750 participants at the games, which will be staged in several sports, across a variety of venues, including Ravenscraig, from Friday onwards.
Mrs Merrin added: "This is our first transplant games and we are very excited to be taking part. We have been thinking about getting involved since the transplant, but we always felt it would be a huge commitment.
"However, this year, with it being slightly closer to home, we felt we had to go for it. Sadie has entered the front crawl swim, the 50m sprint, long jump, badminton, sports hall athletics and the donor run.
"Sadly, there is not a cheerleading event at the games. Sadie is a competitive cheerleader and she trains for five hours every week. She competed at three national competitions this year, achieving two second places, a third and a fifth.
"Sadie could never have trained for five minutes a week, never mind five hours, before she had her transplant. So the reality is that transplants don't just change lives, they transform them."
Mrs Merrin and her husband, Andrew, will travel to the event with Sadie on Thursday.