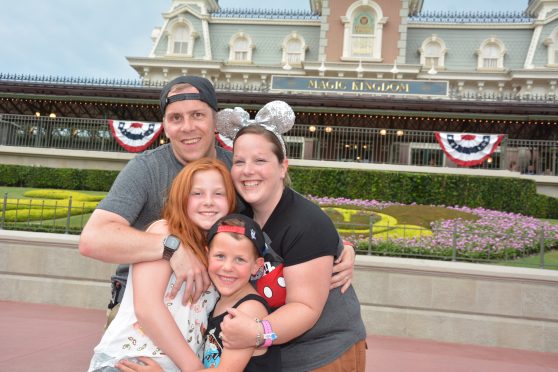 The family of a young mum who was told she may die by medics following a catastrophic stroke has urged people to be more aware of the warning signs.
Jemma Stott has made a remarkable recovery since a massive stroke turned her life upside down 10 months ago – even taking her young children to Disney World, Florida this summer.
She was rushed to Aberdeen Royal Infirmary and her husband Peter was warned by doctors the mum of Alfie, six, and Chloe, 11, might not make it to teatime.
Mr Stott, 34, said: "Although you don't want the children to have to see their mum like that, at the same time, they need to be there to prepare them for the worst in case it is the last time.
"Luckily, their mum is a fighter and wasn't fit for giving up. Ten months later she is still laughing and joking with us.
"Looking back now, we can see exactly what happened – Jemma started slurring her words but she had been that bad with the flu that we just thought she was really tired.
"We went to bed and I was tossing and turning a bit and then I noticed Jemma's breathing had changed. It just seemed strange. I shouted on her and didn't get anything back and then shouted again and again.
"I tried to sit her up and her arm movement was gone.
"I was still thinking, 'this is some flu' but then when I stood her up, I saw she had lost her whole right side at that point. Then I noticed her speech again, propped her up and phoned an ambulance.
"We got to the hospital and she was seen straight away for a CT scan."
From the scan, doctors picked up a clot and took action – though it was an anxious wait for Mrs Stott's family.
Her husband, of Rothienorman, said: "We then had to wait to see if it worked for a couple of hours. Unfortunately her clot was quite severe so, while it stopped it getting worse, it didn't improve things much.
"We know now you're never too young to have a stroke."
Mrs Stott, who now uses a stick to walk, said that a dream holiday to Florida in June gave her inspiration to get through her therapy.
She said: "It really helped to have that to aim for and helped me push through the rehab work."