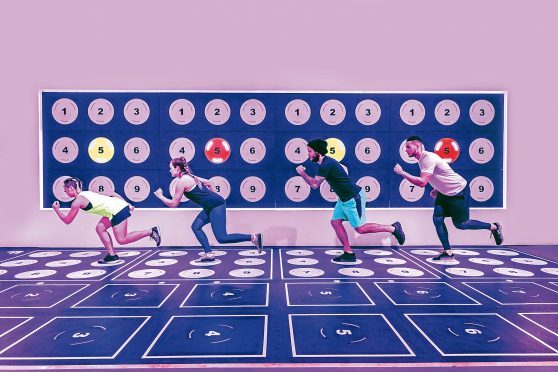 Fitness has never been so fashionable, and working out has definitely been the new going out in 2017.
But does your exercise programme need a New Year overhaul? Elaine Denton, fitness manager from David Lloyd Clubs, reveals the UK's leading health group's predictions for 2018
BETTER TOGETHER
Group exercise is on the up. Forget Jane Fonda-style dance aerobics to cheesy 80s pop music – group exercise has undergone a complete transformation in recent years. HIIT training, strength and conditioning, circuits, cycling, yoga and Pilates have revolutionised the way we exercise.
Research shows that group exercise helps people stick to their long-term goals, whether in a competitive environment or not, and that social interaction, motivation and fun are all elements that keep people hooked.
And the choice of new groups is endless – wellness circuits (a low impact circuits class which focuses on stretching and tone, followed by a relaxation session), Reformer Pilates (Pilates on a moveable bed giving a more intense and dynamic workout) and Cardio Tennis – an on-court session which combines fitness and tennis skills, are just some of the sessions available at gyms nationwide.
THE FUTURE'S TECH
Many gym goers admit to being hooked on their FitBit data and wearable fitness technology undoubtedly motivates by giving recorded, measurable results.
But now cutting-edge technology is being used to motivate in a group exercise environment where participants can instantly track their progress against others in the same class, allowing them to support each other, compete and push themselves harder to achieve their goals. Results can then be downloaded and reviewed via mobile technology away from the class.
After a hugely successful launch in Harbour Club Kensington earlier this year, David Lloyd Clubs is rolling out its new hi-tech class BLAZE across the UK in 2018 with eight clubs launching the classes in the spring (Manchester Trafford City, Edinburgh, Leeds, Milton Keynes, Woking, Kings Hill, Bristol Long Ashton and Acton Park).
BLAZE offers a revolutionary HIIT training concept (combat, conditioning and cardio) in a dedicated futuristic studio. It tracks heart rate via MYZone belts and the classes' data appears in screens so everyone can make sure they are training the right intensity zone at the right time. The info can be downloaded to your own app to track progress, and challenging you to constantly break your own personal record.
READY, STEADY, SWEAT!
Hot yoga has been around for centuries, but is now the go-to workout for the likes of David Beckham, Miley Cyrus, Jennifer Aniston and George Clooney who rave about the many health benefits of this sweaty workout.
New technology means it's now much easier for health clubs to instal heating equipment, making hot yoga more accessible to everyone, not just Hollywood royalty. Hot yoga warms the muscles, improving flexibility as well as aiding detoxification, boosting weight loss, clearing the respiratory system, and creating a more intense environment for more 'cardiovascular' types of yoga. It also boosts endorphins so is great for your mental wellbeing as well.
And don't be surprised if it's not just yoga you see in a hot environment – classes like Hot Cycling and HIIT are starting to appear on timetables in the UK…prepare to sweat in 2018!
THE WORKOUT OF YOUR DREAMS
Busy lifestyles, stressful jobs and long work hours have all contributed to a nationwide sleeplessness epidemic. In a recent survey by David Lloyd Clubs, 86% of parents admitted to suffering from fatigue, with 26% regularly getting less than five hours' sleep a night.
The short-term effects of sleep deprivation, including tiredness or lacking concentration, can lead to anxiety or depression. When we're tired we lack the energy to exercise regularly, and also the mental clarity to make good decisions about eating. Holistic exercise such as yoga and mindfulness are booming as stressed-out Brits look to relaxation classes to help them get more shut-eye.
But in response to this surge in demand for relaxation, David Lloyd Clubs launched its intriguing Napercise class, in which participants do nothing but sleep. The restful 45min session teaches participants how to unwind and get the best quality rest possible in a controlled environment. Initially trialled at its Sidcup club, the class has been rolled out to a number of clubs across the UK and Europe.
LET'S GO OUTSIDE
Fitness fanatics have always loved the endorphin boost that the great outdoors brings. Moving on from marathons, boot camps and cycling challenges, outdoor events like Spartan and Colour Run have been incredibly popular in 2017. Next year will see everyone looking for the next must-do event – from muddy obstacle races for you and your pet dog to midnight runs by torchlight, outdoor events are set to become more fun and unusual.
Battlebox are outdoor boot camp style classes with different themed classes for everyone. Battlebox Warrior is great for those who love obstacle courses, or Battlebox Strong is perfect for those who love a CrossFit style workout. Plus, it's not just for adults – Battlebox Play is all about having fun as a family, and great for getting the whole family fitter.
HIGH INTENSITY DANCE INSPIRED SCULPTING WORKOUTS
Inspired by the popularity of TV programmes like Strictly Come Dancing and ultra-toned celebrities like Davina McCall, the new kid on the block is Barre training. Barre is a ballet inspired workout using the studio barre (or not with some programmes) and is a fantastic workout for toning, sculpting and increasing flexibility.
It's not just for girls though….Barre is also utilised by sports people as part of their conditioning programmes.
FAMILY TIME
Parents are always looking for ways to get their children away from screens and spend time healthy together. Families are learning that finding ways to exercise together encourages children to form healthy habits that stay with them forever.
From fun runs to outdoor obstacle courses like Spartan, swimming to time on the tennis courts, more and more families will spend time exercising together in 2018. Many gyms offer sessions for the younger family member while mum and dad train, or facilities which offer swimming pools allow families some much-needed catch-up time after the parents have hit the weights.
Whether training apart or together, a shift in how we spend social time as a family is changing.