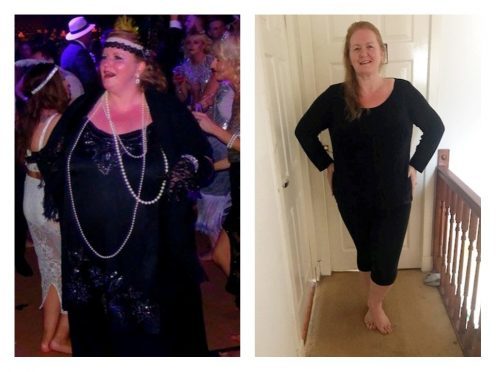 A mother-of-three who was told by doctors she would not live to see her youngest daughter turn 21 if she didn't change her ways has shed 12 stone in just one year.
Marney Gardner, 47, was morbidly obese and weighed 27 stone at her heaviest.
She would eat snacks from the moment she woke up to the moment she went to bed and would struggle to even walk to the end of her street.
But now she has completely cut out alcohol, coffee, dairy, wheat and sugar from her daily diet and is able to keep up with her three kids.
Marney said: "I suffered from chest pains so went to see the doctor and was told that I was a 'walking miracle' which I was initially pleased with – until he said 'and not in a good way'.
"He then told me that I would not live to see my youngest daughter turn 21 if I kept living the way I was.
"I went home and cried and cried and cried. I knew I had to make a change. "
Doctors told the mum-of-three from Troon, South Ayrshire, that she would not be around for when her youngest daughter Melissa, 10, turned 21 without a change to her lifestyle.
That was the moment that she realised she needed to make a drastic change so that she could be a better role model for her children – including Conlon, 19, and Rebecca, 17.
Marney, who works as a social marketer for health and wellness company Arbonne, used her own company's 30 Days to Healthy Living plan.
She said: "I've been working for a health and wellness company for years but had never even looked at our nutritional arm probably because I was in denial.
"When I was younger I was very sporty but when I was at my heaviest I struggled to walk to the bottom of my street."
Despite her remarkable turnaround, Marney aims to lose another two stone before she reaches her ideal weight.
She keeps a huge t-shirt, which did not fit over her when she was at her biggest, in her cupboard as motivation.
Marney believes she has spent more than £8,000 in the past two decades on a series of unsuccessful diets and classes.
She added: "I've tried countless diets over the past 20 years and must have spent well over £8,000 in the process. Nothing worked until I tried the 30-day challenge.
"I wouldn't have said I was a particularly greedy eater but would constantly be eating from the moment I woke up to the moment I went to bed.
"I'd say I eat more now but it's clean and healthy eating. I've not counted a single calorie and managed to save around £400 a month from not buying takeaways."
Typical diet before Marney's weight loss
Breakfast: Two boiled eggs and a bacon roll, caramel latte with biscuits, apple and banana
Lunch: Sandwich – her favourite was a cheese and ham toastie fried
Dinner: Takeaway curry or pizza
Snack: Two bag of crisps, plate of crackers with cheese and a glass of wine
New diet:
Breakfast: Smoothie with frozen berries, almond milk and vegan protein, herbal tea and a protein bar
Lunch: Smoothie and vegetable soup, fruit and water throughout the day
Dinner: Turkey mince chilli
Snack – rice cakes and cup of tea.