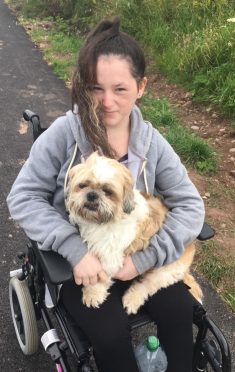 It's an illness which affects more than 20,000 people in Scotland.
And yet there is not a single specialist in the country to deal with patients who suffer from ME – myalgic encephalomyelitis.
This condition is a debilitating neuro-immune disease which leaves those afflicted unable to work or even carry out basic everyday tasks. It causes profound tiredness and can lead to cognitve impairment.
It strikes indiscriminately, often devastating people who have led previously healthy and active lives.
Yet there are still those who refuse to believe the evidence which has been assembled by the charity MEAction and other UK-wide groups.
In which light, the organisation has decided to step up its efforts to demand better treatment and awareness of the illness from Scotland's politicians and those in the medical profession.
Jennifer Brea, the director of an award-winning film about the difficulties of living with ME, will join the calls for enhanced care – via Skype – during an event at the Scottish Parliament tomorrow.
Her documentary, Unrest, won a special jury award at last year's Sundance Film Festival and has been longlisted for the Oscars.
And an excerpt from it will be screened at Holyrood in a bid to convince MSPs that ME should no longer be viewed as a psychological issue, let alone be dismissed with the description "yuppie flu", as happened in the 1980s and 1990s.
Emma Shorter, 24, from Edinburgh, is among those whose lives have been changed for the worse by the onset of ME when she was just 19.
She spent a year volunteering in Sri Lanka, climbed mountains with her family, was learning to play the clarinet, and was in her first year studying sustainable development at St Andrews University, when she was stricken with ME.
That was five years ago. Since when she has been confined to bed for lengthy periods, and grown increasingly frustrated with doctors who kept telling her her symptoms were a manifestation of her emotions.
In other words, although she had trouble eating, speaking, balancing and even breathing, there was no medical treatment on offer.
But that isn't a situation she or her mother, Janet Sylvester, a volunteer for MEAction, was prepared to countenance indefinitely.
Miss Shorter said yesterday: "ME has meant losing my place at university, my future job prospects and many of my friends.
"I am lucky to have family who are able to care for me, but many do not. It reduces the healthiest of people to a husk of their former selves.
"The lack of care for people with ME is shocking and we urgently need health care professionals to be educated in how to diagnose and care for patients and for health boards to provide us with help and support."
Two-thirds of Scottish patients with ME have been ill for 10 years or more and fewer than one in 10 are in full-time work, education or training.
But although the Royal Society of Medicine stated that ME was a "distinct disease", comparable to MS in its effects and consequences for patients, it remains a forgotten illness.
Mrs Sylvester added: "ME has devastated Emma's life and the lack of support for people with ME in Scotland is a scandal that must be addressed urgently."
A number of well-known Scots, including Belle and Sebastian's frontman, Stuart Murdoch, author Ali Smith and former footballer, Davie Provan, have been diagnosed with ME in the past.
And Miss Shorter organised a protest, entitled Missing Millions, outside the Scottish Parliament last year.
As she explained: "You have to trust that health professionals are right, but none of them are specialists.
"There is no specialist ME consultaint in Scotland.
"So we are asking the Scottish Government and the scientific community to follow evidence rather than beliefs. It's a systemic neuro-immune disease and we should start treating it like one."
They will be joined in Edinburgh tomorrow by representatives from ME support groups from Aberdeen, Cumbernauld, Dumfries, Falkirk, Fife and Glasgow.
And also in attendance will be officials from three UK charities: the ME Association, Action for ME and ME Research UK.
As Mrs Sylvester added: "There is a huge task to get the support and advice that the 21,000 people with ME in Scotland need and MSPS are a critical part of this battle.
"We are asking them to ask their local health boards to review what support is being offered to people with ME and consider funding specialist care."