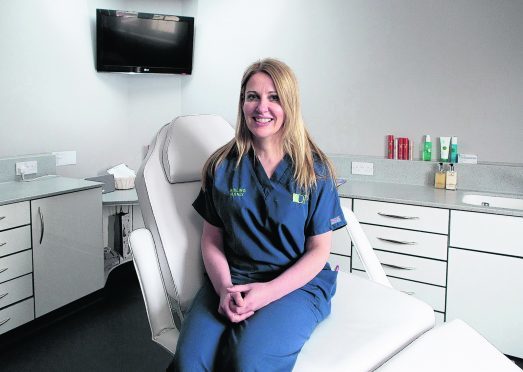 The safest options when choosing cosmetic treatments will soon be clearer thanks to an expert cosmetic interventions group
Thousands of Scots of all ages are having facial aesthetics treatments each year. Things such as Botox and dermal fillers.
At present what protection they have in law is limited. But that's about to change, for at least some of them.
Due to concerns about patient safety after the highly-publicised incidents including the PIP breast implants recall, the chief medical officer in Scotland asked an expert group to make recommendations to the Scottish Government on the regulation of cosmetic surgery and treatment.
The Scottish Cosmetic Interventions Expert Group provides advice on assuring safe, effective and high-quality care and recommended the regulation of independent clinics – those not part of a hospital or NHS Scotland – provided by registered nurses, midwives and dental care professionals.
As a result, all of those providing private treatments, including non-surgical treatments such as Botox and fillers, have to register with Healthcare Improvement Scotland (HIS) from April 1 and will be subject to regular inspection, be answerable to complaints via HIS and liable to enforcement action if their services don't comply with the National Care Standards or legislation.
However cosmetic treatment providers such as beauty therapists and hair salons aren't covered. It's understood a second phase of regulation is intended to roll out in 2018 and will see them having to operate under a licence issued by their local authority.
In the meantime, if you want to ensure any treatment you have done is safe, the advice from dentist and facial aesthetics practitioner Dr Aisling Hanly is to have it done by a trained medical professional registered with HIS under the new regulations.
Aisling, who is married with two sons and lives in Forfar, has been a dentist since 1997 and began providing facial aesthetics treatments as Enhance Facial Aesthetics at KDP in 2010.
She's undergone extensive training with some of the best in the industry, was one of the first practitioners in Scotland to be awarded the Quality Assurance mark from Independent Healthcare Advisory Services (IHAS) and won Best Cosmetic Dentist at the 2015 Scotland's Medical Cosmetic Awards.
She welcomes the new oversight by HIS as it will help patients see which providers are safe and eventually help ensure high standards of practice on things like avoiding cross-infection.
But she's concerned that the current loopholes – which allow anyone to administer injections of substances including Botox, which is a toxin – aren't being closed sooner.
There are, she points out, a long list of benefits of going to a medically-qualified professional for cosmetic treatments, rather than an unregulated beauty therapist:
Medical professionals are already regulated by their professional bodies and have to have professional indemnity insurance, so patients also have recourse to them if they want to complain about the treatment or service provided.
They've had years of training from highly qualified professionals and passed legally certified examinations already, rather than just attending a one or two-day course with an hour or so using a needle. As a result they're best placed to provide information on the risks as well as benefits of a treatment.
Medical professionals bring a deep understanding and experience of the body structures being treated.
They're qualified and have experience in discussing relevant medical history and medication as part of the decision process before any treatment is decided on and prescribe anything appropriate, if required.
They have extensive training and experience in sterile injection techniques from their years of medical work.
Medical professionals are trained to recognise and avoid infection and can advise patients on the symptoms for contraindications such as anaphylaxis and what to do in the event they occur.
They can treat as well as recognise skin necrosis – tissue death.
Professionals can administer reversal medication and Hyaluronidase, an enzyme antidote to dissolve unwanted filler, if required.
They are obliged to report adverse reaction incidents to the Medicines & Healthcare Products Regulatory Agency (MHRA) – so other patients don't suffer the same problem.
Medical professionals are trained and experienced in the safe disposal of blood-contaminated waste.
Even with all those benefits of going to a medical professional who will be covered by the new regulatory scheme, Aisling's advice is that you should ask any practitioner about their experience and training in the field before considering having a treatment done by them.
She said: "I'm delighted that the new regulatory framework is being introduced by Healthcare Improvement Scotland because it will offer clear signposting of the safest set of providers to choose from for people considering having cosmetic treatments.
"Safety is paramount when you're having any kind of treatment done and medical professionals will have spent years working within that ethos before starting to work in this field and will have already gained long experience of best practice in all the critical procedures which are common to this and others areas such as dentistry, such as the safe use of injections.
"Working in this field has been a natural extension for me from the aesthetic side of the dental work I've been doing. Both leave patients feeling more confident about their appearance and in social situations. It's always a pleasure to see the smiles on their faces afterwards.
"Hopefully, once the second phase of regulation is in place we'll see fewer incidences of the bad practice which has tarnished this field and led to too many patients experiencing unnecessary complications."
For more about Enhance Facial Aesthetics, go to www.kirriemuirdentalpractice.co.uk