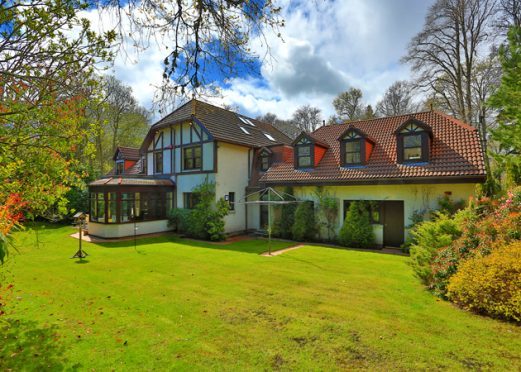 It is difficult for Dave and Jill Jarman to reminisce about Greenacres without becoming emotional, so deep is their attachment to the stunning family home.
Set in roughly 2.5 acres on Dalmuinzie Road in Bieldside, it's not difficult to see why the couple became instantly attached and bought Greenacres 16 years ago.
Retired head teacher Jill, 66, quickly set about making "indulgent" renovations in the belief that Greenacres would be a forever home.
Sadly, a change to family circumstances means the couple are now starting a new life in West Lothian.
They hope a family can enjoy as many fun dinner parties here as they did.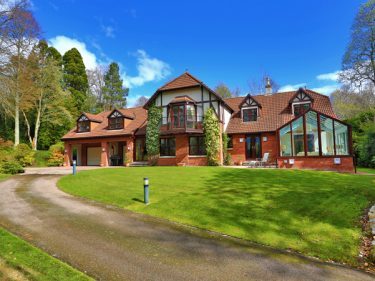 "We've made wonderful memories over the years here and it's been very popular with guests," said Jill.
"We always said that the house was bought for me and the grounds were bought for Dave, we just fell in love as soon as we saw Greenacres," said Jill.
"We previously lived at Kingswells House which was a very old property dating back to 1666; moving to Greenacres was a very welcome change and we found it so much easier to maintain.
The couple have been spoilt for choice with several public rooms on the ground floor.
There is a beautiful drawing room, formal dining room, and family room.
Particularly lovely features include a marble fireplace in the dining room which is also open to the drawing room, alongside beautiful wooden floors and decorative ceiling cornices.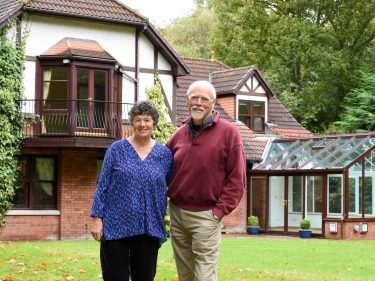 The family room is a snugger space, and there is also a study.
Dave and Jill spent most of their time, however, in the renovated conservatory.
Located at the front of the property, this impressive room has a vaulted ceiling with a solid oak beam.
"We renovated the conservatory that was here previously; it was worth it and we adored this room," said Jill.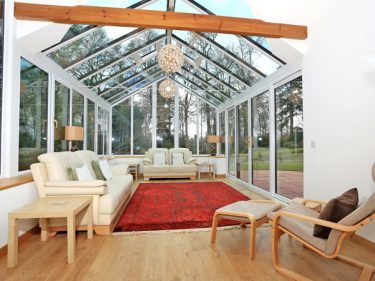 "The light flooding through and the view of the grounds, it's wonderful."
But it's the kitchen which truly had Jill's heart, where decided to indulge her passion for cooking following retirement.
Designed by Laings of Inverurie, no expense has been spared, with modern units, a double oven, and T-shaped kitchen units.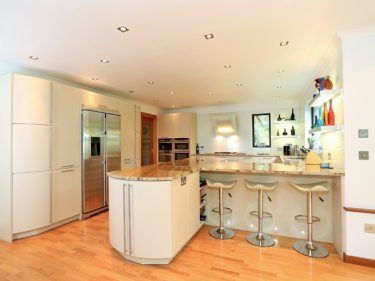 The kitchen opens out into an informal dining area at the back of the home, because the couple dreamed of eating breakfast looking out over the garden.
"The kitchen was the ultimate indulgence and we created the dining area as a transition between the kitchen and the garden," said Jill.
"We wanted to sit eating breakfast looking out over the grounds, with the sliding doors open in summer.
"We never imagined just how perfect it would be or how much wildlife we would have on our doorstep.
"How many people can say they've watched badgers play on a patio?"
The couple have also seen foxes, deer and red squirrels.
A cloakroom and utility room complete the ground floor.
A beautiful staircase with wood panelled walls and galleried landing is another wonderful feature, and Velux windows allow natural light to illuminate this part of the home.
The master bedroom has a bay window and double doors which open to a romantic balcony.
"I think throughout the house we kept the gardens in mind for our lifestyle, whether we're eating breakfast overlooking the grounds or lying in bed with the windows open," said Jill.
"The bay window in the master bedroom brings light flooding through, not to mention the balcony.
"We've been completely spoilt."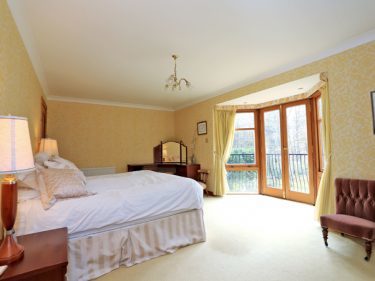 There is a contemporary en- suite with a Velux window. There are four further bedrooms, one of which is en-suite.
All bedrooms are of a good size and carpeted.
The family bathroom is very spacious with a four-piece suite and corner bath.
Greenacres also boasts the west wing which is accessed via a carpeted staircase from the rear hall.
Accommodation here comprises of a living room that has dual aspect windows, a double bedroom, bathroom and gym area.
It was previously home to the couple's son, Christopher, who quickly claimed the space as a man pad.
"Christopher was 17 when we moved in and he loved having his own living area; it's very private and would be ideal if you've got older children or even an elderly relative living with you," said Jill.
"We're surprised Christopher ever left home really, he had his own domain here."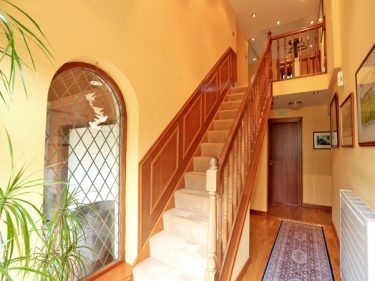 Greenacres is now waiting for a new owner and Jill finds it difficult to walk round the home and its beautiful grounds knowing she will soon leave it all behind.
Dave, 72, who worked for BP before retirement, especially enjoyed strolling round the woodland, which is particularly beautiful at this time of year.
"I loved the grounds from the word go, some of the trees are more than 100 years old," he said.
"It feels very tranquil here yet we're only a short drive from the city.
"Watching the seasons change is magical, we based our life around the gardens really.
"Whether we were sitting inside looking out or walking through the woods, Greenacres will always be our forever home deep down."
Bielside is close to the village of Cults and also only five miles from Aberdeen city centre.
You'll get a lot of house for your money as it is on the market at offers over £1,400,000, that's a reduction of £300,000 compared to when Your Home highlighted it last year.
Contact Stronachs on 01224 626100.