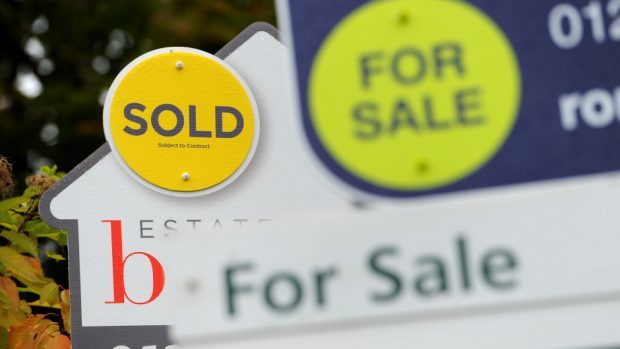 Increased confidence in the North Sea oil and gas industry could encourage more people to buy properties in the north-east, despite the market still "struggling to recover".
New figures from Aberdeen University and the Aberdeen Solicitor's Property Centre (ASPC) for the first quarter of 2018 show a quarterly house price increase in the city and its suburbs of 0.5%.
House prices for all types of properties decreased by 3.3% across the same region over the past year.
However, the average cost of a detached home in Aberdeen has risen from £291,630 in the first quarter of 2017 to £293,261 this year.
Detached properties in Ellon went on the market for an average of £230,935 to £232,377 over the same period and in Stonehaven, from £278,654 to £278,842.
Although the value of the same type of homes in Inverurie slightly reduced in price from £258,984 to £258,608.
John MacRae, chairman for the board of directors at ASPC, said the north-east property market was still suffering the impact of the downturn in the oil and gas industry.
Mr MacRae said: "The figures from the Centre for Real Estate Research at Aberdeen University Business School, utilising a constant quality index and based on data supplied by ASPC, show our market is still struggling to recover.
"The details for the first quarter this year show a quarterly increase in price for our area of 0.5%, an annual price drop of -3.3%, and a five year change of -0.1%.
"The first quarter of 2018 has been affected by the prolonged winter and our market has been slow to pick up. This is not unusual.
"Insertions of properties to ASPC are now running at good levels, and there appears to be anecdotal evidence from member firms that there is an increase in activity."
Mr MacRae said it is hoped further recovery in the North Sea oil and gas industry could encourage more people to buy properties in the north-east.
He also suggested that the second quarter of 2018 could be the right time to buy.
He said: "There are indications that oil exploration and production in the North Sea will increase in activity, to a modest extent, and there have been rises in the oil price on international markets.
"I hope these factors will lift the levels of confidence in this area, and encourage prospective purchasers to make their move.
"Prices in our area are now very competitive and sellers are being realistic.
"Mortgage rates are at a low level and appear to be relatively stable.
"This coming quarter could be a good time to buy."