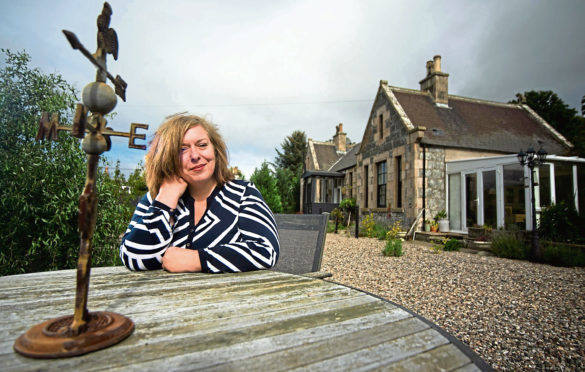 The once bustling Gartly Station might not have seen any passengers since 1968, but that doesn't mean that this lovely old railway platform is any less charming, writes Philippa Gerrard.
It all started in Victorian times, 1854 to be exact.
The ticket hall at Gartly Station near Huntly buzzed with busy passengers, purchasing their tickets from a hatch in the wall in the middle of the parcel office.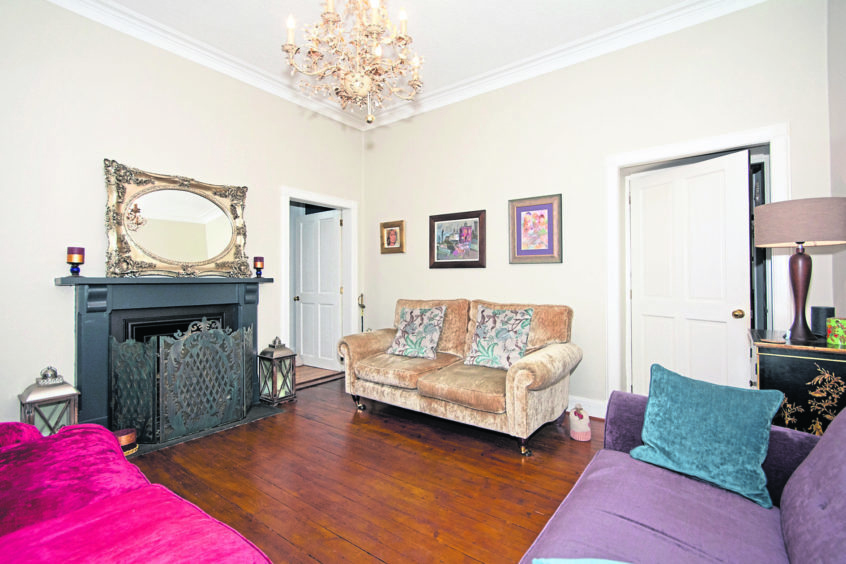 Frequent trains were a lifeline to the rural residents of the area, who used the newly opened railway to travel around the north-east with ease for the first time.
Yet just 100 years later, whole lines began closing as fewer and fewer of Scotland's bustling stations were needed by rail companies.
The attractive buildings which were once so important to their local communities fell silent.
However, while some have been bulldozed to the ground and others reclaimed by nature, Gartly Station is one of the lucky ones, transformed into a quirky home with a history most homeowners can only dream of.
Current custodians of Gartly Station are Helena and Euan Couperwhite, both 49, who bought the two-bedroomed property five years ago after relocating to the area from the central belt.
Though it had already been converted to a dwelling house, since moving in the pair have beautifully restored much of the building to its former glory.
Wrought iron fireplaces and original stained glass windows sit quaintly in their now-modern surroundings, as the station has been sympathetically brought into the 21st Century.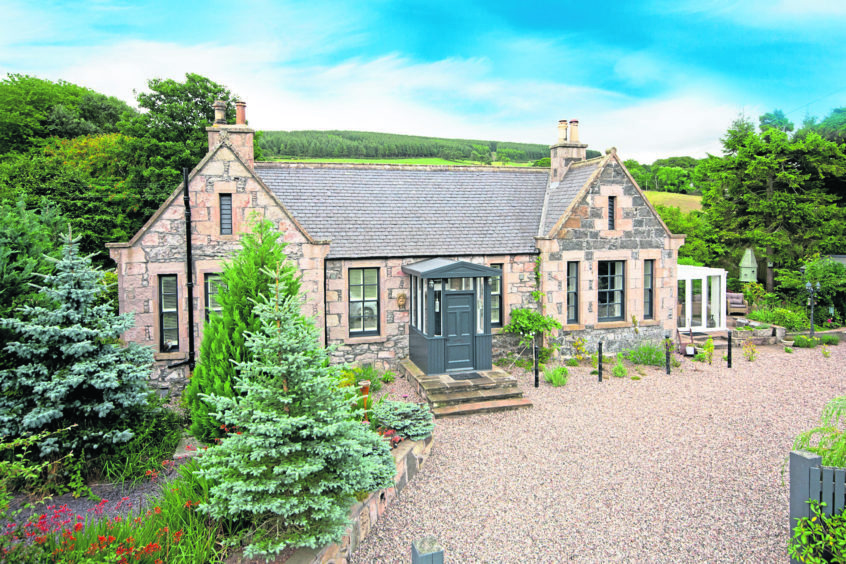 "When we moved up here we knew we wanted somewhere rural and detached," said Euan, who works as an assistant director. "But we never imagined we would end up in a railway station.
"It's so tranquil, and although occasional trains still pass by we've grown to love their presence and hardly even hear them anymore."
After moving in, Euan was keen to find out more about the station's working history and has uncovered quite a bit over the years.
"The story goes that it opened in 1854 after being built especially for the Earl of Lennox," he said.
"The Earl enjoyed going shooting in the area and didn't want to go all the way to Huntly – five miles away – to then have to turn back on himself to get to the best shooting spots.
"He also wanted a grand station to get off at and to impress guests with.
"At the time, Huntly station was wooden and obviously not up to the Earl's exacting standards, so he had Gartly built in a much more imposing style."
More than 150 years later, the building makes a wonderful, if rather unusual, home.
The front porch leads into the modern kitchen, complete with a central island and tiled ingleneuk housing a Rangemaster cooker.
A short corridor leads to the main bathroom, which HR manager Helena cheerfully tells me has been a loo ever since the station was built, having formerly been a part of the ladies waiting room.
Today it is bright and modern, with no dodgy Victorian plumbing in sight.
Back in the main hall, a set of double doors open out on to what was once the main railway platform.
Helena and Euan use the room as a fabulous dining space, chock full of railway history.
"All the doors are original and above the dining table is the original stained glass' Gartly' sign." Helena said.
"We've had it encased for protection but it's lovely to have it up there still."
In the charming living room an original fireplace and stone surround make it the perfect place to relax, with country views for miles around.
From here a door leads through to the study.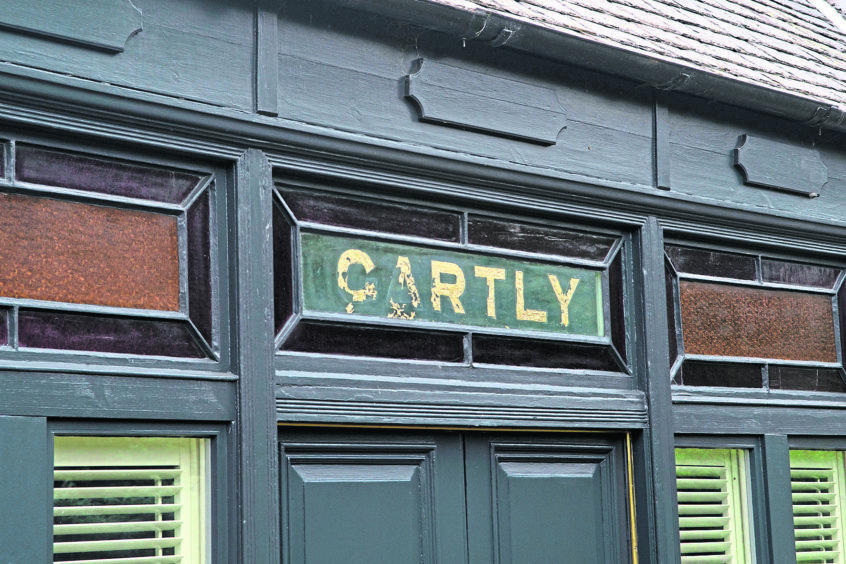 "I'm never sure whether to tell people this, but the study used to be the men's toilet," laughed Helena.
"I think it's hilarious knowing that and then seeing how big the windows are in here.
"How did that work back in the day?
"I guess they would have had frosted glass or at least some curtains up!"
Today the space is modern and bright, leading through to a good-sized conservatory.
The master bedroom is another generous room, with double aspect windows and wonderful high ceilings.
Completing the accommodation is the former station master's office, which now offers a space for guests to spend the night, fully kitted out with built-in storage space and tasteful decor.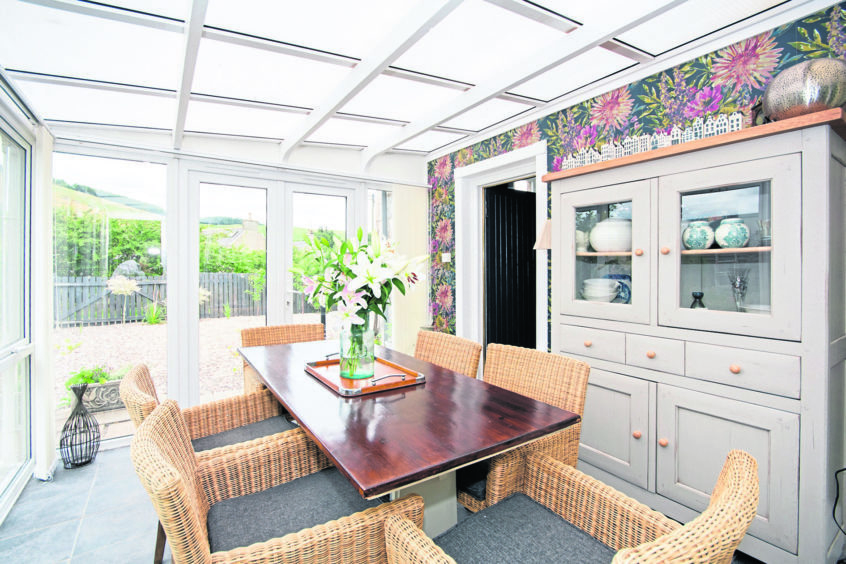 Outside, a patio area offers the ideal spot for alfresco dining, with various raised beds filled with mature shrubs and plants.
The village of Gartly is uniquely placed at the foot of the Coreen Hills, with plenty of opportunity for outdoor pursuits on the doorstep.
"We are truly sad to leave Gartly but a job secondment is taking us elsewhere," said Helena.
"The station house has enchanted us right from the very beginning and I doubt we will ever live anywhere like it again."
Offers should be made in the region of more than £209,975.
Contact Blackadders on 01224 588913.