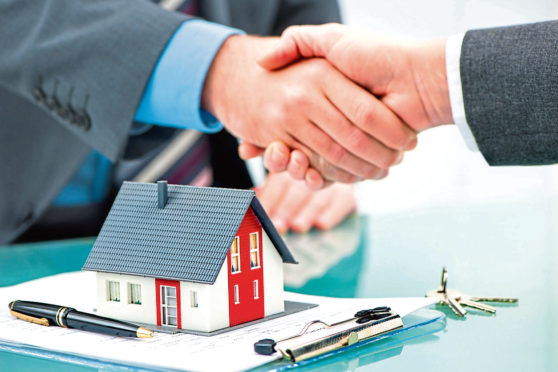 The Scottish property market finished 2018 with a flourish to achieve a whole-year total of more than £18 billion in sales, new figures show.
Aberdeen-based law firm Aberdein Considine said in its latest Property Monitor that 28,870 homes were sold around the country between October and Hogmanay, which was 1,166, or 4.2%, more than in the same quarter of 2017.
The market is enjoying its best spell of growth since the 2008-09 financial crash but Aberdein Considine said a lack of clarity on Brexit and tax policies were affecting consumer confidence and property-buying decisions.
Managing partner Jacqueline Law added: "These figures demonstrate that the wider market has to a large degree recovered from the difficult days of the financial crash but we cannot ignore the uncertainty which Brexit presents."
Last year's sales total of £18.1bn was up by more than £400,000 on 2017.
A 7.7% year-on-year surge in total value during the final quarter of last year to £5.2bn was helped by an 8.6% increase in Aberdeenshire, to £262.1 million, as the north-east continued its rebound from the oil and gas downturn.
Sales volumes in Aberdeenshire were up 6.7%, with 1,208 properties changing hands at an average price of £216,929 – up by 2% – in the latest period.
Aberdeen suffered a 1.7% drop in sales by volume, to 1,025 properties, while the total value of homes sold fell by 5.5% to £199.1m.
Prices in the Granite City averaged £194,703 in the latest period, which was a 3.7% year-on-year drop despite an improvement in December.
Volumes in the Highland Council area fell by 0.6% to 1,248 properties, but an 8.2% jump in the average selling price to £188,658 drove the sales total up by 3% to £235.5m.
Moray enjoyed an 8.7% rise in the number of sales to 474, with the total value up 13.4% at £81.5m after a 4.4% increase in the average price to £171,967.
Volumes and average prices in Argyll and Bute grew by 13.3% to 538 and 5.2% to £170,255 respectively, boosting the sales total by nearly 19% to £91.4m.
There were 82 homes sold in the Western Isles during the final quarter of 2018, which was down by 11% from a year earlier. The average price was up by 2.1% to £116,227 but the sales total fell 8.3% to £9.6m. In Orkney, the number of sales was down by 7.1% at 118 but the average price was higher by 18.6% at £164,105 – fuelling an 8.5% rise in the sales total to £19.4m.
Shetland had 90 sales (up 3.4%), with homes fetching £158,042 on average (down 9.1%) and total sales lower by 4.1% at £14.2m.
Edinburgh was the most expensive place in the country for a third consecutive quarter with average prices rising 9.3% to £272,989.