Patrick McDonald was perhaps destined to own Ythanside, making his intentions known years before the period property came on the market.
So enthralled was he by the old doctor's surgery in Fyvie, that he found himself slipping a note through the front door.
The message was short and sweet: If Ythanside was put up for sale in the future, could he be given the chance to become part of its history?
He clearly left an impression on the elderly couple who resided in the property at the time, as Patrick received a phone call three years later.
A private sale was completed and he became the proud owner of what is only the second granite building in the Aberdeenshire village near Turriff.
But Patrick believes he has never truly owned Ythanside, which was built in 1895 by merchant James Mackie.
The project manager has simply looked after this sprawling residence and hopes his work has enabled Ythanside to remain standing for decades to come.
To say Patrick has lavished care and attention would be an understatement, and his true calling clearly lies in architecture.
He served as an architectural technician apprentice before moving to the world of oil and gas.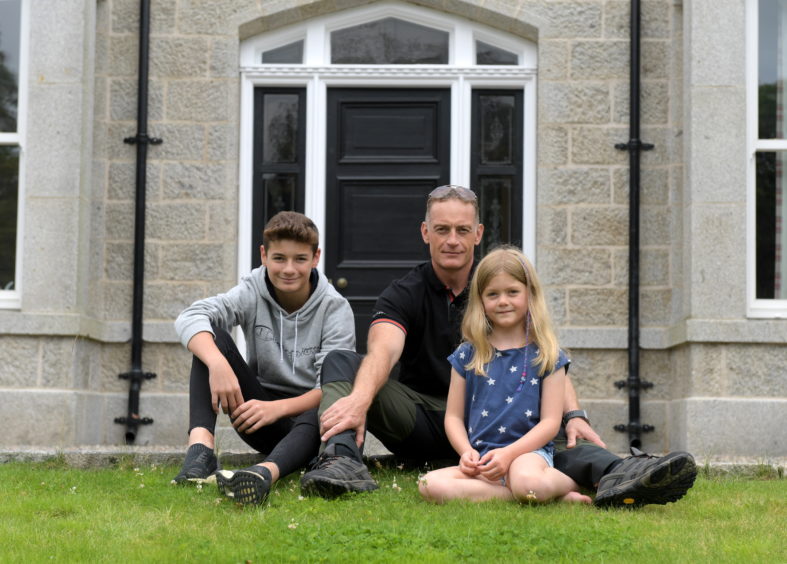 Every single cranny of Ythanside has been considered, from repointing to stripping back to bare stone.
And perhaps most importantly, the heart of this gorgeous five-bedroom Victorian home remains intact.
Pictures of the original owners have been carefully hung on the wall, after Patrick did some research with the local heritage society.
High ceilings have been re-corniced and an original medical supplies cupboard is now in use as a drinks cabinet.
"I have always believed that I don't own Ythanside, you can't own a house like this," said Patrick.
"I have the original deeds for every time it has changed hands, I have always been fascinated by its history.
"I am just making it better for the next generation, making sure it will still be standing for another 100 years.
"It ideally suits a family and I would hope they are going to be as sympathetic as I have been.
"I feel like I haven't done a half-hearted job here, I've done everything right."
Ythanside offers stunning accommodation, with a reception hall, sitting room, dining room, dining kitchen and shower room on the ground floor.
There is a rather lovely feeling as you pass through the original front door and the vestibule features a ceiling rose.
The spacious dining room offers decorative plaster work.
"This is traditional plastering, you can't go and buy it in B&Q," said Patrick.
"I have enjoyed the challenge, I'm a building geek and I like the detail."
You'll find detail in abundance, from the case windows in the dining kitchen, to the 12ft ceiling.
The generous utility room was originally the maid's kitchen and the former granite fireplace is now used for storing firewood.
"In the basement there is steel sleepers in the framework, which actually originate from the time a railway ran through Fyvie," said Patrick.
"I don't think Ythanside will ever be finished, but that could be because I am a perfectionist."
Five large bedrooms are accessible from the first-floor landing, all of which have lovely views across the gardens.
A staircase leads to the attic bedroom, which could easily become bedroom number six.
It's no surprise that work has not been limited to Ythanside's interior.
The exterior has been pitched and repointed and acid washed in lime.
The gardens have been beautifully landscaped and feature a copper beach and two Japanese cherry blossom trees.
There is also a double garage and a refurbished washhouse, as well as a shed with power supply.
"I think my aim all along was to create the comfort and style of a new house, with the character of a period Victorian home," said Patrick.
"I have loved working on Ythanside, even when it was difficult to accept that not everything can be perfect because of its age.
"I'm now on the lookout for somewhere with land, as I have two Clydesdale horses.
"Ythanside has been wonderful though, I have no regrets about taking it on after I decided to pop a letter through the door.
"The pictures of the original family on the wall and the house as it was, that's what Ythanside is truly about."
Offers should be made of more than £550,000. Contact Savills on 01224 971110.