Hayley MacLeod can't stand clutter.
She's a self-confessed minamilist and loves nothing more than hosting a party for family and friends.
It should therefore come as no surprise that her family home is sleek and modern, with carefully chosen colours and thoughtful lighting.
That's not to say that Number 24 Gordondale Road doesn't have a heart though, for this period property is still filled with plenty of features.
Found in the west end of Aberdeen by the former Mile End School, this five-bedroom granite pad has been home to the MacLeods for more than a decade.
Hayley and her husband Dave, who works in property, have raised their two boys and welcomed an endless stream of visitors over the years.
But they have decided the time is right to enjoy a new adventure with the family dog, Taffy.
Hayley says she will be sad to close the door for the final time, having completely revamped the property from the ground up.
"We always wanted to live in this area because it is so central," said Hayley.
"The children went to school here and I always loved the location.
"So when this house came on the market, it was a no-brainer.
"It certainly didn't look how it does today though.
"There was a green shagpile carpet, and there were different colours in every room.
"We had to completely gut the house before we could even get started.
"I like things pretty simple, I'm not one for tonnes of ornaments and I don't enjoy clutter.
"You can't beat having a bit of space."
Space is available in abundance with a lounge, sitting room and dining room to choose from.
The lounge features an expansive square bay window and working fireplace, which adds to the overall charm.
"I think the house dates back to the 18th Century, and it hasn't had that many owners," said Hayley.
"We tried to preserve as much of the character as possible, including the fireplace and cornicing on the ceiling.
"The bay window is perfect for a Christmas tree.
"I've always felt that although this house offers a lot of space, it isn't ridiculously huge either."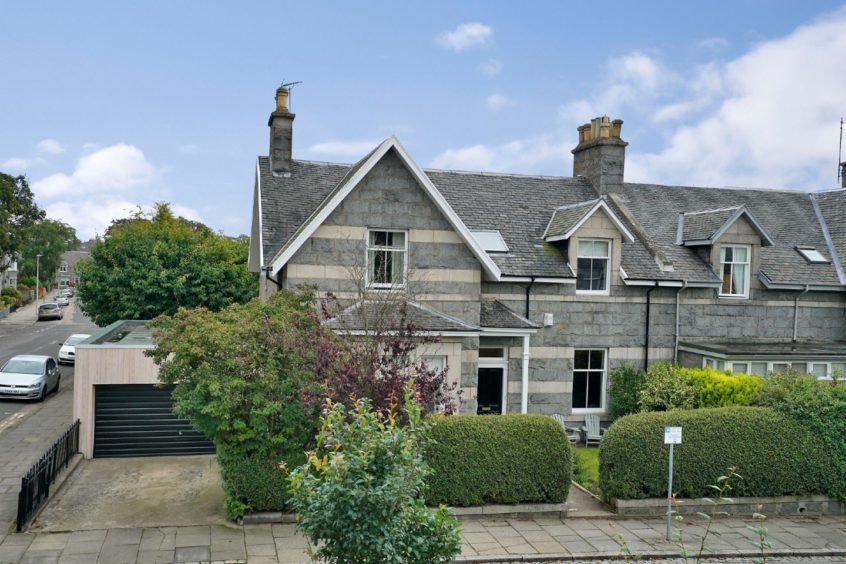 Many a dinner party has been held in the lovely dining room, which features a beautiful decorative ceiling and trendy feature wall.
The sitting room offers a more laidback vibe, with unusual black oak floorboards.
This room also provides access to the games room, which is an incredibly versatile space.
It currently houses a pool table, but could make an excellent children's play room or even a home office.
Sliding patio doors lead out into the rear garden.
Hayley will miss the dining kitchen the most, complete with its German Hacker full-height wall units.
It also features a Siemens double oven, coffee maker, warming drawer and wine fridge, as well as an induction hob.
"I really love cooking, I've always done a bit of everything," said Hayley.
"We've done so much entertaining over the years and held lots of big parties.
"But during the week we tend to eat in the kitchen, that's why the informal breakfast bar comes in so handy.
"I also love having a separate utility room and drying room."
A set of stairs from the utility room leads to a bedroom, which would be ideal for visitors.
A bathroom completes the accommodation on the ground floor.
The remaining four bedrooms can be found upstairs, via a split-level staircase with impressive landing rear-aspect window.
"I love the staircase because it makes the house feel detached," said Hayley.
"It runs right up the middle and there is a good-sized landing.
"The rooms are even on both sides, and the layout has always worked for us.
"I never really saw the point of having a third floor – who wants to climb all the stairs to make the beds every day."
The master bedroom boasts its own dressing room, although it would be possible to convert this space into an en suite.
The remaining three bedrooms are all of good size, and there is a well-appointed family shower room.
Outside, there is a fully enclosed rear garden which has been landscaped.
It includes reclaimed timber sleepers and a decked patio area. To the front is a driveway and double garage.
"We're really going to miss this place, it was a fantastic family home," said Hayley.
"We've made a lot of good friends here, it's an excellent community.
"Hopefully the new owners will be able to continue where we left off."
Offers should be made of more than £725,000.
Contact the owner on 07890 023114, or Simpson & Marwick on 01224 622622.