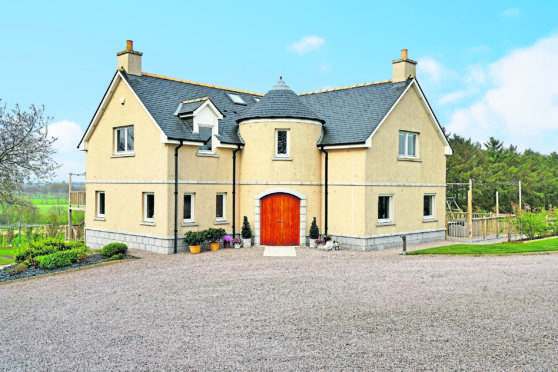 Building a house in the north-east when you live in southern Africa might not be easy, but geography alone wasn't going to deter Murray Cooper.
The oil and gas worker had to abandon his self-build after offshore work saw him fly thousands of miles away – to work on wells just off Mozambique.
Most people would have considered the relocation a stumbling block too far, but Murray returned home the following year in order to get the job done.
The dream has certainly been realised, for East Knock Lodge is impressive to say the least.
This gorgeous five-bedroom house can be found at Mintlaw, with Aden Country Park on the doorstep.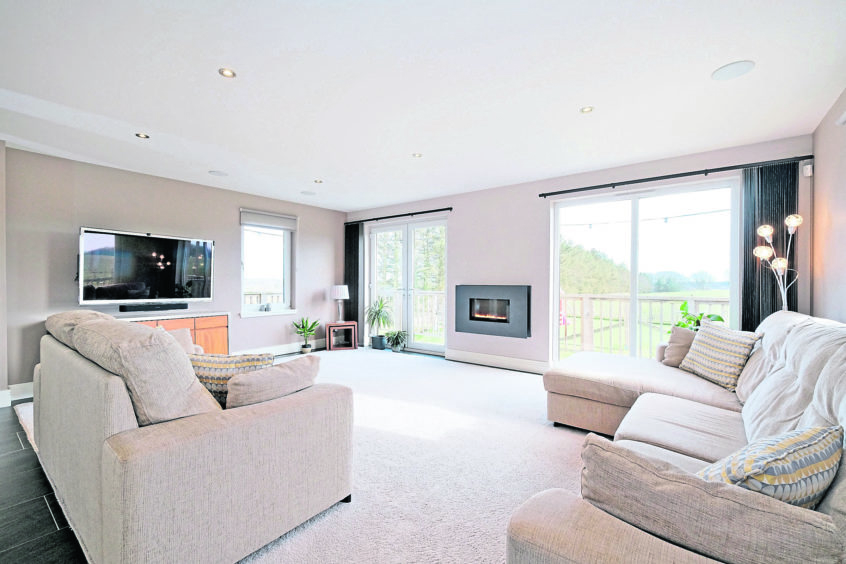 From a beautiful turret to a wraparound balcony, attention to detail means East Knock is rather special.
It offers a beguiling mixture of tradition paired with modern features, plus open-plan living and glorious views of the countryside.
When Murray started work on the build in 2006, he could not have envisaged that the carefully drawn-up plans would transform into a family home.
Having opted to live in a caravan on site, he went on to meet his wife, Nicole, who is a stay-at-home mum.
The couple have three children; six-year-old Cameron, Charlotte who is four, and two-year-old Charlie.
It has been a busy 14 years, and Murray believes his hard work has come to fruition at last.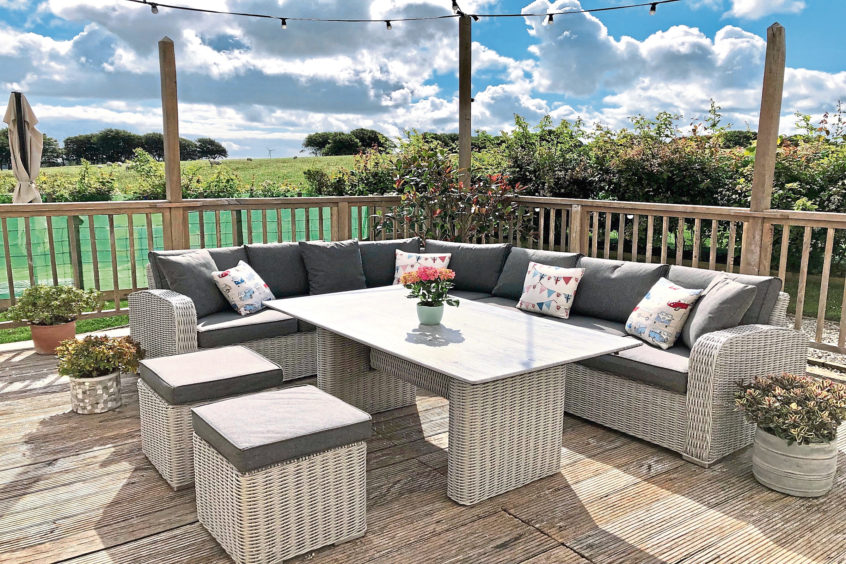 Admittedly he had a bit of help along the way – after East Knock became a father-and-son project.
"My dad had his own building firm, so building my own house was always something I wanted to do," said Murray.
"I was living in a flat in Aberdeen when I decided to buy a plot out in the countryside.
"I moved into a caravan on site and took it from there really.
"I grew up in Fraserburgh, I always wanted to move out this way again.
"It's a commutable distance to Aberdeen, which is only 28 miles away.
"It also helped that I knew everyone who would be involved, from the joiner to the electrician.
"I was very lucky in that my dad was the main builder, he did all the block work and I was the labourer.
"Then I was asked to work on a well project just off Mozambique, with head office in South Africa.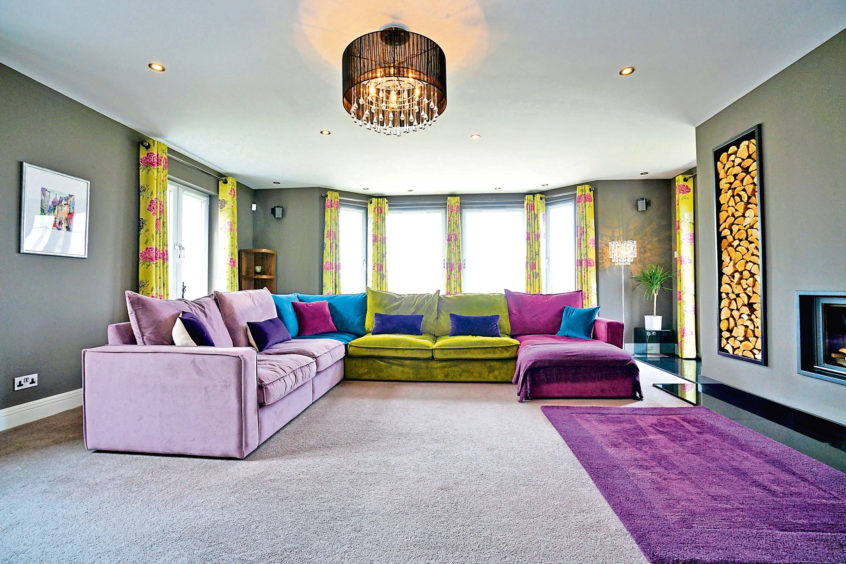 "That was a challenge, but I got back to work on the house as soon as I returned to the north-east."
Murray admits feeling proud as to how the hallway turned out, as well he should.
This isn't your average step across the threshold, for you're greeted by a central glass and walnut sweeping staircase.
On this level you'll find a study, family room, kitchen and dining room.
The family room is set on a open-plan level with the kitchen, making this an incredibly versatile space.
The Hacker German kitchen offers a range of cream storage units alongside co-ordinating Corian worktops, with a circular island unit and glass peninsular breakfasting table.
"We spend most of our time in the family room and kitchen, this is where we have seen the kids grow up," said Murray.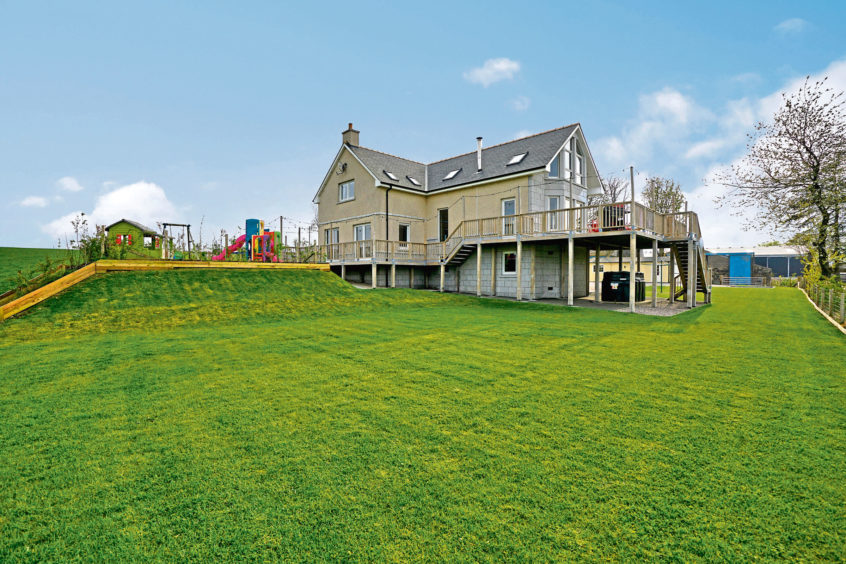 "From crawling to walking, this has been the heart of our home."
The mezzanine lounge offers stunning bay windows with panoramic views, and is the perfect spot to entertain.
The master bedroom can be found on the first floor, and offers both a dressing room and en suite.
It also features a full-height gable bay window and vaulted ceiling.
A further bedroom also features an en suite, and the remaining two bedrooms are both of excellent size.
The self-contained basement would make the perfect granny annexe, or provide privacy for a teenager craving independence.
Not to be outdone, the grounds of East Knock are equally impressive.
Much of the gardens are laid to lawn, and there is also an extensive solid-oak raised decked sun terrace.
An enclosed astro-turfed play area is ideal for little ones.
It would seem Murray has well and truly got the house-building bug, having already set his sights on the next project.
"My wife is originally from Glasgow, so we're hoping to move that bit closer.
"We've already bought a site – here we go again."
Offers should be made in the region of £675,000.
Contact Raeburn Christie Clark and Wallace on 01358 720777 or the owner on 07810 045938.