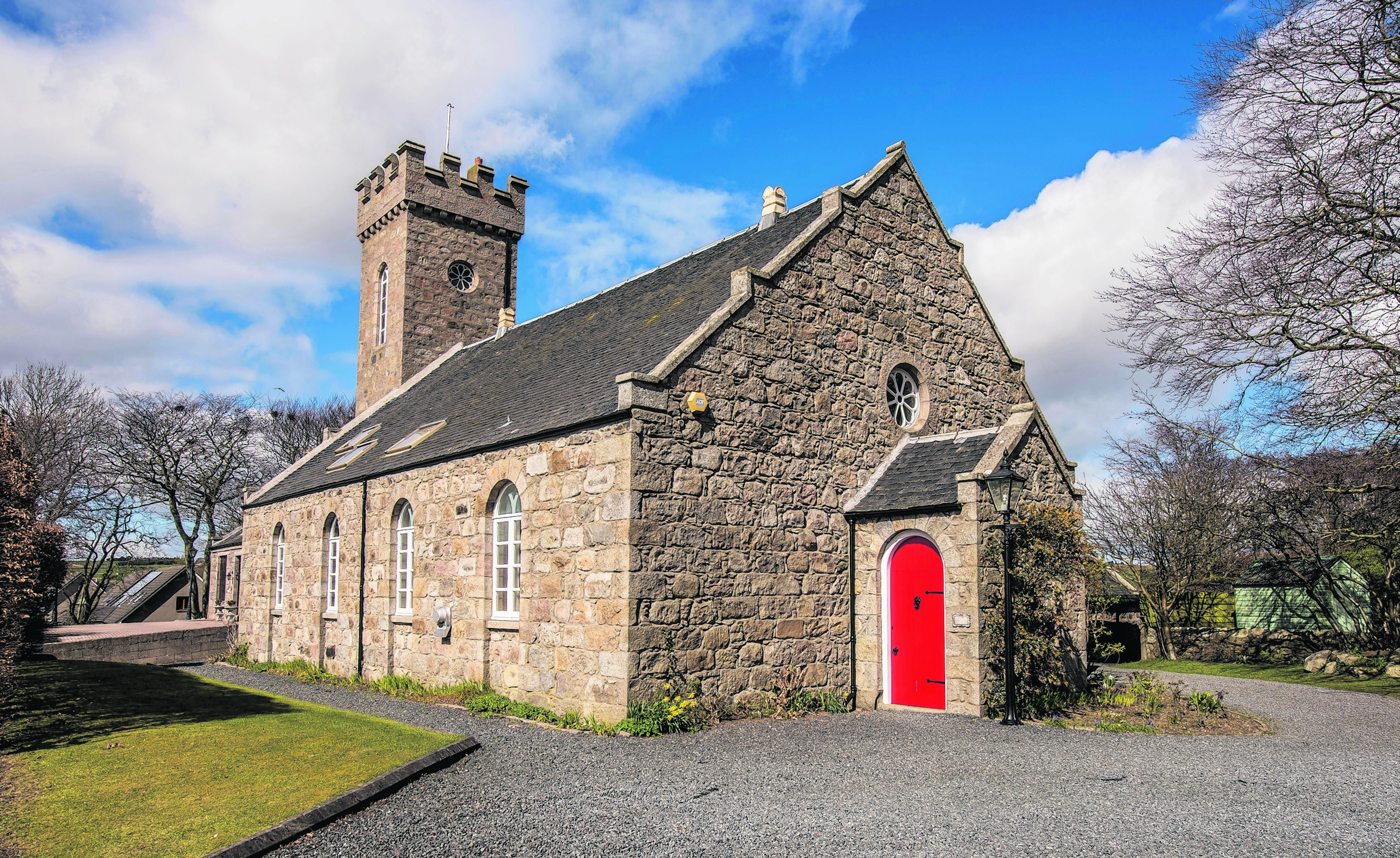 When Ronnie MacAskill first viewed The Auld Kirk in Potterton 25 years ago, he knew instantly that it was the one for him.
He had spotted the current owner at the time banging a for-sale sign into the grass outside and after a quick chat was invited inside to have a look.
"I knew within two minutes that this was the place for me," he said.
"The house just sang to me the minute I walked through the door, it just felt right and it has done ever since."
The Auld Kirk was built as a United Free Kirk in 1843, following the Disruption, to accommodate worshippers who up until then had met on a neighbouring farm.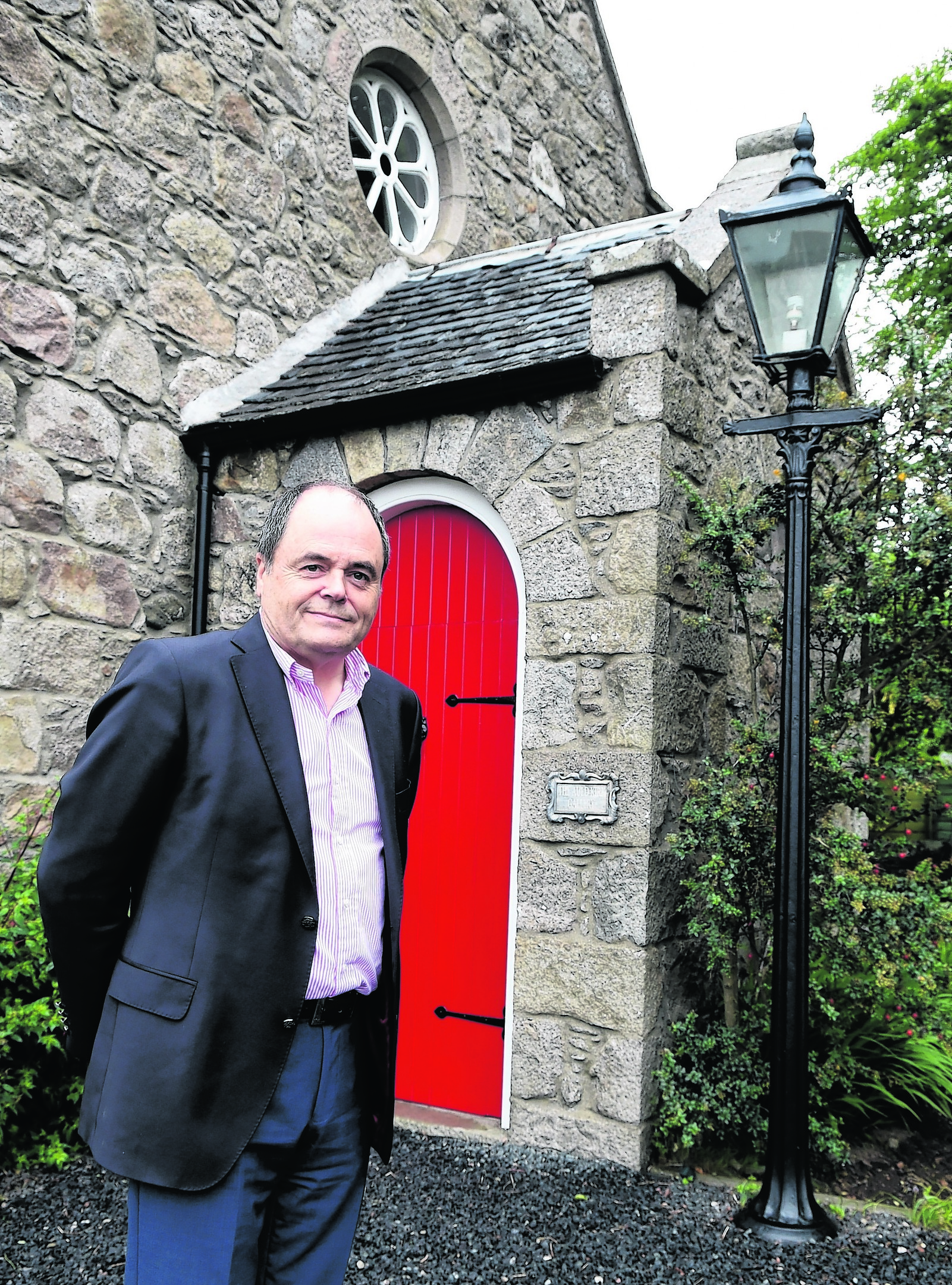 The land belonged to a druggist, Thomas Clapperton, who granted its use for the building of a kirk and a school on the condition that it revert to him if these places ceased to function.
The United Free Kirk and the Church of Scotland were unified in 1929 and the kirk at Potterton became known as Belhelvie South.
It was closed for worship in 1953 and Thomas Clapperton's grandniece agreed to waive her right to it, when it was put on the market some 130 years after the granting of the charter. It was converted into a private residence in 1984.
The unique layout of the home worked perfectly for Ronnie's idea to have a house and an art gallery in the one place. The large front room which you enter from the front door was then transformed into the Auld Kirk Gallery which has been running for the best part of 25 years.
Ronnie, who is the PGA director of golf at Royal Aberdeen Golf Club, has always been interested in art and antiques and thought the kirk would be the perfect opportunity to join his passion with a business.
He said: "I was looking for something that would combine both. And because it is really late 19th/early 20th-century art that I deal in, with a bit of modern British, a traditional property was very much high on the agenda, rather than a modern-type gallery.
"The idea was to sell art from a home environment rather than a gallery environment. At the time, it was quite a novel idea that you came into a home and saw all these paintings in situ and you could really see that, yeah that could look quite nice hanging above my fireplace rather than the stark situation of a gallery where it is sometimes difficult to tell.
"It was a hobby for me. Golf is my business. So I never relied on it for income. It was just a case of me being able to buy and sell paintings and buy the things I wanted.
"There was never any urgency to hold exhibitions or sell things, so it was nice in that respect. The gallery was never a full-time job for me. It was more of a hobby that grew into a business."
The gallery room – aka the drawing room – is redolent of a bygone era. With its stained-glass rose window and four tall windows to north and south, double-height ceiling with exposed beams and pristine beech flooring, it is a wonderfully light space and a very flexible room.
A corner staircase with decorative balustrade leads up to a mezzanine balcony and the four first-floor bedrooms.
Downstairs, double doors open into a corridor where you will find the dining kitchen, a cosy sitting room – the former vestry – guest bedroom and shower room.
The luxury dining kitchen has handcrafted units by the much sought after Scullion and Bruce cabinetmakers and a mains gas Aga. The exposed granite wall has a most attractive stained-glass window.
At the end of the corridor is something quite special – the tower vestibule which provides secondary access to the house and a turning staircase with wrought-iron balustrade leads up through three levels to access the roof.
Once used for choir practice, the tower presents a blank canvas for creative use of the space: reading room, studio – the natural light is superb – or music room might be an option.
One of the aspects Ronnie loves the most is the peaceful and tranquil setting the kirk can be found in. He said he has "never had a bad night's sleep here ever in 25 years", and it is a feeling that anyone entering the property understands.
"It is funny, even other people who come here, like Louise who has cleaned for me for a long time, she comes in here and notices the lovely, calming, peaceful feeling about it," he said.
"Whether that's its previous background or not, I don't know. Potterton is a quiet little area but it is only 10 minutes from Aberdeen. The new bypass is coming and it will be just a stone's throw from here, but far enough away not to hear or see it."
Although converted, the kirk still retains much of its charm and character – and even some memorabilia from its previous life.
At the bottom of the tower is a lovely homage of sorts to the building's past life. There are little flower pieces and orders of service and even a pew from an actual church.
And in the loft you can find pew records and the old pulpit – which has been cleverly converted into a panelled wall – in the sitting room.
After more than two decades, Ronnie has decided to allow someone else to enjoy this historic home.
He said: "Now it has become a little bit big for me and the art market has changed somewhat with the internet and all that stuff, so people buy and look at things online now so it really is now the time to move on and hand it on to someone else. There will be a huge tear in my eye when I have to close the door on it.
"I'll miss everything. Every day I am more convinced not to sell it but it just makes sense."
So for offers over £610,000, this stunning, charming, spacious home, filled with delightful features, could be yours. But that's not all. The price also includes the gorgeous grounds and two outbuildings.
The first is used for storage but may have potential for conversion to further accommodation or a studio or office, subject to planning permission. The second has been converted into a studio apartment with a kitchen area and a shower room. There is plenty of off-street parking and a car port.
Fiona Gormley, of Savills, is thrilled to have the opportunity to sell such a distinctive and unusual home. She said: "The Auld Kirk is a very rare type of property with its eclectic mix of style, elegance and both period details and contemporary comforts.
"It has worked brilliantly both as a home and as a business for Mr MacAskill. There are still plenty of possibilities for the next owner to put their own stamp on it, such as making use of the space in the tower, or converting the second cottage."
Contact: Savills on 01224 971 110.