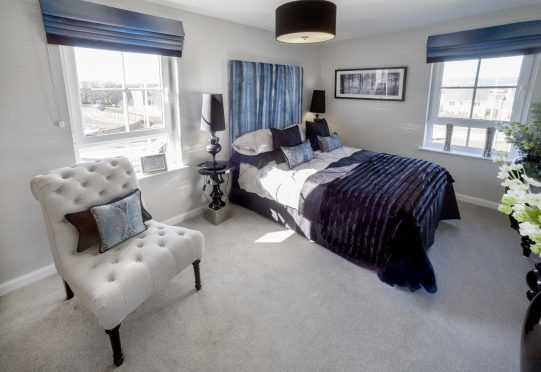 After buying your first new home, one of the first purchases tends to be your first bed.
With so many factors to think about, from size and style to springs and structure, it can be difficult to know what options will work best for you and provide the most comfort for the long term.
Barratt Homes teamed up with Aberdeen-based social enterprise, Glencraft, to offer some handy tips for choosing the perfect bed.
SIZE MATTERS
Before going shopping it's a good idea to have a think about what you want from your bed. The Sleep Council suggests that two people sharing a standard double size bed only have as much personal sleeping space as a baby in a cot so it's important to ensure you both can lie side by side without touching.
Glencraft beds feature in Barratt Homes' showhomes across Aberdeen and Aberdeenshire including the Ocean development located in the city centre and Osprey Heights in Inverurie.
2. CONSIDERING YOUR PURCHASE
Do you need to maximise space and storage? Does the user require ease of access when it comes to getting in and out of bed? Is there a particular health need to address? How much can you spend? It's also important to buy for your weight and build – firmness isn't always the best indicator for your needs. Also, don't forget that a bed consists of a mattress and a base or frame – don't consider these components in isolation and always try them together before you buy. A mattress on a sprung slat frame, for example, will feel considerably softer than the same mattress on a non-sprung frame or divan.
3. SLEEP ON THIS
Mattresses may all look very similar, but with the wide range of options available, finding the ideal match for you can make all the difference when it comes to catching those ZZZs.
As a social enterprise, Glencraft secures employment and training for around 35 blind and disabled people from the surrounding area to manufacture more than 12 mattress types including hand tufted, quilted top, open coil and pocket spring.
There are also mattresses in the range with additional features including memory foam and 100% natural fibre.
4. CARING FOR YOUR NEW BED AND MATTRESS
Like many products, the lifespan of a bed and mattress is dependent on the loving care provided. It's important to turn and rotate a mattress regularly.
This should be done every week for the first few months and thereafter every three months resulting in optimal comfort and fewer impression marks. To top it off, use washable mattress and pillow protectors for easy cleaning keeping your new mattresses fresh and new.
Barratt Homes' customers can enjoy an exclusive 25% discount on Glencraft's wide range of products. Contact www.glencraft.co.uk or www.barratthomes.co.uk