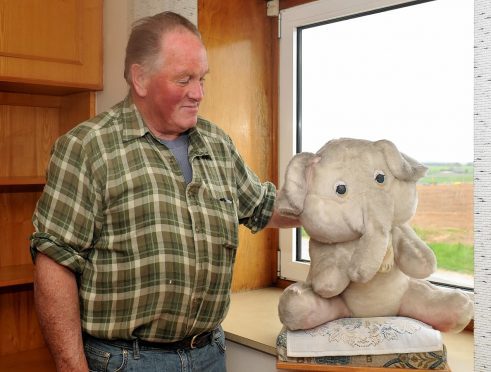 A north-east couple have put their family home on the market – complete with the famed pink elephant that has stood watch at the window for almost 30 years.
Elmer the elephant has sat for some 27 years on the upstairs windowsill of Gladys and Eddie Black's Foveran home, which looks out onto the A90 Aberdeen to Ellon road.
The couple have lived at the property for 39 years but are now moving to neighbouring Balmedie – but have decided to leave the stuffed animal for the new owners.
Elmer's post by the window has led to the Black's home being nicknamed the Pink Elephant House.
Many still toot their horns at the toy, with well-wishers sending postcards and letters about him from across the globe.
Elmer become famous 13 years ago when locals began to view him as a good luck charm.
Mr and Mrs Black hope he will remain ever watchful under the new homeowners.
Mrs Black, 65, said: "It has just gone on the market. We've left the toy on the market and it is optional if the people that buy it want to keep it. It is sad in a way.
"I said to Eddie that we should put up that it is the pink elephant for sale and the house goes with it.
"It has been at that window for 27 years. the kids stuck it in the window when Eddie turned 40, we won it in a raffle.
"There is someone that sends a Christmas card to the pink elephant every year, we have had postcards over the years and folk still toot and wave. If that makes folk happy, that's great."
The four bedroom home, Roadside Croft, is on the market for £370,000.