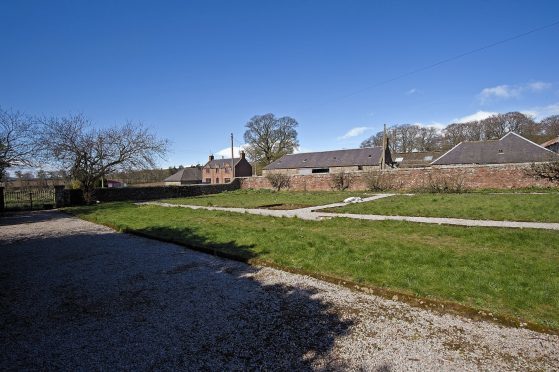 The Howe of the Mearns is one of Scotland's most productive arable areas and it's here that a spectacular 6,000-acre estate, which includes an excellent farm, productive agricultural land, commercial forestry, grouse moors and famous pheasant shoot, is for sale.
Historic Fasque Estate, owned by the family of four-time British Prime Minister William Gladstone, is being offered for sale in 28 lots, designed to appeal to buyers across the rural property market with asking prices from less than £100,000 to more than £2million.
Lying about half way between Aberdeen and Dundee on the eastern fringe of the Grampian mountains, the estate is unusual in that it encompasses a wide range of land uses from arable farming to commercial forestry and grouse moor management. The farmland comprises grade 2 and grade 3 (1) arable land suitable for a wide range of crops made up of a combination of mineral alluvial, brown calcareous and humus-iron podzols, according to the James Hutton Institute for Soil Research.
The in-hand farming on the estate has been let under a Short Limited Duration Tenancy (SLDT) to a local farming business but this let expired on July 1. For the arable land and pasture within the SLDT, an arrangement between the vendor and the outgoing tenant has been agreed for both the harvest of the 2016 crop and continued summer/autumn grazing with vacant possession available to purchasers of the relevant land from November 1.
In addition, several short-term grazing leases have been granted. Two of the farms on the estate are let under Secure Agricultural Tenancies in terms of the Agricultural Holdings (Scotland.
The estate, which comes complete with its own castle, Balbegno, which is set in about 21 acres of gardens, grounds and parkland, also has 32 houses and cottages throughout the low ground, many of which have a southerly outlook with a fine view. Among the interesting lots for sale is lot number seven, Nether Thainston Farm, which stretches to around 299 acres and lies about one mile to the north-west of Fettercairn.
This lot includes a farm combining a traditional and attractive farmhouse with modern farm buildings, a derelict traditional steading and a mixture of arable land of which a large amount is planted with Christmas trees, permanent pasture and woods. The farmhouse, which sits within an enclosed but spacious walled garden, is a handsome Victorian, two-storey building and the accommodation includes four bedrooms with a southerly outloook.
It has been custom for the estate to provide around 100 days of shooting each season including a combination of driven and semi-driven days. While predominantly a pheasant shoot, the nature of the terrain is well suited to showing driven partridges and, while a number have been put down each year, this aspect of the Fasque shoot has scope for further development.
With such a substantial extent of forestry and woodland across the estate, there is an ongoing programme of roe deer management which provides the opportunity for year-round stalking. In addition to roe deer stalking, there is access to the hill ground for red deer.
Another attractive feature of the estate is an ornamental lake with a central island, situated close to the eastern boundary. With a perimeter of mature mixed woodland, the lake provides the opportunity for trout fishing, boating and wildfowling. There is a small jetty at the west end and a combination of vehicular and pedestrian access around the lake.
In addition to the more formal sport available, Fasque provides exceptional rough shooting for woodcock, snipe, duck, rabbits, hares and pigeons.
Robert McCulloch, of Strutt & Parker, who is part of the team handling the sale of the estate, said: "The lotted sale of Fasque Estate represents the potential fragmentation of a large privately-owned estate which provides a rare opportunity for buyers with a range of budgets to realise their ambitions to buy a rural property in a very pretty part of Scotland.
"With its majestic setting and easy access to the north and south, we expect to be exceptionally busy handling viewing requests and inquiries during the marketing campaign."
Contact: Strutt & Parker on 0131 226 2500.