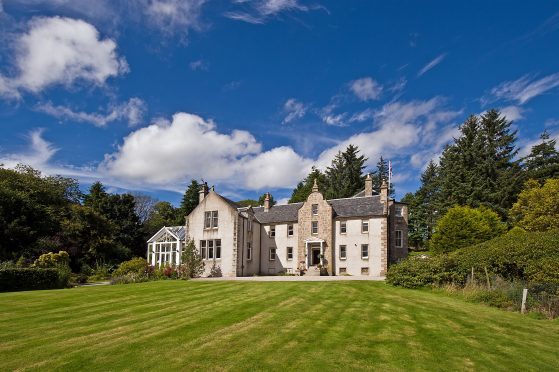 The South Wing at Countesswells House has seen generations of families pass through, including the four Gordon children who made it their mission to slide down the banister and tear through the gardens.
The years passed in a happy haze for Debbie and Keith Gordon who fell in love with the five-bedroom B-listed home set in roughly four sprawling acres in Bieldside, Aberdeen.
It is 25 years since they first walked through the door but with the children all grown up, the couple have decided it's time to downsize and enjoy travelling in their retirement.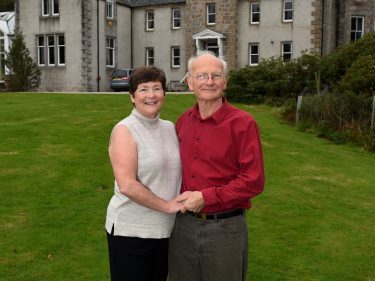 The South Wing, which dates back to 1750, has been at the centre of family life and provided an idyllic childhood home for Kimi, 29, 28-year-old Struan, Erin, 26, and Christina, 21. But with the siblings now scattered across the country, Debbie and Keith hope another family can breathe new life into The South Wing once again.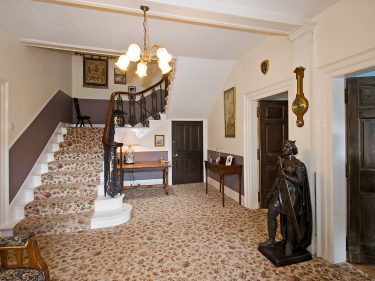 The charming entrance hall leads to four beautiful reception rooms, with the drawing room being the crowning glory. This beautiful period room contains many original features, including a high ceiling with a Victorian corniced border. There is a traditional tiled mahogany fireplace and the room is also flooded with light, and has stunning views across the garden.
The couple's two dogs, Bonnie and Cormac, can usually be found basking in the sun by the triple windows or lying in front of the roaring fire over the winter months.
"We've always adored the drawing room because it has a very traditional feel and is a wonderful entertaining space," said Debbie, 57, who stayed at home to raise the family while Keith, 68, worked around the world for BP.
"Our youngest daughter, Christina, was brought home here as a baby and it has been a very lively family home. There were always children and dogs running round and we feel it should be kept that way because this is a home that needs to be lived in."
There is a stately dining room which has been used for many a dinner party alongside a cosy family room with wood-burning stove – and the couple tend to use this room more over winter.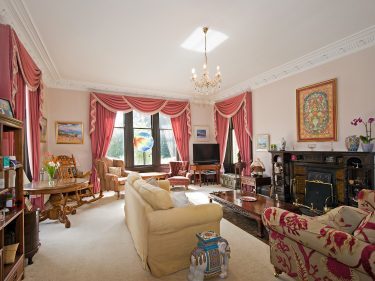 "It's very cosy in here and we like having the option if we don't want to light the fire in the drawing room," said Debbie.
Countesswells House was split into two properties in 1990 after an addition was added around 1847.
The couple have made dozens of interesting discoveries having completed their own renovations over the years.
"We found the fireplace in the family room which had been bricked up and we were forever finding book cases," said Keith, who is passionate about the home's history.
"We've also discovered windows bricked up which we can only put down to the window tax, and there are over 30 chimneys here.
"We've left some fireplaces hidden, but we can imagine all the fires blazing during a time when there was no electricity."
Another stunning feature is the Mozolowski & Murray sun room which the couple added on as an extension, and it is filled with natural light thanks to a glass roof and multiple windows. The room also has a wood-burning stove with metallic flute which brings a modern twist.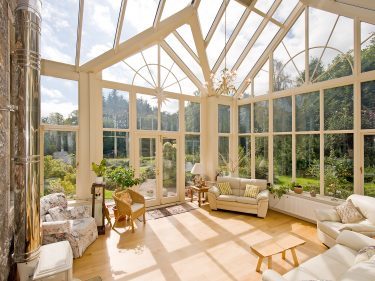 "We sit in this room all year round and it makes the most of the garden.
"It's the grounds that we adore the most and we are able to sit here and watch the seasons change," said Debbie.
Further accommodation on the ground floor includes a study and cloakroom.
The dining kitchen is accessed from the dining room and rear hallway at a mezzanine level and offers an unusual but charming space to cook in.
The couple opted for the elevated space instead of putting the kitchen in the utility room which is down a flight of steps.
This has brought the added benefit of light flooding through.
There is an electric Aga which emphasises the country house feel, alongside Corian worktops and an island.
A traditional staircase in the main hallway leads to the first floor where four bedrooms can be found including the master bedroom. This is a beautiful room with bay windows offering views across the garden and it has a large open-plan dressing room. This could be converted into a nursery, however. There is a separate bathroom next door.
On the second floor are two store rooms and another potential bedroom, while the third floor has three attic rooms.
"The layout hasn't changed much since 1750, which we love; this isn't your average layout, but everything seems to flow very well," said Debbie.
Despite not having a great passion for gardening, Keith and Debbie have created grounds befitting of a period country home.
With four acres to play with, they've cultivated an orchard and vegetable patches, and can even pick their own grapes which Keith ferments for home-made wine.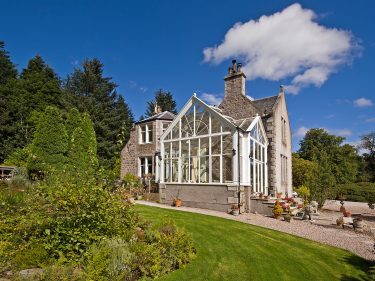 Keith also dug a pond which has been filled with fish, although a heron and even a suspected otter have made a visit.
Surrounding woodland, which includes Foggieton Woods, has been perfect for dog walking, and the family have plenty of alfresco dining options, thanks to a summerhouse and terrace.
"We've done the best we can with the garden and feel really proud of what we we've created," said Debbie.
"The grounds are very popular with wildlife from deer to red squirrels and the colours are spectacular in autumn."
There is extensive parking available on the driveway.
Aberdeen city centre is only a short drive away and The South Wing is in the catchment area for Cults Academy.
Debbie and Keith will be sad to leave, but are hopeful of a fresh chapter in their lives, having created a magical childhood for their family.
Offers for The South Wing should be in excess of £915,000. Contact Strutt and Parker on 01330 826800.