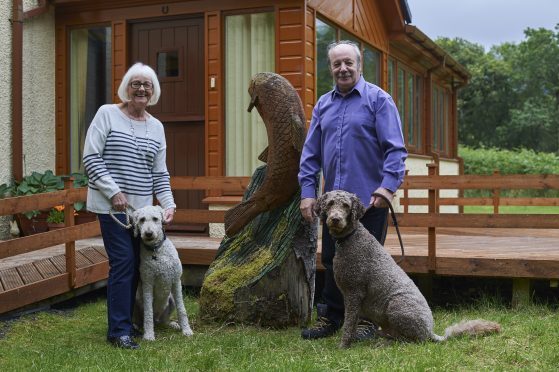 Alison and Steve Willis have taken a stance…
They have made what some readers will regard as a bold decision by putting their lovely detached, modern house up for sale, without changing the decor of its uniquely styled rooms.
Rooms such as a mediaeval dining room with leaded windows, oak panelling and suit of armour. There's also an oriental-inspired bedroom and a master bedroom – with four-poster bed – decorated, vintage-style, with classic blue and white vignette wallpaper.
And let's not forget the bathroom, which resembles a tropical beach scene and comes complete with a decked area and carpeting designed to look like sand.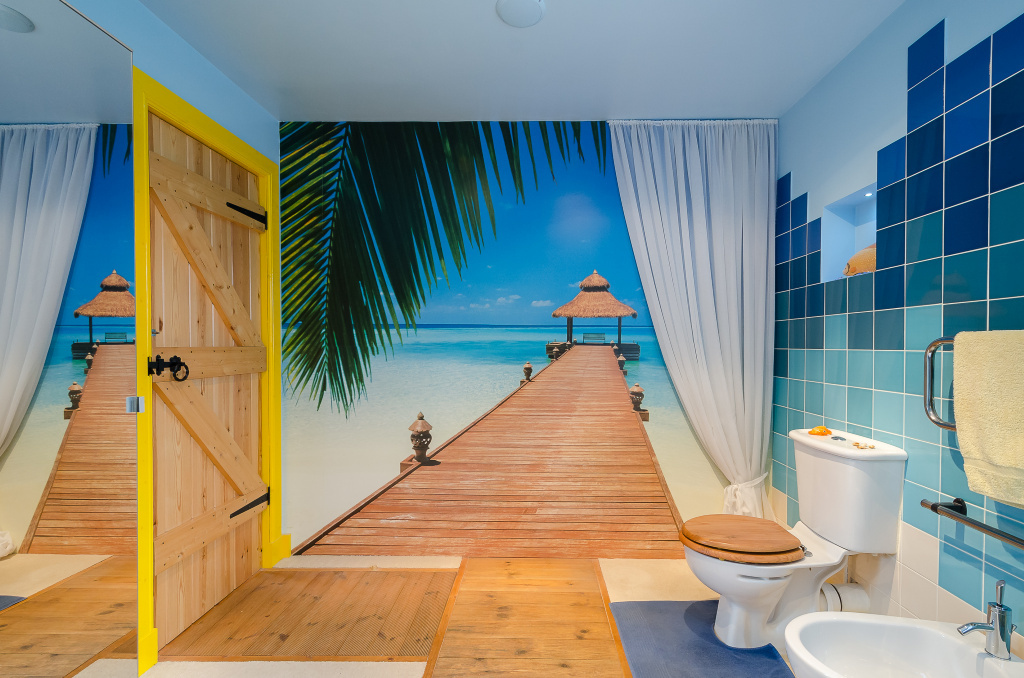 It's a refreshing change from homes where everything has been de-personalised and painted in neutral tones.
"The chap who came to take the photographs told me he'd never photographed a house like this before. I suspect there's two ways of taking that," said Steve, 63.
"We bought the land in 2004 but there wasn't a house on it, so we had to build a new home. Neither of us like new houses, so while we built new, we tried to put a retro theme to it.
"The dining room has a mediaeval theme while our bedroom has a lot of ornate plasterwork. The bathroom has wooden decking in the style of a boardwalk and we've got sand-coloured carpet while all the tiles reflect the colours in the wall painting.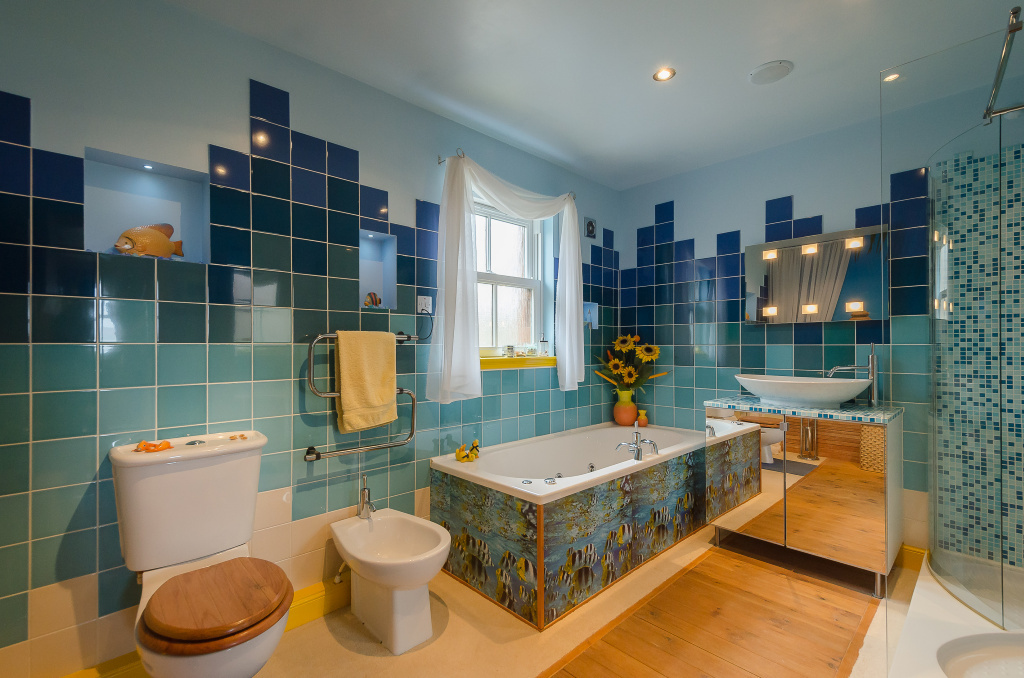 "We've used a lot of colour throughout – magnolia is not a colour we know here," said Steve, smiling.
"We tell people who have viewed already, it is only paint and paper. If it's not what they like, they can change it."
Whether the decor appeals or not, what you can't disagree with is that their home, Faisg Air an Oir (Close to the Edge), a detached house in Gruline on Mull, sums up perfectly, the maxim "location, location, location".
It is a lovely detached house in a beautiful part of Scotland.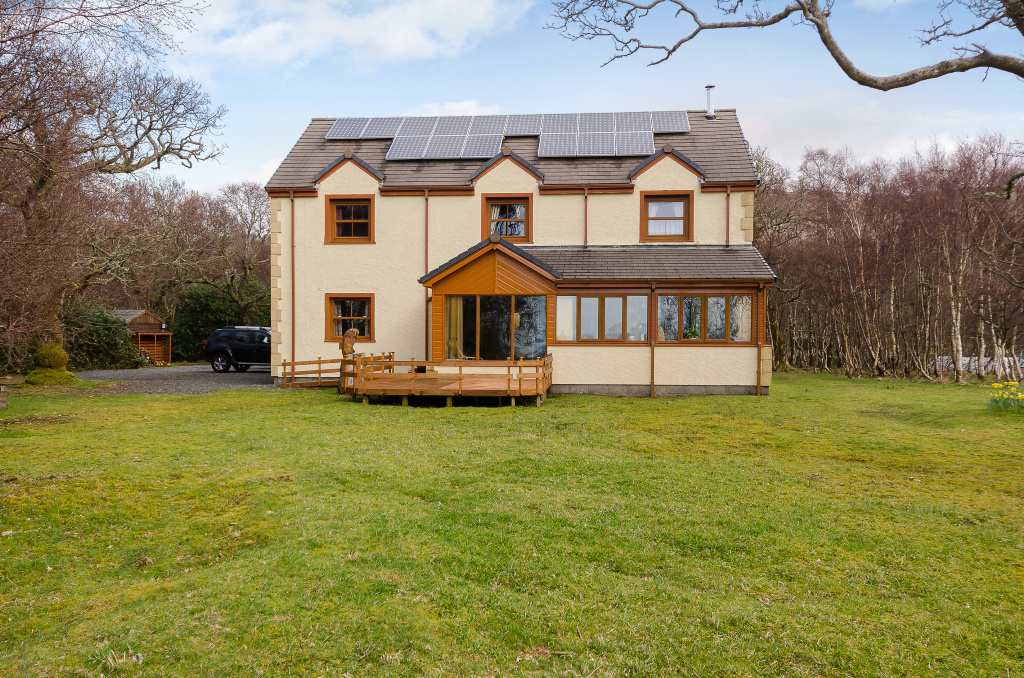 Built during 2007/2008 and nestled within 14 acres of mature woodland, it enjoys spectacular sea-loch views and a river frontage.
"It's a great place for spotting wildlife, including eagles, white-tailed eagles, otters and owls," said Steve, originally from north Wales.
The couple had holidayed on Mull for years before moving there 25 years ago, having spotted a niche in the market.
"There was hardly any accommodation available just for couples," said Steve.
During their time on Mull, they converted a derelict building into a coffee shop and self-catering accommodation and built several lodges, again just for couples. Their last project was designing and building Faisg Air an Oir, undertaking much of the work themselves.
Those in the market for a large family home or a perfect island holiday home where you can relax and watch eagles soar overhead and escape the hustle and bustle of modern life, will find that the house, on the market at a fixed price of £400,000, ticks all the boxes.
That price also includes what Steve describes as a "free gift" – a large chainsaw carving of a salmon standing outside the house which, because of its size and weight, won't be moving anytime soon.
The accommodation includes a spacious sun lounge with access to a large decked area offering stunning loch views and views of a number of small isles such as Staffa, site of the famous Fingal's Cave.
Triple-folding doors lead to a double-height bright and spacious hall with galleried landing and stairs leading to the first floor. From here, there's access to the retro-style kitchen with a large range of period units, Belfast sink, log-burning stove and LPG range cooker.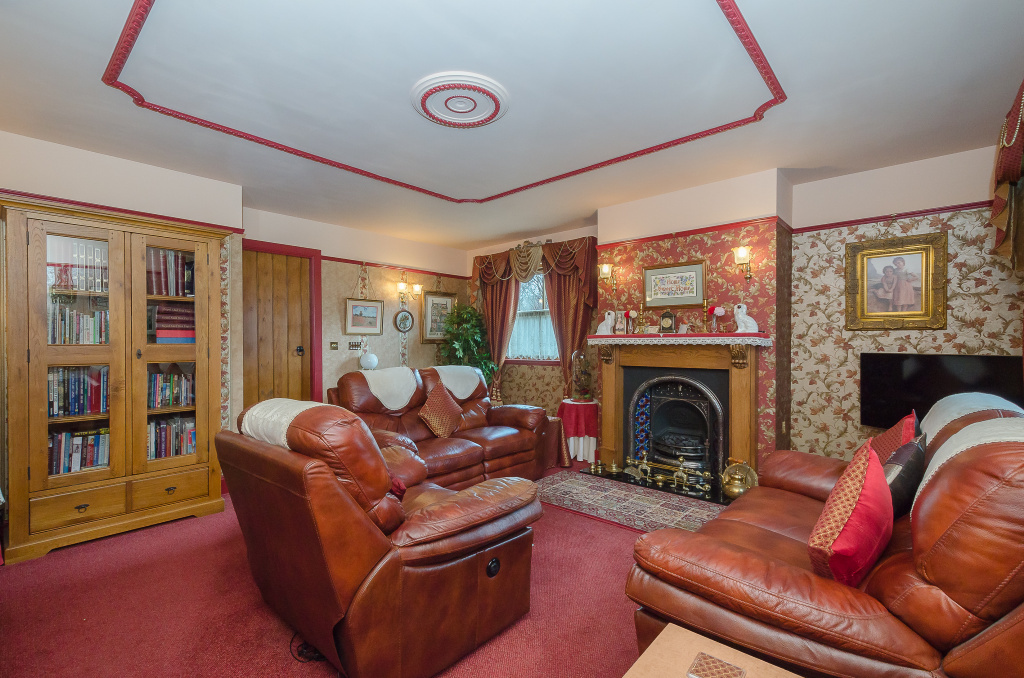 There's the aforementioned "mediaeval" style dining room, a utility room, cloakroom and two double bedrooms. One of these is currently used as a craft room while the other is home to Steve's model railway, but could easily be converted into a gym or home cinema if desired, or simply reinstated as a second ground-floor bedroom.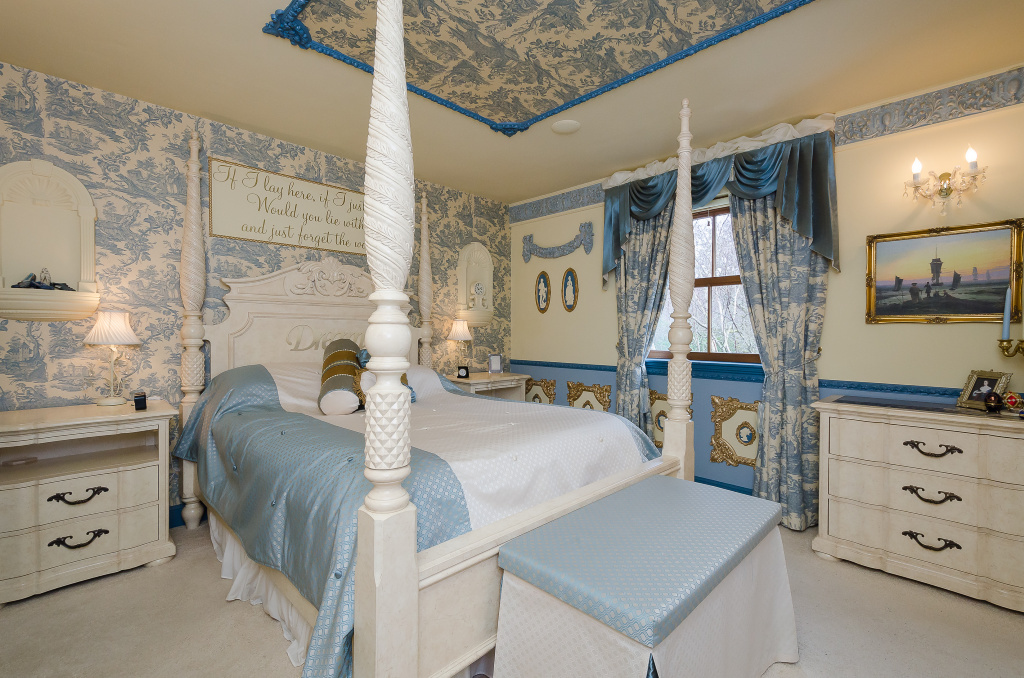 Moving upstairs, there's dramatic views to be enjoyed from the galleried landing.
Accommodation upstairs includes a roomy dual-aspect sitting room with a distinctive "nostalgic" ambience thanks to picture rails and a feature fireplace. There's also a small but useful office, and a family bathroom with a truly tropical atmosphere comprising a WC, bidet, large spa bath, separate walk-in shower (with shower tower feature) and vanity unit with counter-top basin.
The master bedroom has ornate plasterwork, full-width fitted wardrobes and dual windows, and a fourth bedroom enjoys grand views and full-width sliding wardrobes.
Above all this is a cavernous attic with lighting and flooring to provide even more storage space, while the roof has photovoltaic solar panels which help cut electricity bills and provide a useful income.
Outside, there's a large parking area, three sheds and 14 acres of woodland full of mature trees, some thought to be around 300 years old such as oak, beech, birch, larch and rowan. The area has been left in a natural state and in the spring is carpeted by bluebells.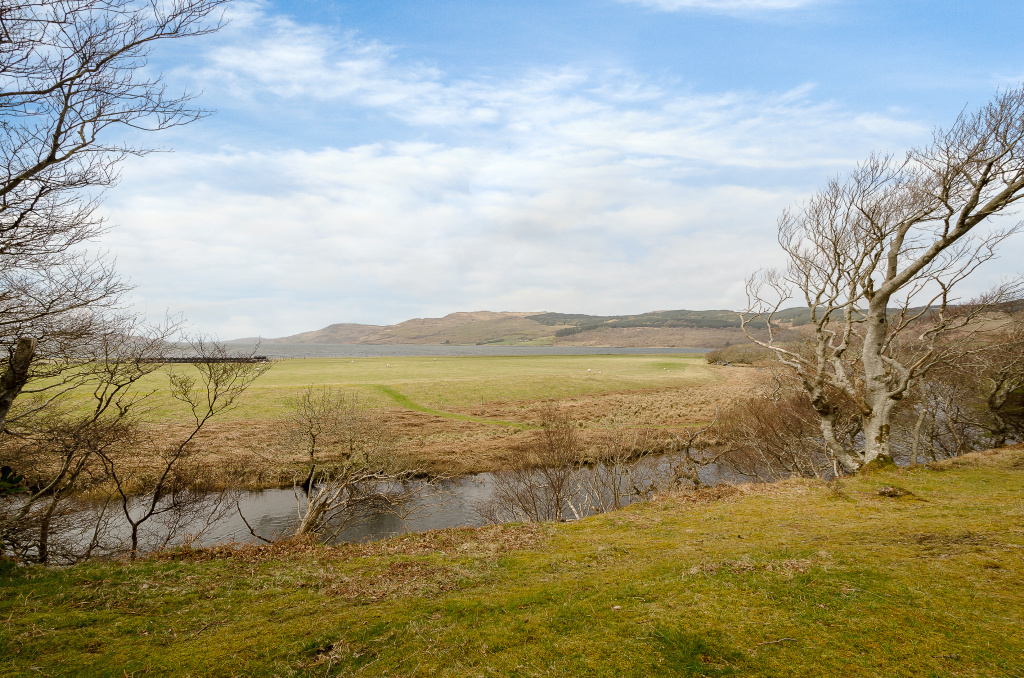 "Within the woods there's a standing stone thought to be around 5,000 years old, and a herd of fallow deer live there," said Steve.
"There's lots of lovely walks and a chance to see everything from otters to owls and eagles on a daily basis.
"One of the other things we love about living on Mull is that there's no crime. We can leave doors unlocked; cars with the keys in – it's refreshing to live in a place like this."
All of which begs the question, why leave?
"As my wife says, our work here is done. We're the sort of people who enjoy a challenge so are selling up and moving to Cornwall where we'll perhaps take on another challenge."
Just five minutes' drive from the house takes you to the village of Salen, where facilities include a shop/post office, hotel, restaurant, coffee shop, doctor's surgery, primary school and church.
For more information on Faisg Air an Oir, contact 0203 750 9011 or visit
https://my.tepilo.com