To approach Bridgefield House is to return to an era when carriages would perhaps sit idle by the fountain, while guests danced the night away in the grand drawing room.
The swish of ballgowns may have been replaced by the clamour of modern family life, but the period feel to this five-bedroom property remains very much intact.
From original fireplaces to high corniced ceilings, Bridgefield can be found in a historic part of Bridge of Don and offers gorgeous views over the Brig 'o' Balgownie which leads down to the River Don.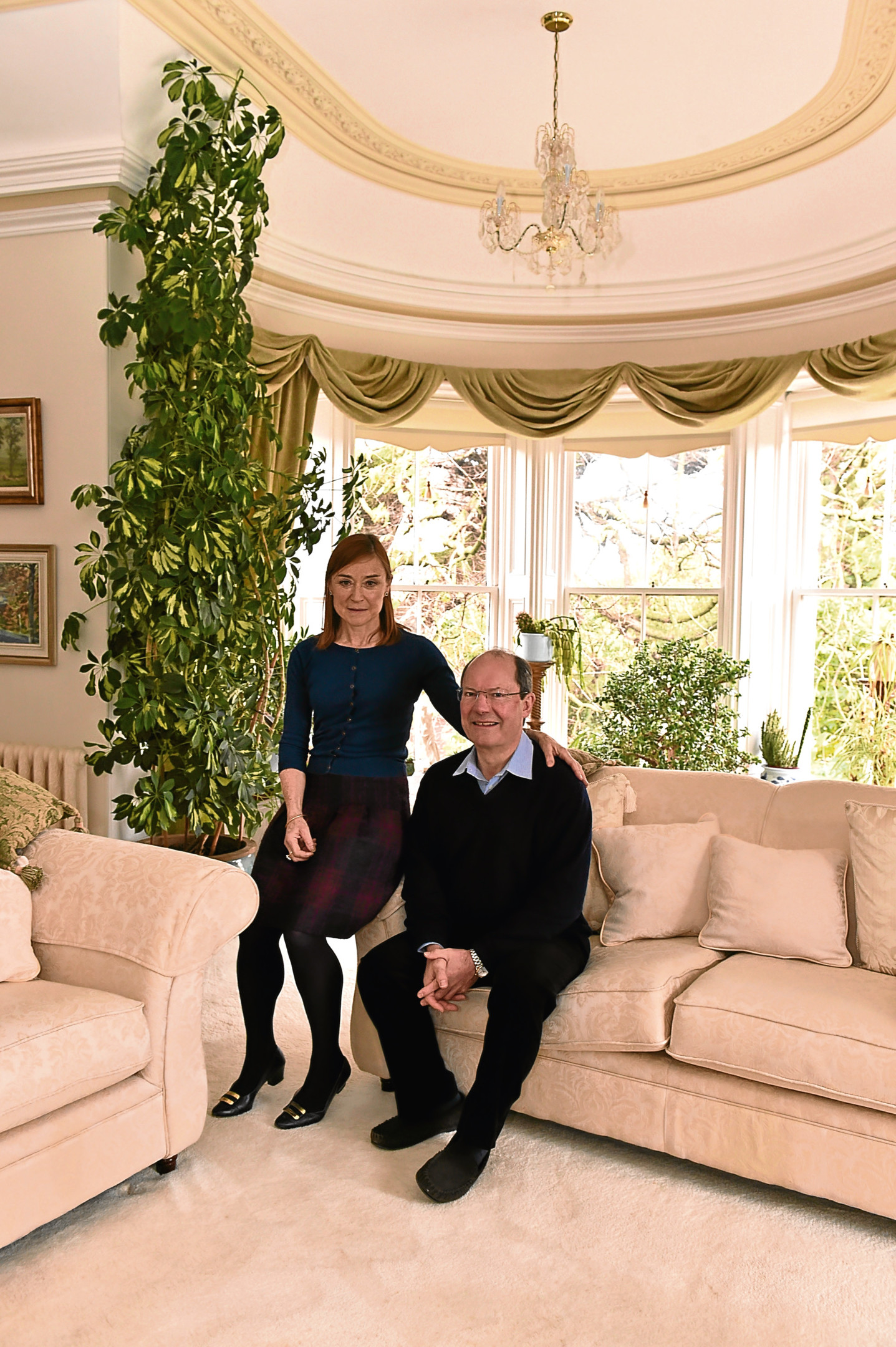 Owners Laura Mahady and Ian Joy believe the area is under-rated and fell in love with Bridgefield 11 years ago.
It has been the perfect home for their daughter and twin boys, but is starting to feel a little empty now the children have flown the nest.
Laura, who is a doctor in psychology, and Ian, who works in the oil industry, are down-sizing but have enjoyed the space not to mention the character which Bridgefield has naturally offered.
"We were searching for what felt like forever before we found Bridgefield, it was very much a blank canvas which really attracted us and we were also looking for an older property," said Laura.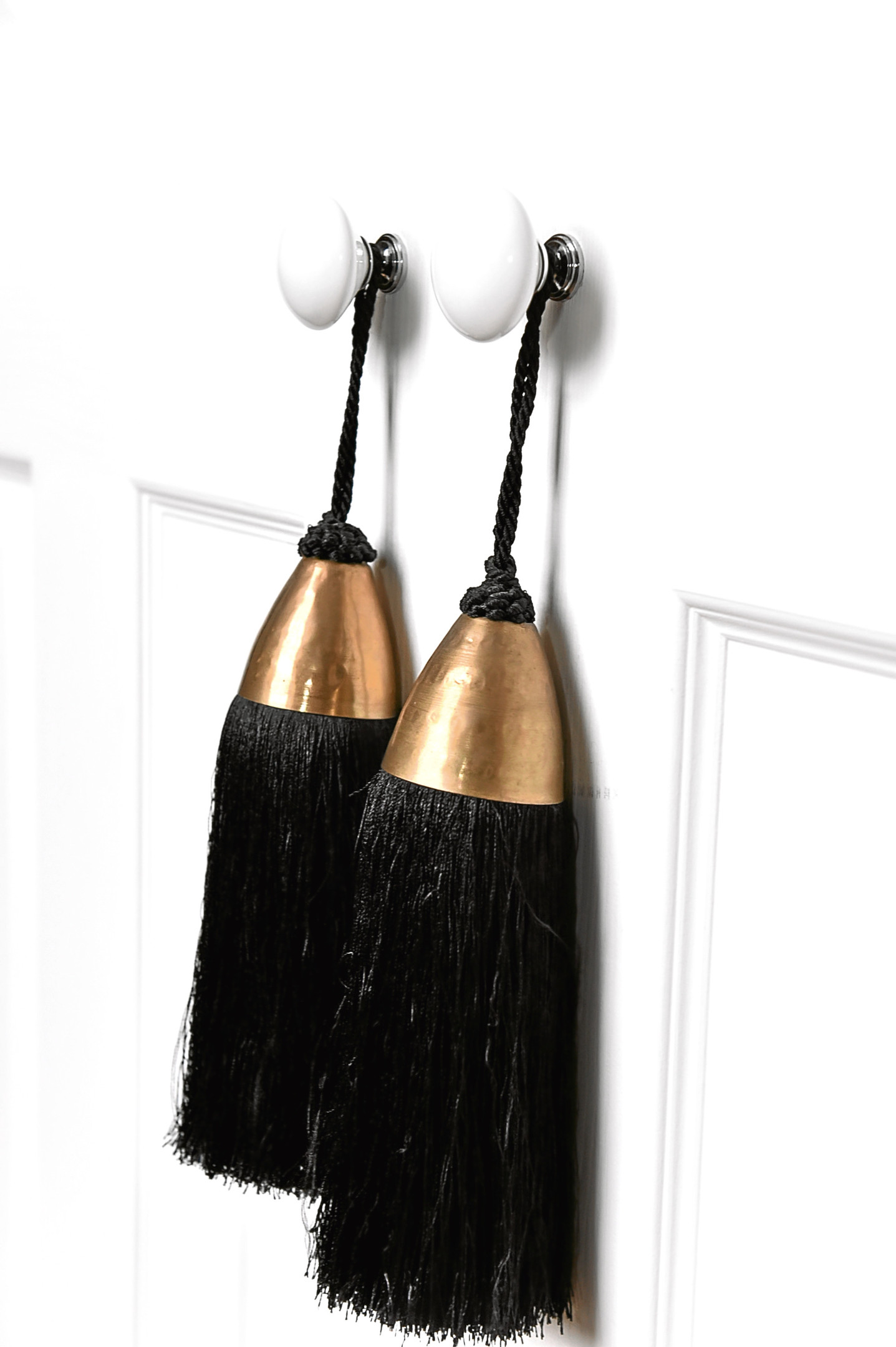 Grade-A listed Bridgefield certainly has an impressive past after it was built in 1761 by the Laird of Crombie Estate, for what some might view as an immoral purpose.
According to local folklore, it was commissioned as a home for his mistress, thus enabling the laird to choose between returning directly home from the mills or making the short journey across the Brig o' Balgownie to pay her a visit instead.
Between 1869 and 1871 the house was redesigned by Daniel Cottier, the Glaswegian architect and decorator (who is known locally for his glass work which features to this day in Aberdeen's St Machar cathedral).
The redesign resulted in an extension to create a large, elegant drawing room on the first floor and to enlarge the kitchen and servants' quarters on the ground floor.
Cottier had previously been apprentice to John Cairney & Co, Scotland's premier glassmakers of the time, where he also learned to mix paint colours.
The hand painted stencilling of the property's dining and drawing room walls (uncovered during renovations) were reportedly carried out under Cottier's tutelage and design.
The paintings were photographed and protected prior to the refurbishment facilitating future unveiling if desired.
In the early 20th century, AG MacDonnell, author of 'England Their England' (1933) resided at the property though it is not known whether this is where he penned his prize-winning novel. During World War II, the property was used as an officers' billet.
Careful maintenance and sympathetic works means Bridgefield now offers a modern lifestyle despite its historic credentials.
The heart of the home is the large dining kitchen come family room, where Laura and Ian spend most of their time.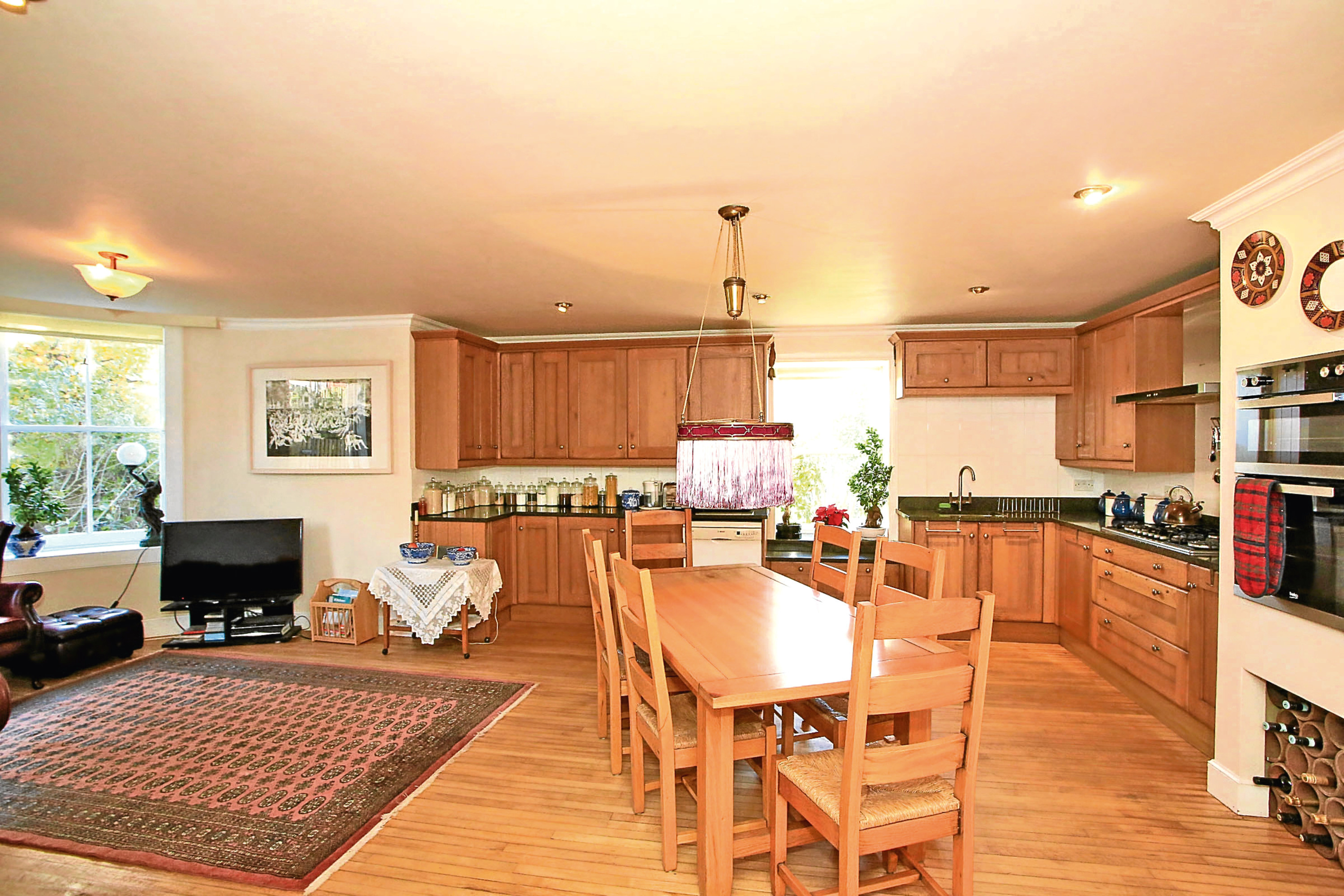 East facing and complete with granite worktops and original flooring which is believed to have come from a school gymnasium, this is an enviable room which has been used for many a gathering.
Jock, the family terrier, may be getting on in years but completes the look by keeping a watchful eye on proceedings from his bed.
"We love this space and now the children have left home, we spend more time in here than ever," said Laura.
"It has always been a bit of a gathering spot though. particularly due to our involvement with Aberdeen Athletics Club."
Laura has broken two world records for the fastest indoor 800 metres in her category, and luckily her coach lives just a few doors down.
"All the runners have sat round this table but we're spoilt for choice when it comes to where we can hold a party," she said.
Family Christmas is always held in the fabulous dining room but there is also a cosy sitting room.
Renovations to the basement means this space could be used as a bedroom complete with dressing room.
"The basement was the wine and coal cellar before it was transformed as a bedroom for our daughter, and she loved having a dressing room," said Laura.
The carpeted staircase with lovely barley twist spindles leads to the upper floors and the drawing room can be found on the east wing.
This stunning room is the jewel in the crown, and was added as an extension 100 years after Bridgefield was originally built.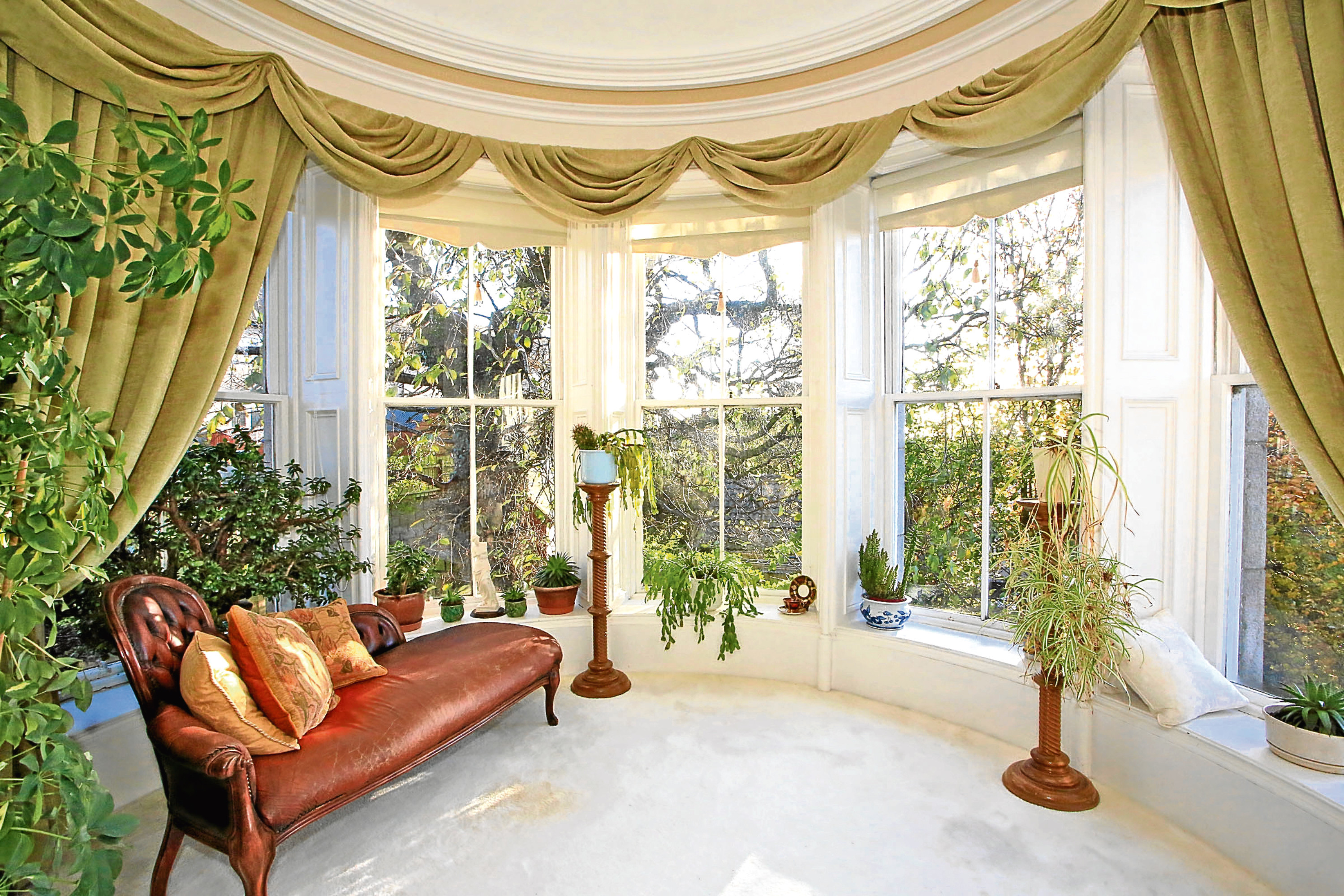 There is intricate plaster work, a traditional marble fireplace, not to mention lovely views from the full-length curved windows. The en suite guest bedroom completes the east wing, and a split staircase leads to the west wing where the en suite master bedroom can be found.
On the second floor is two attic bedrooms and a cloakroom with WC.
"The boys stayed on the top floor, they always referred to it as the penthouse," said Laura.
"What we really loved about Bridgefield was the privacy it offered to everyone in our family, the children were older when they came here and really wanted their own space."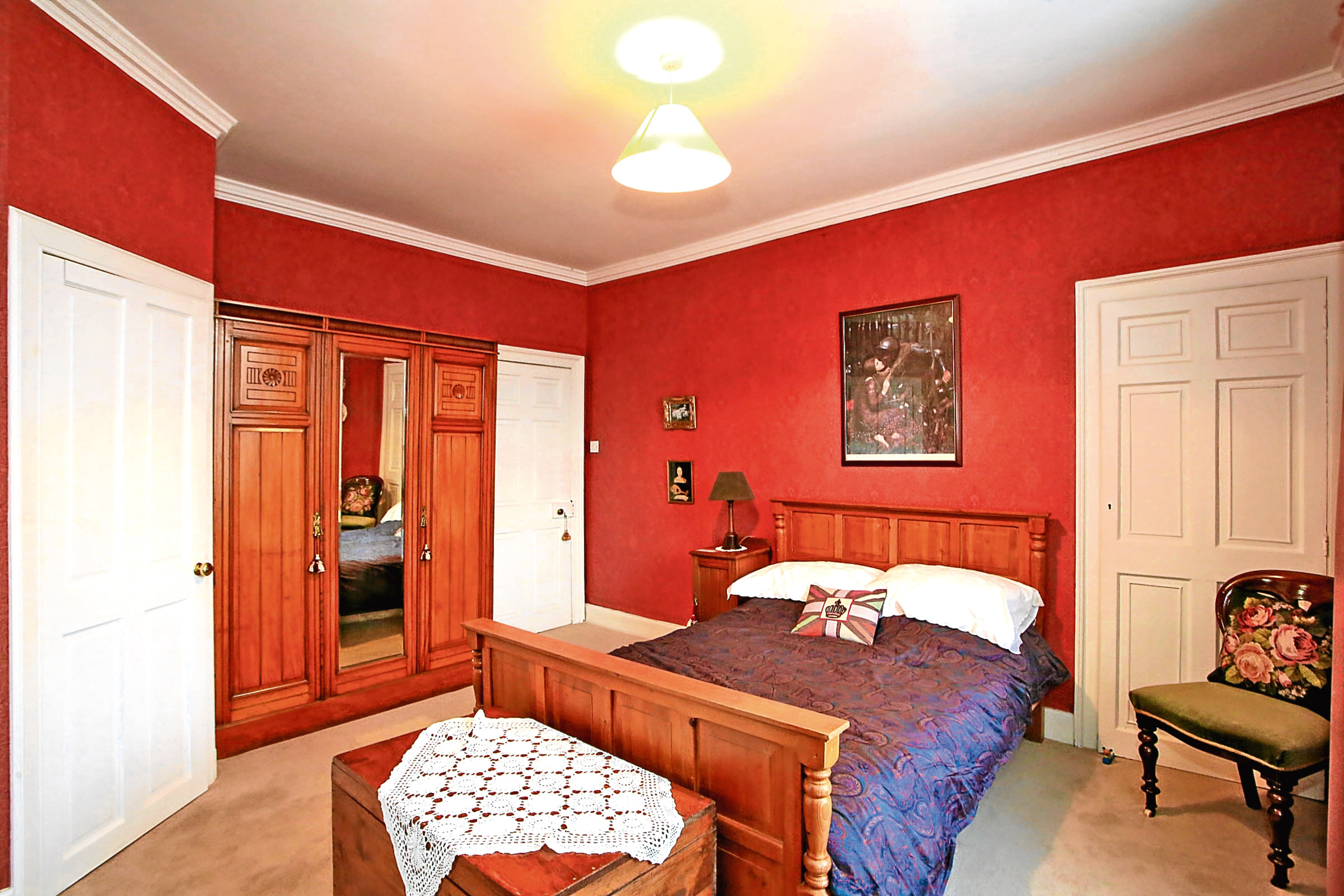 Ian has battled with the previously neglected gardens and created a wonderful green space complete with patio, and a potting shed is perfect for those who are particularly green-fingered.
"We're sad to leave but this is a family home which needs to be filled, it has been brilliant for us though," Laura said.
"The Jesmond centre has brilliant facilities and we're only 10 minutes from town, people overlook this area but it's a fantastic place to stay."
Offers should be made in the region of more than £600,000.
Contact Simpson amd Marwick on 01224 622622.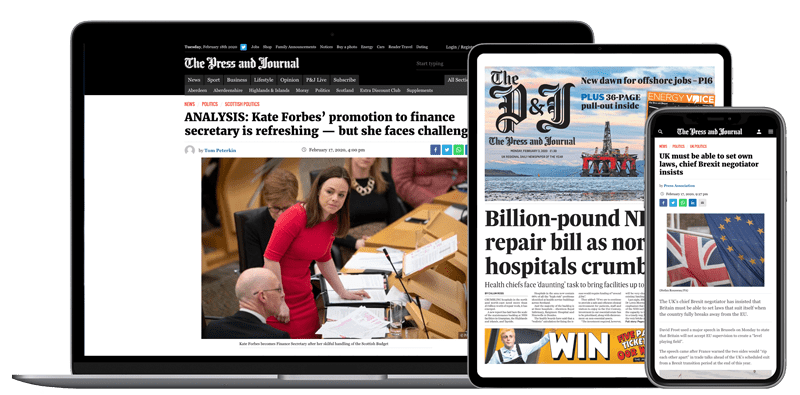 Help support quality local journalism … become a digital subscriber to The Press and Journal
For as little as £5.99 a month you can access all of our content, including Premium articles.
Subscribe