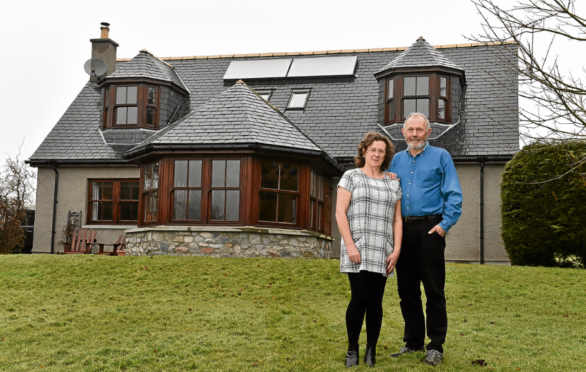 It has been more than 35 years since Richard Birnie first laid eyes on the small hamlet of Cushnie.
There's no denying that this rural village just outside Alford has a certain charm about it, which you'd be hard pushed to find elsewhere.
The winding road through the neighbourhood is full of old crofts and farmhouses which haven't changed much since Richard first moved there in 1982.
But as his wife joined him a few years later and their family grew, Richard found his original Cushnie cottage was bursting at the seams.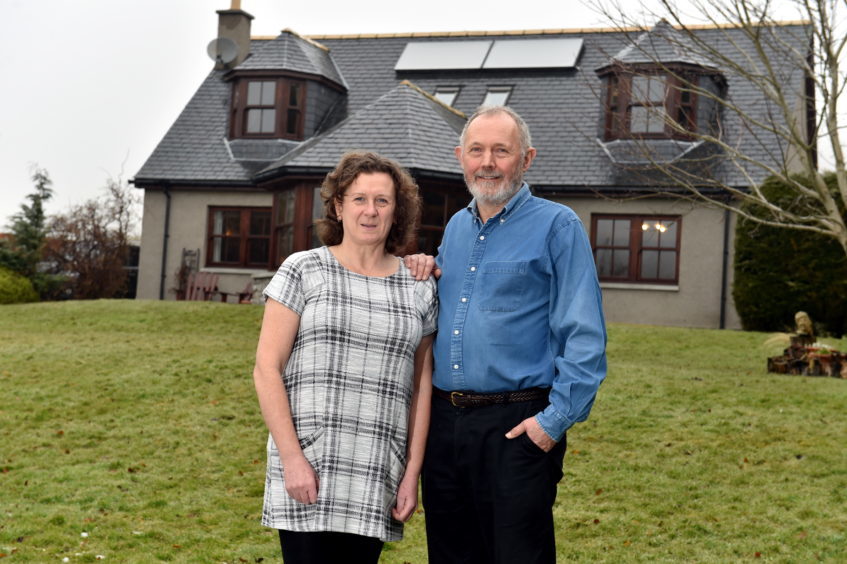 Desperate for more space but reluctant to leave the picturesque spot, the Birnies decided to take the leap and build their own family home.
Richard, 65, is an environmental consultant, and Karen, 52, is a maths teacher.
Despite having limited building experience, the pair were brimming with ideas and purchased a plot of land just 50 yards away from their original cottage.
"I like to joke that we moved closer to Aberdeen," said Richard.
"But really we just got lucky that a neighbour offered us the chance to buy some of their land.
"What we got was about two acres of bare field to work with."
After a year of hard work and with four young children in tow, the Birnies moved into Millbrae in 2000.
Family dogs Ollie and Oscar soon joined the household, along with ginger tomcat Jasper.
"It was fantastic to have so much space," said Richard.
"We created it to be the perfect family home and that's exactly what it has been.
"And the beauty of doing it ourselves meant we could add in certain details."
The generous kitchen diner was a particular labour of love for the couple, who both enjoy cooking.
Spacious and welcoming, the open-plan area encompasses not only a kitchen and dining space, but also a family room and conservatory.
"We didn't want to put a formal dining room in this house as we wanted it to be a space which was used every day for normal family life," Richard said.
"I think it's quite rare for families to eat together every night at the table but that's what we did.
"The oak table we ate at was from an old farmhouse many years ago, so as well as all of our dinner conversations it's seen quite a bit of history in its time."
Richard's favourite room in the house is the conservatory, or "garden room" as he calls it.
And with panoramic views over the front lawn and surrounding countryside, it is certainly an apt name.
"I enjoy just sitting here with a coffee and contemplating the view," he said.
"It's a nice space which connects the house and garden. We also designed it with little details which make it very usable.
"For example, the door leading to the patio is on the opposite side from the prevailing wind.
"This means you can have the door open all the time in warm weather and really use the space effectively."
The lounge is spacious and homely, with a wood-burning stove providing both warmth and character in this family room.
Two spacious double bedrooms, a family bathroom and utility area complete the downstairs accommodation.
The upper landing is the perfect spot for a kids' play area, and was once a much-loved den for the four Birnie children with plenty of space for toys and games.
This space would also be ideal for a writing desk or study area.
In the master bedroom, you'll find sloping ceilings and wonderful views of the open countryside.
This generously sized room also offers a walk-in wardrobe with plenty of storage space.
Three further double bedrooms and an office are also on this floor.
Fitted with a white three-piece suite and additional shower cubicle, the family bathroom finishes the accommodation on offer.
Outside there are extensive grounds which have been split into distinct sections.
"There is a horse paddock for the girls, as they were just horse mad when they were younger," said Richard. "And a football pitch for the boys where they spent their childhood.
"There is also the front garden which is mostly lawn with a sunny patio.
"My favourite is the vegetable and fruit garden.
"Although I'm not very green-fingered, we got rather good at making jam," he laughed.
But with Colin, 28, Claire, 25, Craig, 22 and 18-year-old Kirsty all having flown the nest, the paddock lies empty and the football field unused.
"It's time to downsize," said Richard.
"And I know perhaps it sounds a little cliched – kids move out, we want to downsize and be nearer to relatives – but it's absolutely true.
"The time has come for a change, as we just don't fill this family house anymore.
"I suppose we could always get more dogs and cats, but I don't know if my wife would agree!"
Offers should be made in the region of over £419,000.
Contact Burnett and Reid on 01224 646565.