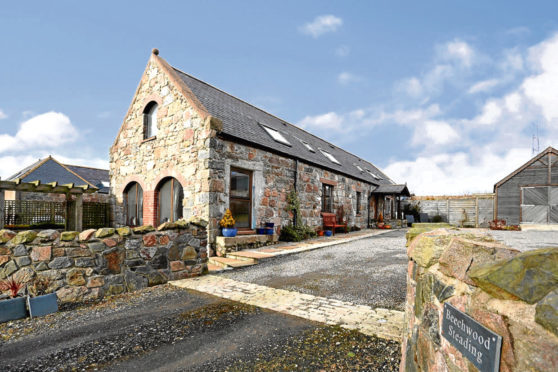 It's not often that buyers would agree to purchase a property without looking upstairs, but that's exactly what Karen and Alick Watt did six years ago.
The three-bedroom home had just come on to the market and was barely more than a shell when the couple drove out to the Dunecht Estate for a viewing.
On the hunt for a spacious family home, the Watts didn't set out to purchase a country pad, but were intrigued by the thought of a modern converted barn.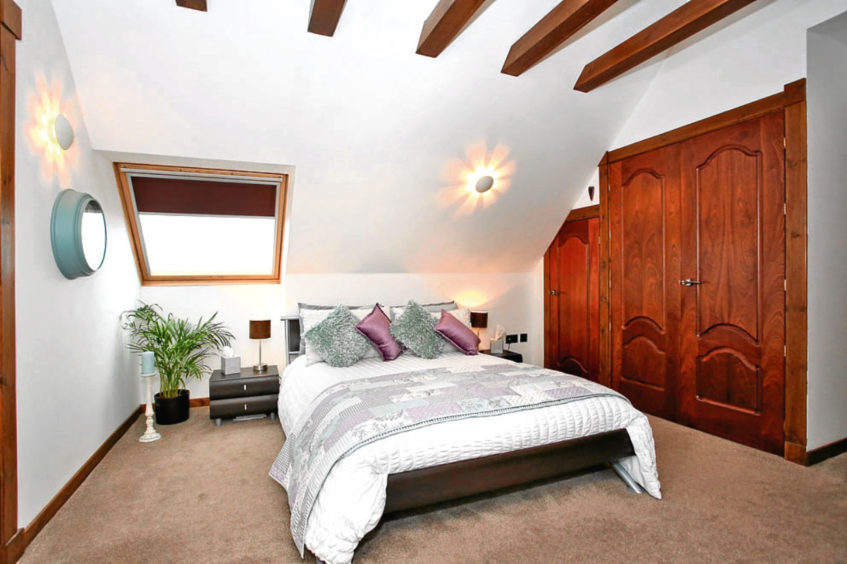 However, what they arrived to was more of a building site than a stylish new home.
"When we first viewed it the house was part renovated," said Karen, 45.
"But I had butterflies in my stomach as we were walking around.
"We bought it without viewing the upstairs because the stairs hadn't been installed yet and, quite simply, there was no way to get up on to the next floor.
"But we just loved it and it ended up being a good thing that we bought it midway through the renovations as it meant that we got to have a lot of input in the design aspect.
"And to be honest, if the developer had built it how they had originally wanted to, we probably wouldn't have bought it, as it wouldn't have worked for us."
As it was, Karen and Alick, 46, totally redrew the plans, knocking down walls before they had even been built. They turned the kitchen into a wonderful open-plan space complete with plenty of room for dining furniture and a family area.
It's no surprise that it has become the heart of the home.
"One of my favourite things about this space is when we have people round and we all get to be in the same room," said Karen, who is an office administrator. It's great for entertaining and we've had plenty of gatherings over the years.
"Our two daughters are always in here too which is lovely."
When they're not relaxing in the kitchem/family room, the couple's daughters Beth, 16, and Ellen, 12, have their own rooms in which to relax.
One of these bedrooms can be found on the ground floor and is of a generous size complete with views over the garden.
Also on the ground floor is a sizeable utility room and a bathroom, complete with a fabulous walk-in shower and unusual sunken Japanese bath.
Going from having no stairs, the Watts now have two separate sets – one at each end of the house.
And at the top of these stairs is a fabulous lounge with sloping ceilings and exposed beams.
The spacious room is a tranquil spot to put your feet up, and Karen admits to having a soft spot for the space.
"I love the windows in this room," she said.
"There are the big Velux-style ones, but my favourite is the curved arch window on the gable end.
"It's such a lovely feature and the views out to the countryside are just fantastic.
"We didn't bother putting curtains or a blind on that window as I think it would just spoil it.
"And besides, we are right out in the country so there is no one looking in."
The master bedroom is also on the upper floor and is of similar proportions to the lounge with generous fitted wardrobes.
It also offers an en suite with a view, as the walk-in shower enclosure has its very own window with views out over the surrounding area.
A further double bedroom with en suite completes the accommodation.
Outside, there is a lovely garden which is mainly laid to lawn, as well as a sun-trap patio area which can be accessed via the kitchen.
The spacious driveway allows parking for multiple vehicles in addition to the large garage fitted with both power and light.
The surrounding area is excellent for outdoor pursuits such as hill-walking and mountain biking, yet modern amenities are just nearby.
The thriving town of Westhill is a 10-minute drive away, while the centre of Aberdeen is roughly a half-an-hour commute.
"I've really enjoyed living here," said Karen.
"I love all the nooks and crannies in the house, it gives it so much character.
"It's quite sad to leave if I'm honest, but we are moving on to something exciting and new."
It's no wonder that the Watts are keen to get going on their new adventure as the family are moving across the pond to Houston following Alick's recent promotion.
"We've visited four times in the last year and it's exciting looking at houses over there," said Karen.
"But we haven't seen anything with half as much character as Beechwood Steading."
Offers should be made in the region of more than £375,000.
Contact Ledingham Chalmers on 01224 632500.