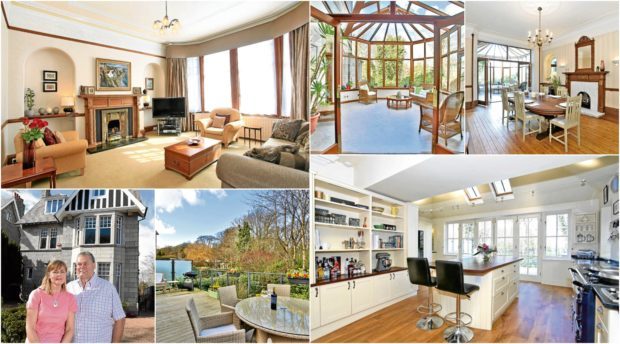 When you can count Bono, Kate Moss and director Neil Jordan among your previous neighbours, it takes a special house to tick all the boxes on your next property.
So when Ian and Lynda Wilson decided to relocate to Aberdeen, it seemed only fitting that they found themselves with one of Aberdeen's most prestigious postcodes.
Built in 1903, Number 8 Rubislaw Den South is a stunning Edwardian-era granite property thought to have been designed by local architect Robert Gordon Wilson.
With five bedrooms and five reception rooms, as well as its own bar and wine cellar, Number 8 is certain to impress.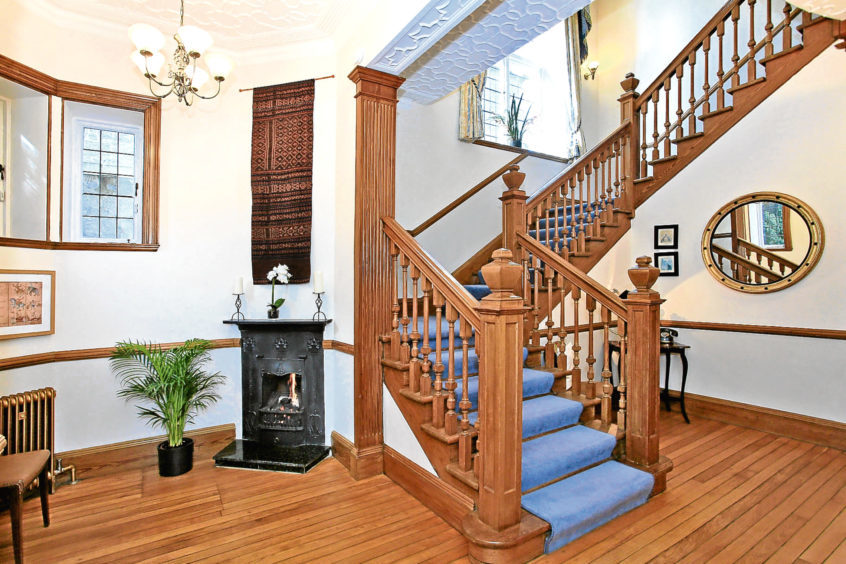 The property even comes complete with access to 14 acres of private woodlands known as the Den of Rubislaw policies, which is perhaps the city's best-kept secret garden.
Inside, the house has been extensively refurbished with countless period features lovingly preserved.
Ian and Lynda have been sure to add their stamp on Number 8's history, sympathetically decorating in neutral tones to let the property's traditional character shine once more.
It has been six years since the couple moved in and they still remember what it was like waking up and knowing the house was theirs.
"It was wonderful to have a base at last," said Lynda, 52.
"We had lived all over the place including London – which is where I'm from – Dublin, Indonesia, Norway and others.
"We had lived in Aberdeen briefly in 2003 and knew we liked this neighbourhood.
"Having access to the Den really sold the house to us.
"It's one of those rare secret spaces that is just impossible to see from the road. You could walk the streets of the west end for weeks and never find it."
The quiet granite streets of Rubislaw are certainly a million miles from the hectic London pace that the Wilsons were used to.
But change can be good as the pair discovered.
"It is totally different to London but we absolutely love it," said Ian, 59, who is a consultant geologist.
"Here you are so close to the country and to the beach, so we've never been stuck for dog walks.
"Our two chocolate Labradors, Betty and Roxy, are always on the go and love jumping into water."
"Then we come home and they warm up by lying on the underfloor heating," he added.
And it's thanks to that underfloor heating, as well as the fireplaces and cast iron radiators, that the house is a fabulously warm and inviting place over the winter months.
However, it's in the summer that Number 8 really comes into its own, with a stunning open-plan kitchen diner which spills out on to the raised decking outside.
At one end of this L-shaped space is a comfortable family area with room for dining furniture, while at the other end is a magnificent kitchen complete with cathedral height ceiling.
Bi-fold doors draw back to reveal a spacious timber deck, and if you're looking for the best alfresco dining spot in town, then this might just be it.
Surrounded by greenery, faint floral aromas float gently over the deck, which is festooned with colourful potted plants.
"Sitting out here in the afternoon sun is just wonderful," said Lynda, who is retired.
"It really makes the garden such a useable space and is great for having friends over too.
"Underneath the deck there is even a games room and a small bar which is great for gatherings as you can imagine.
"Ian's speciality is an espresso martini, and he also does an unusual wasabi martini which I am quite partial to."
Luckily for the Wilsons, there is plenty of space to have their guests stay the night, with five generous bedrooms on offer.
The master suite in particular is a highlight, with a large bay window and hand painted cornicing.
Double doors filled with ornate stained glass lead through to a generous en suite complete with a double sink and built-in storage.
But with so much space and character on offer, where could the Wilsons possibly upgrade to next?
Well, there's one thing Aberdeen can't compete with, and that's the weather.
"We are hoping to move to sunnier climes," said Ian.
"Spain is one of our options but we really want to move to an authentic town where we can integrate ourselves into the community.
"That's the thing when you've lived abroad a few times already, we're not looking for a holiday home, we are looking for a forever home."
One thing's for sure however, they'll be hard-pressed to beat the impressive tree-lined streets of Rubislaw, even if the neighbours don't grace the covers of Vogue every week.
Offers should be made in the region of more than £1,400,000.
Contact Simpson and Marwick on 01224 622622.